The Global Printer industry is a dynamic and evolving market, with a concentration of a few international competitors acquiring the bulk of the market share. Its growth is influenced by post-pandemic trends, sales of laserjet printers, and ink cartridges for home offices.
The industry is exploring eCommerce possibilities to increase customer conversion rates and average order values. Investments in R&D, new product launches, market efforts, and partnerships are some of the strategies being employed. The rise of remote working and learning has also led to an increase in inkjet printer sales, particularly in countries like China and Japan and emerging markets.
This report offers an analysis of the Global Printer industry, discussing market trends, threats and opportunities within the industry, key developments, segmentation, and complementary markets, and provides a detailed understanding of the current state and prospects of the Printer industry.
Key market trends
Increased collaboration between retailers and converters about packaging has sparked the creation of creative customer enticement strategies
The market for commercial printing in the packaging industry has been further assisted by online purchasing and the creation of tailored experiences
The commercial printing industry is expanding due to elements including the development of new technologies, shifting lifestyles, the expansion of eCommerce, and urbanization
Several international and local firms have led to the fragmentation of the commercial printing market. Additionally, market penetration is increasing as large firms become more prevalent in mature markets
These considerations have produced intense competition in the commercial printing sector. Due to pressure on businesses to make considerable savings and be as inventive as possible, competition is thriving in the Printing Services market.
Threats within the industry
Internetization
Publishings
Ink quality
Opportunities within the industry
Adoption of technology
Utilization of Internet mediums
Sustainability
Market vendors have observed increased inkjet printer sales due to the rising acceptance of working and learning remotely in countries like China and Japan and the market recovery in certain emerging nations for remote working and education. Implementing eCommerce shops helps grow the customer base and reach existing ones; this is especially true for smaller brands offering new and niche products to increase sales and interact with nearby regions.
If you want access to a detailed overview of the Global Printer and Ink Cartridge industry, including statistics, eCommerce developments, and complementary markets, get your free copy of the research below!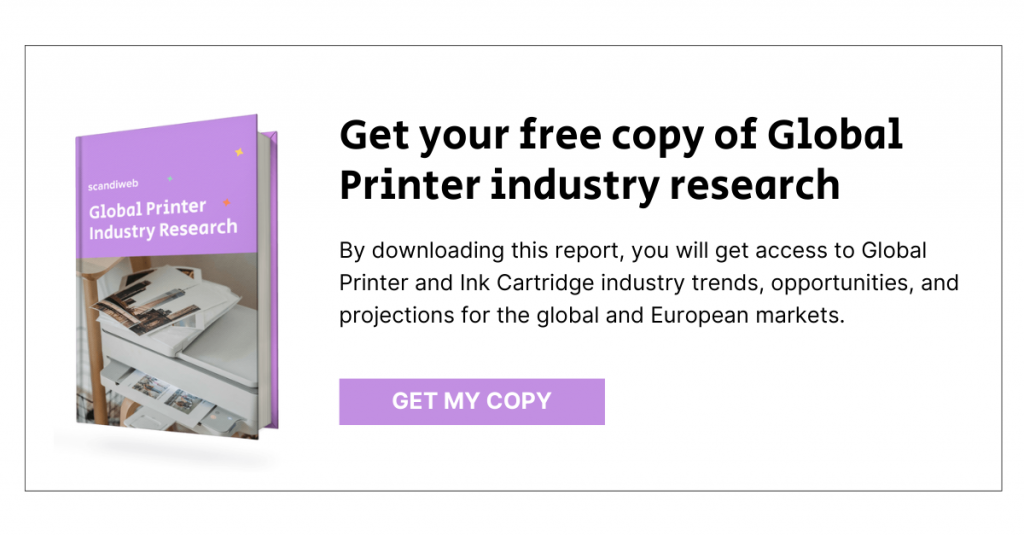 In this report, you will learn about
Global Printer and Ink Cartridges Market size and growth rate on the global scale
Key trends shaping the industry
The current trends of Printer eCommerce
Key developments within the industry
Main players within the Printer and Cartridges industry
Threats and opportunities in the Printer Industry
Are you interested in other market insights and predictions? Browse our collection of research papers on the latest trends and strategies in different industries. Request research if you don't find your industry there. Download the research PDFs for free!