Customer loyalty is something every eCommerce business needs to succeed. Many use loyalty programs for that. If done right, loyalty programs can help companies to encourage purchases and build and maintain a loyal customer base which leads to an increase in sales.
In this article, we will look at 20 great customer loyalty program examples across 10 industries where loyalty programs work best and explore how companies from these industries reward their customers.
Industries where loyalty programs are extremely effective
Direct-to-Consumer (DTC)
Food & Beverage
ReFashion
Luxury / Jewelry & Accessories
Retail
Beauty & Cosmetics
DYI / Home & Household
Sport / Lifestyle
Travel & Tourism
Pet Supplies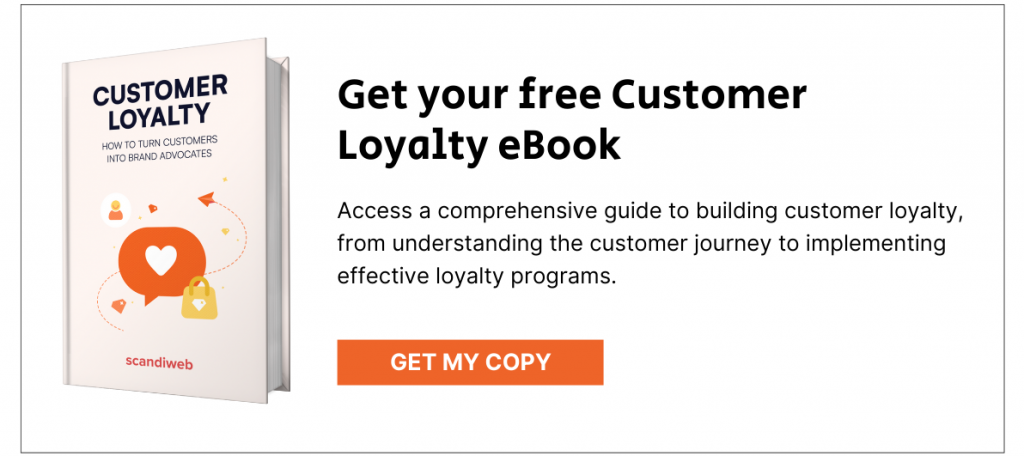 Best loyalty program examples by industry
D2C industry
Sand Cloud Rewards
Sand Cloud is a DTC brand that sells beach towels and bath accessories and does a great job at creating a community of marine life protection supporters through active campaigns on Instagram and Facebook.
Tier-based Sand Cloud Rewards are open to all customers and are designed to allow new customers to see value immediately. They include points for following the brand's Instagram, Facebook, and TikTok accounts and a $15 discount for each referral. This strategy helps the brand avoid high customer acquisition costs while making a significant enough margin to create substantial referral value.
Sand Cloud offers customers only one redemption option (100 points—$10 off). For brands with a small product range, offering simple redemption and point accumulation options simplifies customer experience and increases the chances of earning their loyalty.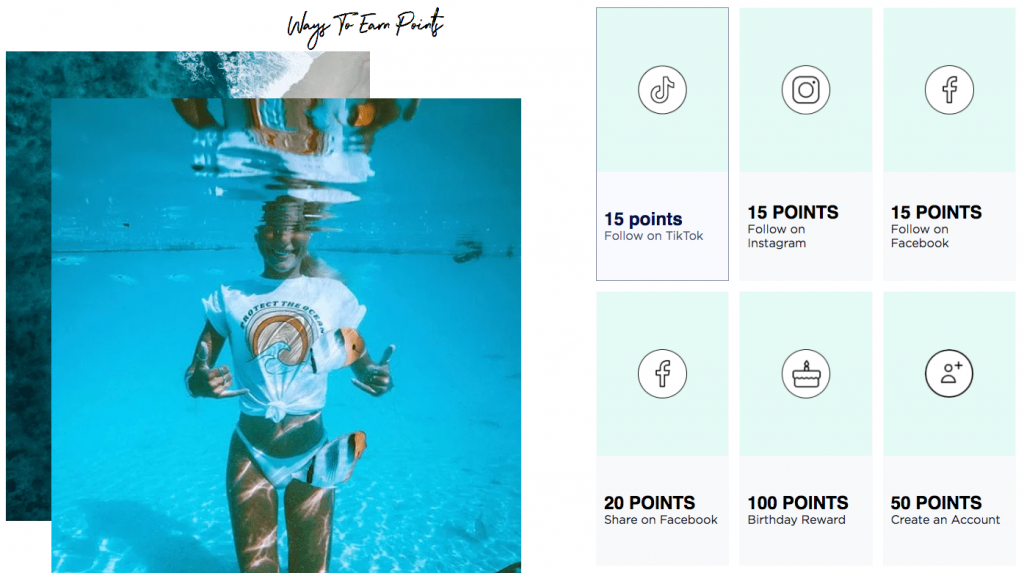 Dagne Rewards
Dagne Dover, a DTC bag brand, has launched a rewards program called Dagne Rewards. This program is similar to Sand Cloud Rewards, but the points earned for each dollar spent differ depending on the customer's tier.
In addition, customers who earn over 500 points and move up to the highest level receive a 15% discount on all products and double bonuses for referrals. This encourages potential customers to spend more and be proactive. The brand rewards customers for user-generated content, building its loyalty with trusted photos and reviews from existing customers to expand its customer base.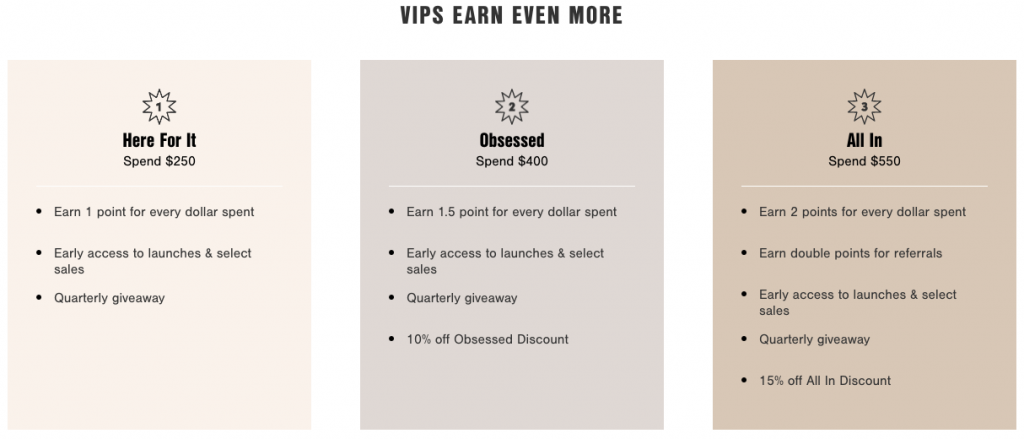 Food & Beverage industry
Starbucks Rewards
Starbucks Rewards is an awards-based system that allows customers to earn stars with each purchase. They can earn more stars for every dollar spent when paying with a digital Starbucks Card or gift card.
Stars can be redeemed for various free coffee and food offers and member-only extras such as express order and pick-up and earned through purchases and other activities such as Star Trials, Double Star Days, and games.
Starbucks Odyssey is an extension of Starbucks Rewards, powered by Web3 technology, aimed to deepen emotional bonds between members and the brand. Using their Starbucks Rewards login, users can engage in interactive games to earn journey stamps (NFTs) or purchase limited-edition NFTs with a credit card, which unlock exclusive rewards such as a virtual espresso martini-making class, artist collaborations, and invitations to events and trips.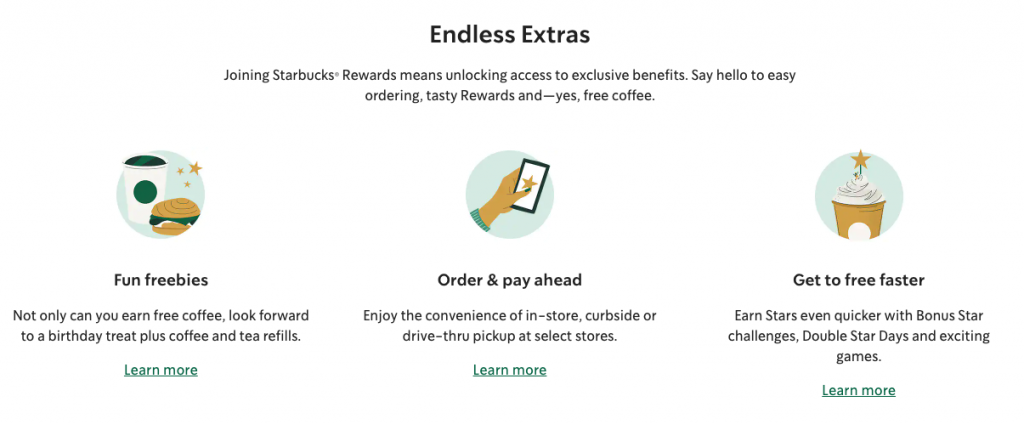 PC Optimum
President's Choice is a Canadian line of grocery products and services. Through its grocery reward program, PC Optimum, the company offers point earnings for every spent dollar, with easy tracking through a mobile app that can be downloaded from Apple or Google stores.
Despite many similar programs among other grocery retailers, this program stays relevant by providing personalized rewards based on the client's purchase history. Every 10,000 points equals $10 worth of free products, and points never expire. In addition, customers can maximize their point-earning potential on everyday purchases like groceries, gas, and beauty with the PC Mastercard.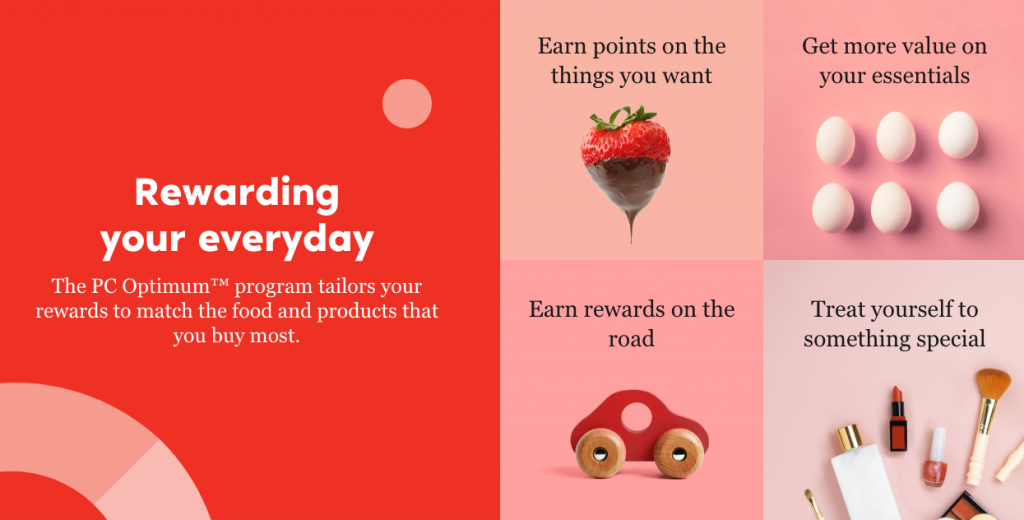 ReFashion industry
Reset, Recycle, Refresh Program
Universal Standard built its reputation through size-inclusive, quality-focused, and fit-obsessed clothing. The brand's unique loyalty program, Reset, Recycle, and Refresh, provides more cotton and fabrics for companies that aim to recycle and reuse.
To get started, customers need to purchase a recycling bag from Universal Standard for $4.50. When it arrives, they fill it with up to four pieces of old clothing from any brand in any condition. Then the clothing is donated to Marimole, a company that extracts textile waste for reusable fabrics. Customers get a $25-off coupon code for every recycled piece.
This approach creates a more meaningful and sustainable brand image and helps potential buyers save a little cash and reduce the environmental impact of fast fashion.

ReGirlfriend Program
Girlfriend Collective is an American women's activewear brand that takes a sustainable approach, becoming increasingly popular among young, eco-conscious shoppers.
The company recycles plastic bottles and fishing nets from the ocean into bras, leggings, dresses, and more. Girlfriend Collective also has its recycling program, ReGirlfriend, which encourages consumers to turn in their old Girlfriend clothing for $15 off new purchases.
As part of the standard Collective rewards program, customers climb the tier ladder to get more points for purchases, early access, and unique gifts. They are also rewarded for making positive lifestyle choices and can receive 100 points for posting photos with #GOODJOBGF on Instagram showing volunteering, planting trees, or doing charity.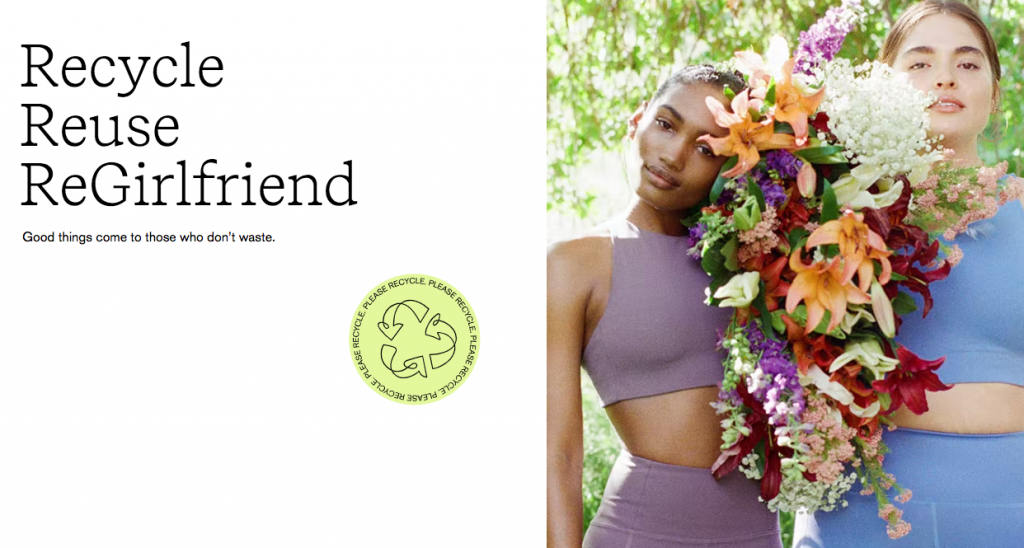 Luxury industry
Hugo Boss Experience
The Hugo Boss loyalty program Hugo Boss Experience stands out with an instantly available reward system. There are also exclusive rewards that are available to members only. Hugo Boss attracts potential customers with limited promotions and personalized offers for loyalty program members only, private styling appointments, and VIP events. Joining the program is free of charge.
VIP features include door-to-door Uber delivery from the store, returns without a receipt, and one free standard alteration to online or offline purchases. They represent the main aspects of the Hugo Boss loyalty program—user satisfaction and comfort.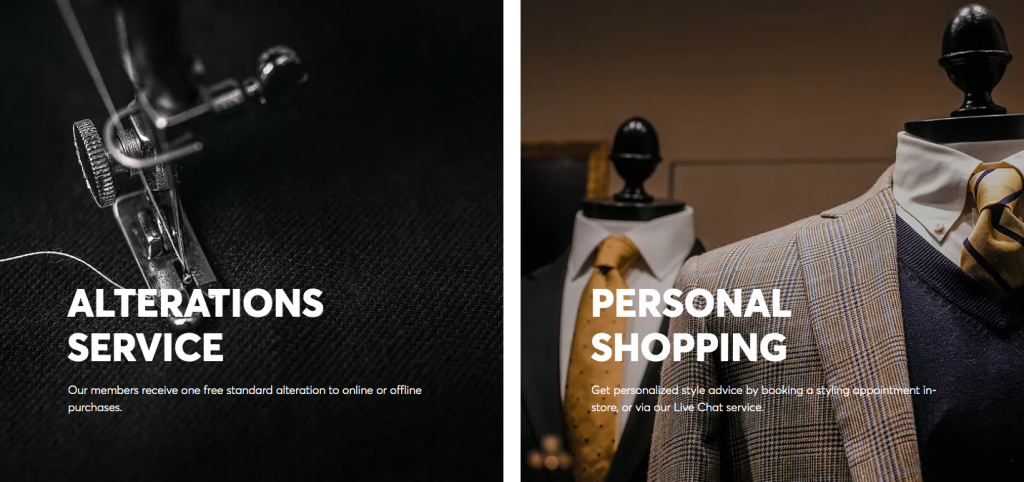 Jewel Squad Rewards Program
Kristalize Jewelry, an American manufacturer of personalized accessories specializing in handmade jewelry, uses a tiered point-based loyalty program, giving customers multiple opportunities to reach higher levels. Guaranteed access to limited-edition products is highly demanded in jewelry and accessories loyalty programs. This motivates members to rank up in the Jewel Squad Reward Program.
Spending $1 can earn from 1 to 3 jewels, depending on tier. Kristalize Jewelry is interested in promoting its social media and user-generated content. They reward loyalty program members for recommending friends, leaving product reviews, subscribing, and sharing brand posts on Facebook. Jewels can be exchanged for coupons and other benefits.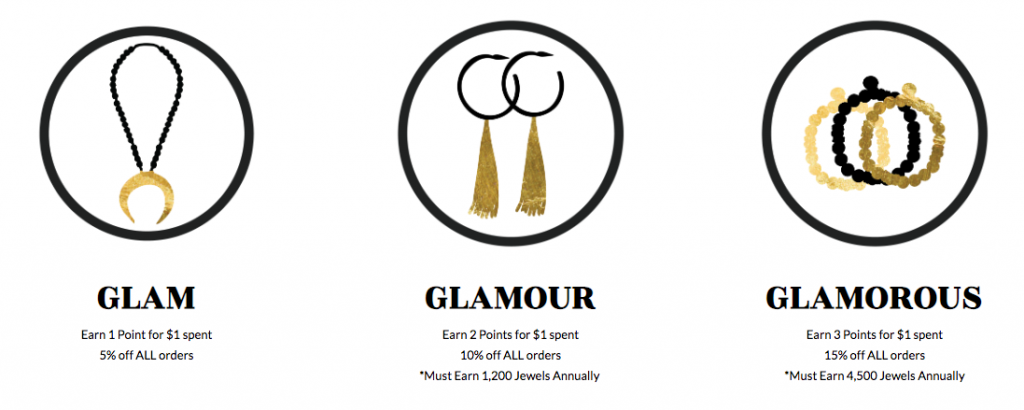 Retail industry
Urban Outfitters
Urban Outfitters, a multinational lifestyle retail corporation, has a tier-based loyalty program that lets customers earn points by enabling push notifications, entering giveaways, shopping Urban Renewal clothes (a collection of original and upcycled vintage items), and browsing the website or mobile app ten times per month.
The loyalty program's clear rules help expand the audience and attract potential customers. Giveaways, anniversary rewards, and surprise gifts are a great way to keep customers around in addition to financial benefits.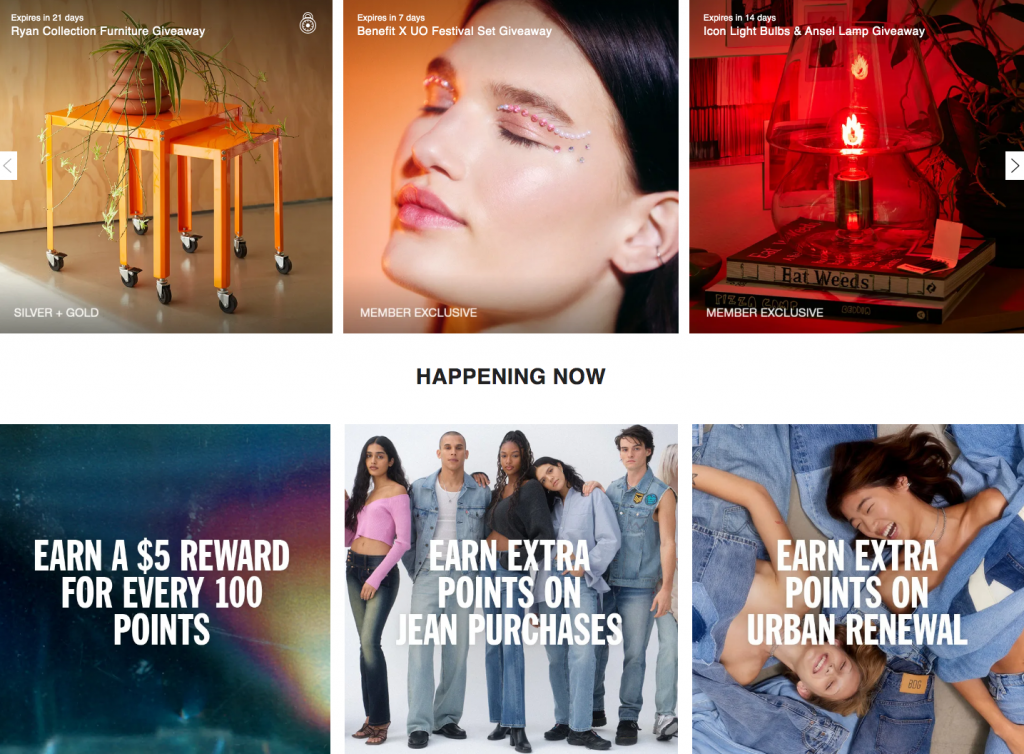 GameStop PowerUp Pro
GameStop, an American video game, consumer electronics, and gaming merchandise retailer, provides customers with bonus points and exclusive early access to new products via the GameStop PowerUp Rewards Pro loyalty program.
It is a tier-based paid loyalty program. Users pay a $14.99 yearly fee to gain benefits like a $5 monthly reward coupon, a $10 welcome bonus, double points, and 2% back for each purchase in rewards points. Members (Pros) can redeem 1,000 points for $1 in rewards and earn up to $150 in annual value for just $14.99/year. In addition to deals and savings, they get access to the world's largest video game magazine, Game Informer.

Beauty & Cosmetics industry
Lancôme Elite Rewards
Lancôme rewards members for all forms of interaction, from watching the latest skincare video to writing a product review. This approach to engaging customers outside the buying cycle is the best way to keep today's customers happy.
Lancôme offers a set of VIP rewards, such as invitations to unique events or beauty consultations with make-up artists. The brand even has partner rewards such as Uber credits, spa gift cards, and donations to charity.
One of the best features of the Lancôme loyalty program is creating a beauty community. Lancôme Elite Rewards has an activity feed where members can see what people are doing in the program, building trust in the beauty community.

Love Your Body Club
The Body Shop's Love Your Body Club is gaining the loyalty of potential customers by offering individual discounts for different customer categories: students, emergency services, NHS & armed forces, and others. Today's shoppers expect and appreciate personal attention.
By providing exclusive offers and early access to special editions, the brand encourages consumers to spend more and collect reward vouchers which can be redeemed on any The Body Shop products in-store or online. Club members also have the opportunity to donate their rewards to partner charities.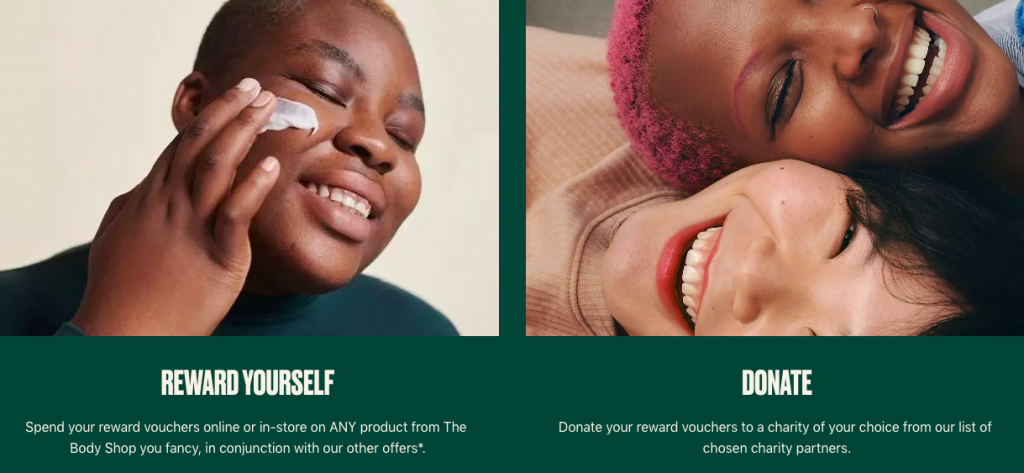 Home & Household industry
IKEA Family
IKEA loyalty program IKEA Family is set up to reward customers from the moment they sign up. Even if IKEA Family members do not buy furniture or homewares regularly, they can still use the discounts and offers at the on-site restaurant and food market.
The brand uses an omnichannel strategy, giving members an additional 5% discount on some categories of in-store purchases. They also offer a "Buy Back & Resell" service as an exclusive benefit for IKEA Family members. Customers can turn in their old IKEA furniture and receive store credit as an IKEA refund card.

Welcome Rewards
Bed Bath & Beyond provides two options for its customers—a free membership as part of Welcome Rewards and paid subscription for $29/year in Welcome Rewards+.
Both programs include free standard shipping for customers. The main difference is in the number of points for each dollar spent, and in addition, Welcome Rewards+ provides a 15% discount for every purchase made in-store, online, or mobile app.
Using the trend of card linking in loyalty programs, Bed Bath & Beyond encourages customers to spend more with Welcome Rewards Credit Card by rewarding them extra points for each purchase for both membership users.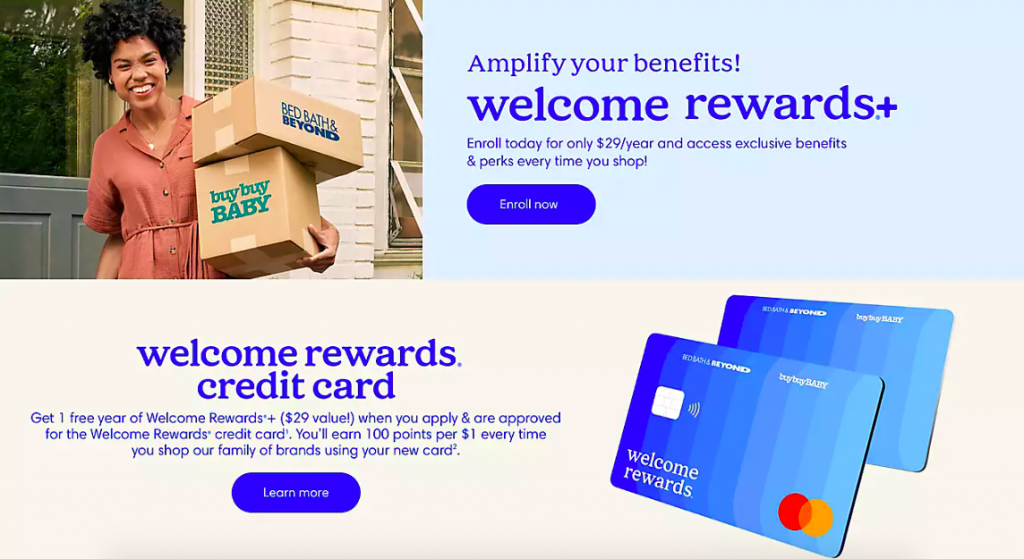 Sports industry
Sportland ID
Sportland ID members get a permanent discount and exclusive deals through a high-functioning, integrated "My Account." Users can log in to their existing Sportland account, view their current offers, personalized deals, points, and upcoming events, among other things, and use their Sportland ID immediately both online and in-store, getting an omnichannel experience.
Reward types include exclusive members-only deals, discounts for different sporting events and from Sportland partners, and a permanent 5% discount on products' total price. Joining Sportland ID is free, and the membership is valid in stores and the online store immediately after registration. To use membership discounts in physical Sportland stores, customers need to show a QR code of their Sportland ID to the cashier. Online the permanent discount is always automatically applied to members' shopping carts.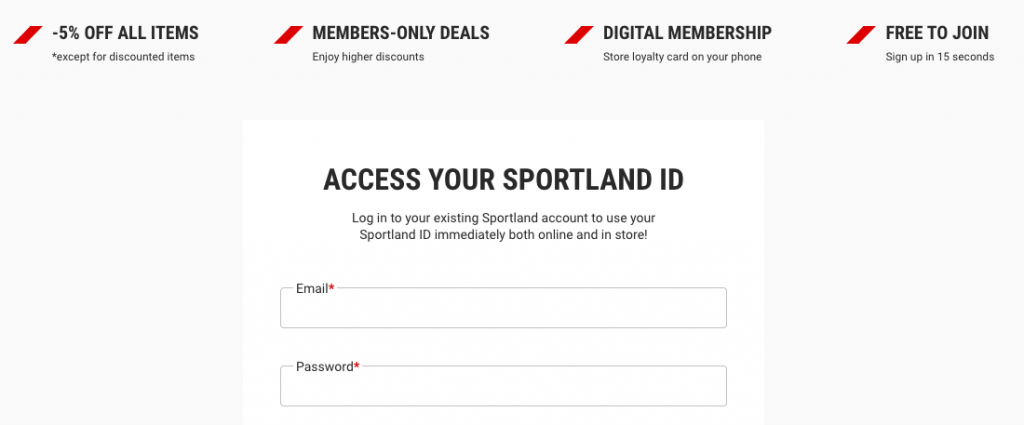 Nike Membership
Nike loyalty program's members gain immediate access to a range of benefits, products, and services without earning points or upgrading ratings. Customers can access members-only shoes, clothing, equipment, and accessories and use special offers from partners. In addition, Nike Membership users can create and purchase their customized shoe designs, and the brand actively encourages using the brand's #NikeByYou hashtag on social media.
The Nike membership program is a multi-channel experience. Members automatically become part of the community using apps such as SNKRS, Nike Training Club, and Nike Run Club. This helps create an enhanced customer experience based on their interests.

H&M Membership
H&M Membership is a two-tiered loyalty program that offers many benefits for its members, such as free shipping over $40, Klarna's flexible payment options, double points days, unique experiences, surprise offers, and special access to limited collections.
Members can earn points for both online and in-store shopping. When shopping offline, they need to scan their member ID via the H&M app.
Although H&M is a fast fashion brand, the company is committed to sustainable values. As part of its loyalty program, the brand includes some ESG actions to collect Conscious points: bringing a bag to the store instead of buying a new one, bringing unwanted textiles to the store for re-wearing, reusing, or recycling, and choosing climate-smart delivery.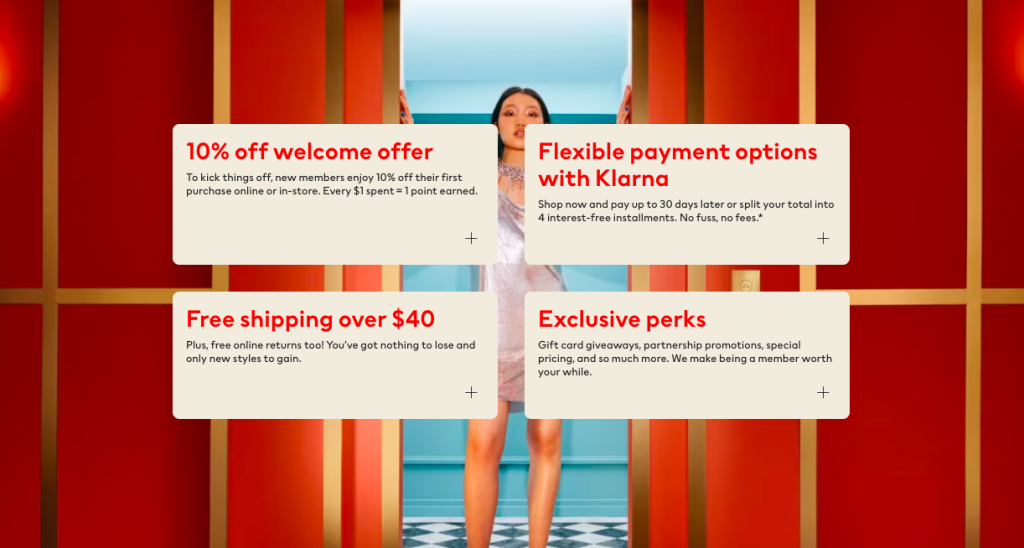 Travel & Tourism industry
Priceline VIP Loyalty Program
For customers, the journey is just as important as the destination. Priceline is an online travel agency, and their Priceline VIP Loyalty Program is a simple program that invites customers to book more and save. It rewards members whether they book hotels, cars, flights, hotels, or cruises. This program includes four levels with exclusive hotel savings, VIP rental car discounts, and insider coupons.
Customers progress to higher levels by making a certain number of bookings or by being Priceline Rewards credit card holders.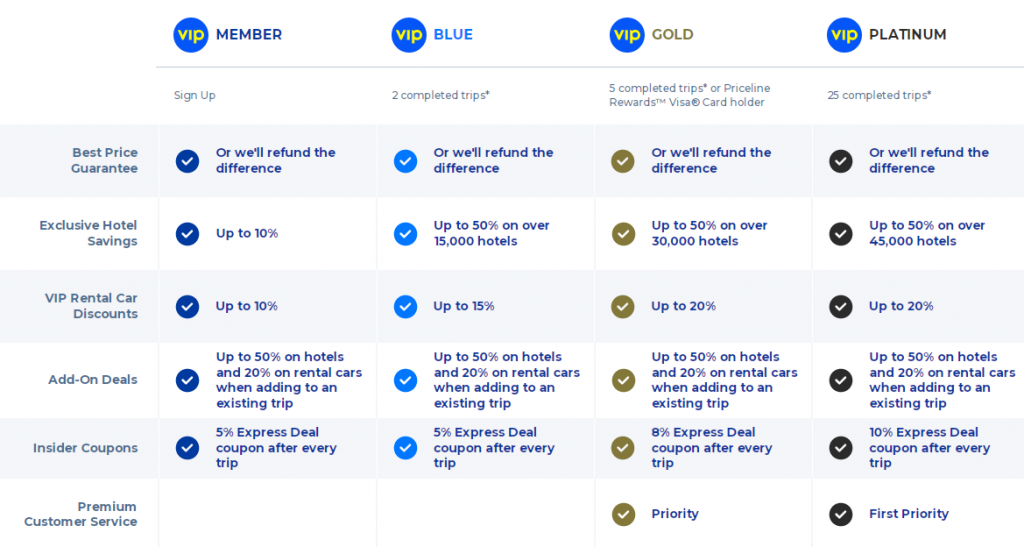 The North Face XPLR Pass Loyalty Program
The XPLR Pass loyalty program allows members to earn points for non-transactional activities such as check-in at The North Face stores or outlets via mobile app or for registration at national parks and monuments.
The North Face Renewed Take-Back program allows members to trade in old gear and receive a $10 credit for their next purchases in The Noth Face stores. This sustainable initiative helps the brand stand out from other competitors.
The North Face also offers customers early access to limited-edition collections and a chance to test unreleased products, thus building emotional loyalty.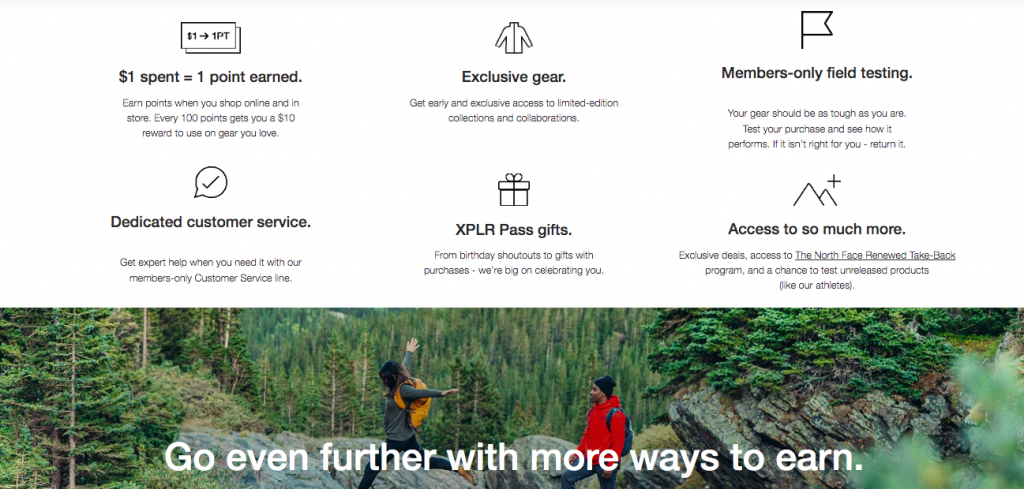 Pet Supplies industry
Purina Perks
Purina Perks is a revamped MyPerks loyalty program by Purina that strengthens the brand's and consumers' emotional connection. The brand actively attracts potential customers and states that Purina Perks is a loyalty program that loves its pets.
This points-based loyalty program allows members to redeem their accumulated points for exclusive offers. Also, by signing up for the myPurina app and creating a pet profile, customers receive 400 points immediately—a clear incentive to share data with the brand.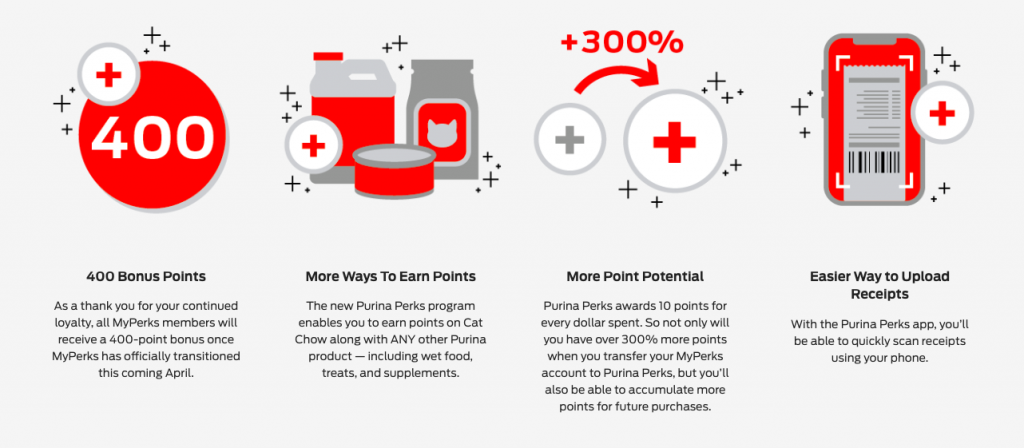 PetSmart Treats
PetSmart surprises their loyalty program members with unique offers, not just free shipping but a surprise for the pet's birthday or Doggie Day Camp session.
PetSmart Treats offers a gamified experience to users via its mobile app. By collecting treats in an interactive game and earning points, customers receive valuable coupons that can be redeemed for various discounts on different pet products and services.
Thanks to PetSmart's commitment to the ESG policy and saving the lives of homeless pets, customers can also receive points by donating to PetSmart Charities.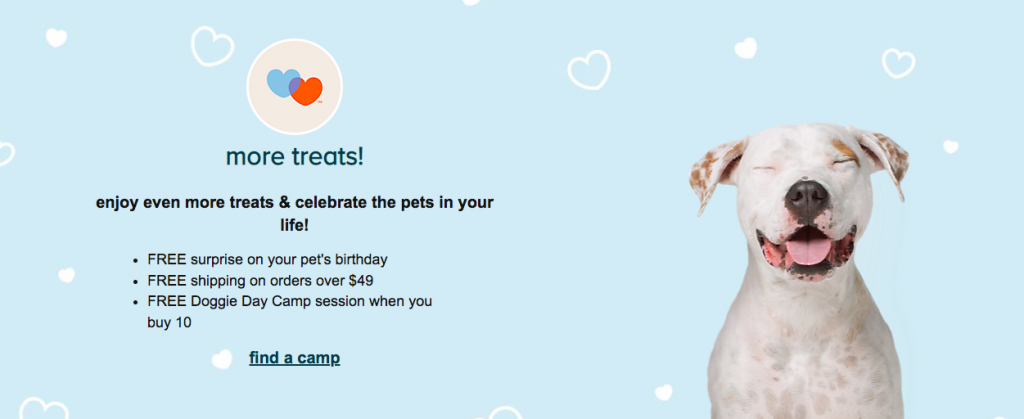 Want to build a loyalty program for your eCommerce store? Our Growth Team and developers are here to help! Email us at [email protected], and we'll get back to you to set up a free consultation and find the solution that works for your business!