Given the specifics of the industry, most flavored syrup manufacturers don't have brick-and-mortar stores, making it necessary to promote their products online. This article outlines the general dynamics of the Flavored Syrup industry and eCommerce trends, barriers, and new opportunities.‍
General overview
The Flavored Syrup industry is anticipated to reach $58.8bn by 2028, registering a CAGR of 3.2% during 2022-2028. Multiple factors are driving the industry forward, including Food Service industry growth, demand for new flavors and concentrates in food products, and increased consumption of convenience foods and ready-to-eat products. Despite rising prices for sugar and tightening permissible limits for food additives in 2022, the industry is facing excellent prospects.
The main challenges the industry faces are the shifting consumer preferences due to an increase in health issues caused by excessive consumption of sugar-based syrups, tightening EU and US permissible limits for the use of food additives, increasing sugar prices, and rising high-fructose corn syrup consumption in North America.
Key industry trends
Higher consumption of ready-to-eat products
Using powdered syrups in convenience food and ready-to-eat products for versatile and easy preparation contributes to the industry's size. Flavored syrups are actively added to convenience foods such as bakery and confectionery products, dairy products, frozen desserts, and on-the-go beverages. Due to active lifestyles and lack of time, as well as the growth of food and beverage production and rising income levels, more consumers prefer such convenience foods.
Demand for new flavors
With the growing flavored syrups industry, consumers want to try personalized and new flavors. This encourages manufacturers to develop unusual flavor combinations.
Automated flavored syrup manufacturing
Flavoring syrup and concentrate manufacturers use automation technology to have centralized batch control, use raw materials optimally, and increase productivity by focusing less on report administration and more on product quality, variance reporting, and overall facility improvement.
Consumer preference for in-home flavored syrups
Home consumption of flavored syrups is growing through eCommerce. During the pandemic, consumers could no longer go to the coffee shop for flavored drinks, and manufacturers began offering consumers flavored syrups for home use. Another factor that helped popularize the use of in-home flavored syrups during the pandemic was the popularity of coffee-related drinks on social media, which has become a catalyst for food and beverage trends in recent years.
Industry trends within eCommerce
B2B personalization and new services
Customer reviews on the website
Helpful content for client engagement
Get your free copy below to access Flavored Syrup industry insights!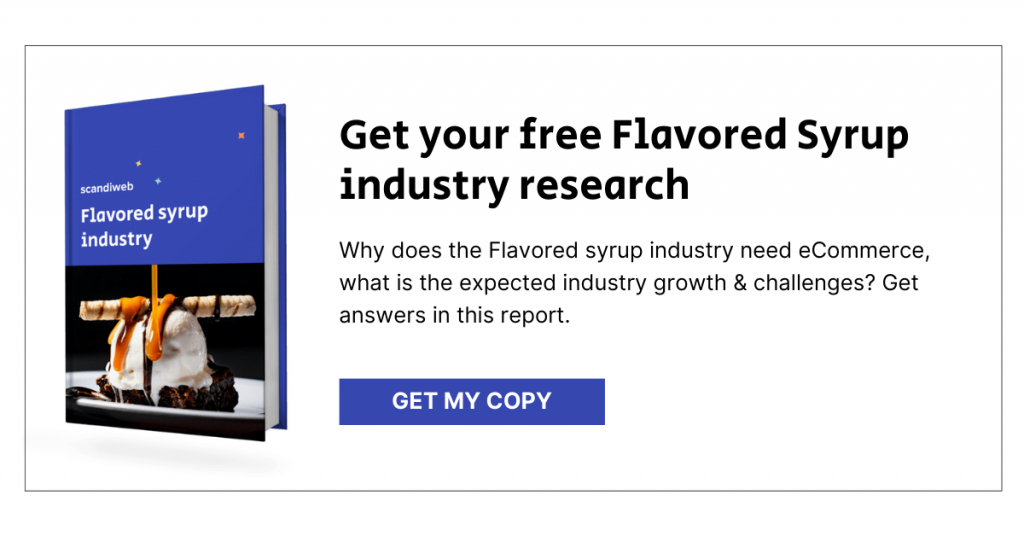 By downloading this report, get access to:
Flavored Syrup industry size and global growth rate
General industry statistics
Industry segmentation
Key trends and leading players shaping the industry
Recent developments in the industry
The current state of the North American Flavored Syrup market
eCommerce trends within the industry
Flavored Syrup industry threats and opportunities
Interested in more market insights? Browse our research papers on the latest trends and strategies in different industries. Download the research PDFs for free!