I was fortunate to be in Las Vegas Imagine (Hard Rock hotel year) when Magento 1 Solution Specialist was initially launched and only those who participated were able to try exam as very first ones. However, back then I was moderately new to Magento and did not feel like taking the exam (which I regretted immediately) but 2 of my colleagues took it & passed it.
Now, this summer when I saw that Magento is releasing Beta exam with limited 200 spaces I had to rehabilitate myself being one of the pioneers, hence, I was closely following and bough voucher as soon as it appeared. I was lucky and got a place on Magento's first Magento 2 Beta Certification It was part of an initial rollout having ~ 150 (or more) questions, to be completed in 3 hours. Exam takers were also asked to provide feedback to help Magento improving questions which I did.
Normally, you would get instant results (%, pass or fail), however, in Beta exam, we had to wait 4–6 weeks for Magento to decide what the pass mark is / which questions will be taken into account.
WHAT IS MCSS 2 & WHY DO YOU NEED IT
"A Magento Solution Specialist is an expert user of the Magento eCommerce platform. Drawing on a deep background in business and eCommerce, the Magento Solution Specialist can efficiently align business objectives with Magento functionality, optimize the use of native features, and avoid unnecessary customization." — this is how Magento itself describes what is MSS.
In my humble opinion, having MCSS 2 certificate is a solid proof that you have & know M2 basics (yes, basics) and I definitely wouldn't call someone an expert just because of ability to choose right answer among multiple choice to questions like what is VAT, EU Cookie law or ability to name product types. This exam is missing important areas which we (as an agency, merchant or most likely someone who works with e-commerce systems) faces on daily basis.
Customisation. Magento is used "as it is" almost never. This segment simply goes with Shopify or BigCommerce, therefore, it is crucial to understand how customisation should be done correctly. E.g. if you have the same block with the same information on every product page — how should it be implemented (re-using Magento default features and avoiding unnecessary customizations) or if you have multiple sizes guides which repeat for certain categories not even mentioning PIM, ERP/CRM, data migrations etc.
These are very basic & simple questions, but if one wants to be an "expert" Magento customisation is crucial.
Project Management, workflow and frameworks. If one works with Magento and e-commerce, most likely it means there are at least few "projects" per year and you should know what to ask / determine expected budget / how to execute choosing most appropriate setup (Agile/Scrum/Kanban/Demos/Retros/Waterwall/…)
To sum up, MCSS is a professional qualification that is recognized by Magento, merchants and agencies. It demonstrates that you have a good understanding of Magento and all, after all, nice thing to show others, still I'd avoid using term "expert".
NEW "MAGENTO CERTIFIED" BADGE
This is the first time ever when Magento has introduced brand new colour tone which is green. I guess next Developer certifications will keep the same green-ish colour gamma. Keen & excited to see next badges 🙂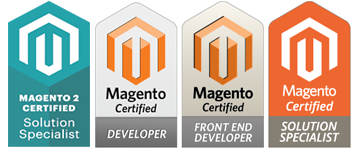 HOW TO PASS MCSS 2 & WHAT TO STUDY FOR
I hope you did not expect to find Questions & Answers here because it's nor legal or ethical. Also, results arrived almost 2 months later, exam had twice as many questions as now and even if I'd want to list questions here — I couldn't do it, however, what I can do — is to give you solid topics and directions where to look / what to check / how to prepare based on my experience.
The exam (beta) has 4 main areas of focus:
E-commerce 23%
Magento 2 Architecture 25%
Features and Functionality 30%
Application of Knowledge to Business Goals 22%
Topics / directions to dive into:
Omnichannels / multichannels / social merchandising
EU cookie law / cookies / VAT / Taxes
SEO / Duplicate content
SSL / PA-DSS / PCI
Usability / CRO / UX
M2 addons (BlueFoot, B2B, MCOM, BI, Social etc.)
Split DB
Search / SOLR / Elastic
Cloud
CDN / technical set up / APIs / Varnish / JS / Blackfire
Magento features / architecture
Magento functionality/features — here you can't simply read a blog post to know more about it. You have to go through it, set up M2 (preferably Commerce edition) locally and literally click through each feature, know how products are created, which are mandatory fields, how stock control works, how shipping & payment methods works, how layouts are defined, segmentation, theme creation/structure, customisation options and when is it necessary, catalogue, customers, imports & exports, reporting, discounts, shipping, CE vs EE, emails, orders.
Before the exam, I clicked through whole M2 installation making sure I can picture visually most of the areas knowing available options. Also, I read through M2 documentation addressing all innovations Magento has introduced along with M2 Commerce (ex EE) edition. If you want to pass — you have to know Magento features & configuration options.
STATISTICS
I gathered MCSS 2 data available within Magento Certification Directory to find out some of the statistics.
How many of Beta passed?
According to information available in directory 123 people out of 200 have received MCSS 2 badge. That makes only 61.5% passing rate for all takers.
I'd consider exam rather easy and straightforward for everyone who is working with Magento and have read/scrolled through M2 documentation. Although exam has much more questions not about Magento comparing to M1 exam, still topics are broadly known/discussed.
Most certificates per country?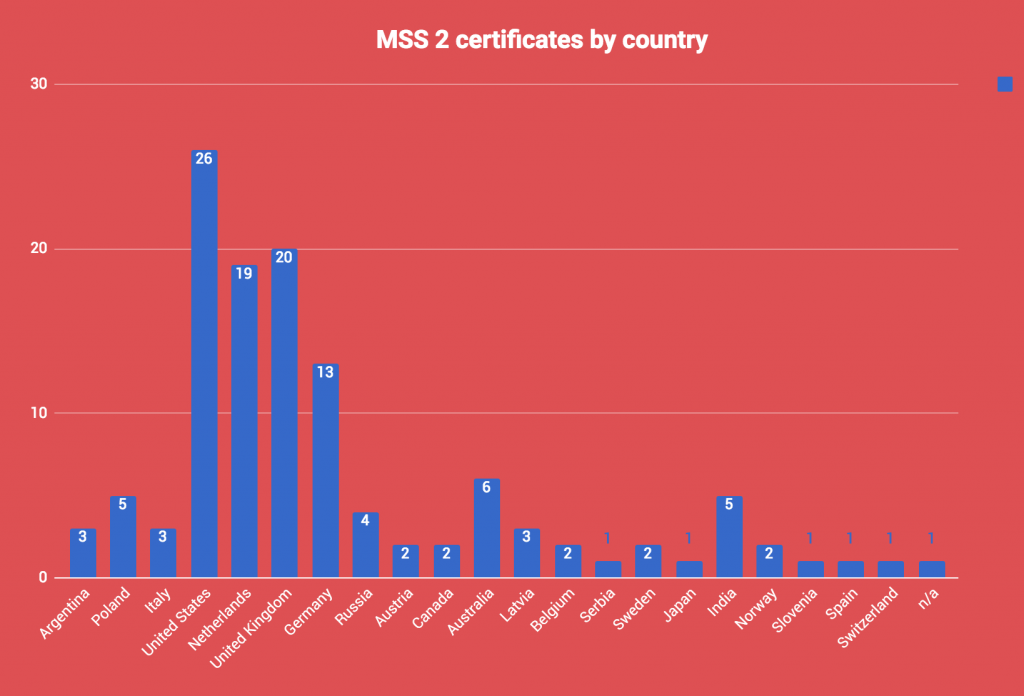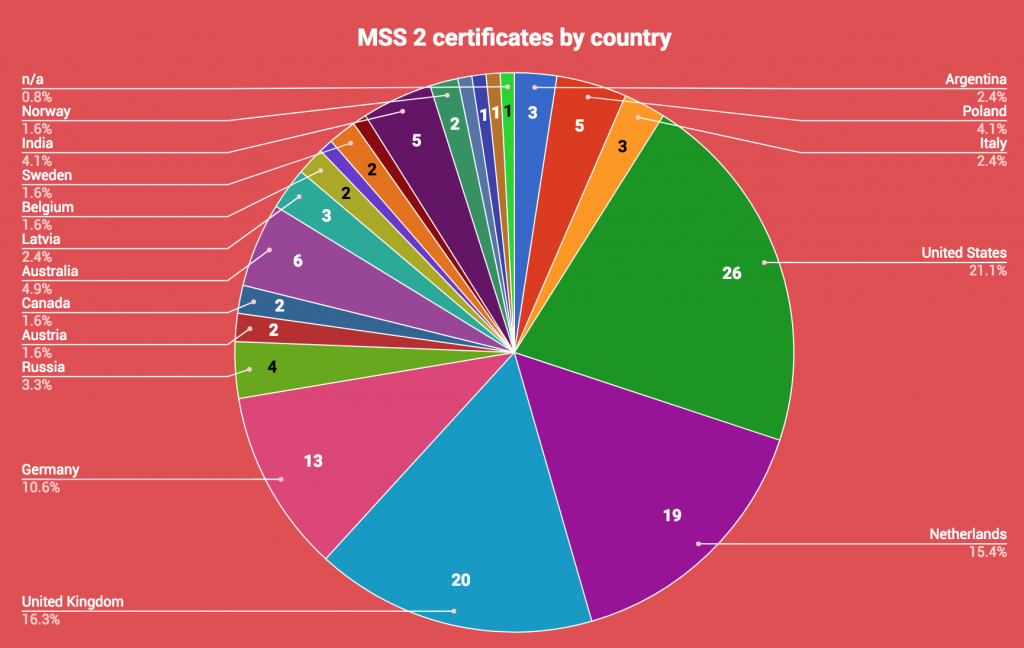 The United States (21%) and the United Kingdom (16%) both have the most certificates closely following Netherlands (15%). Taking into account NL size they must love Magento. Germany also got a notable number of certificates, rest of the countries got only a few.
Interesting to see that Latvia (with only 2m population) has 3 certificates which is more/same as Argentina, Italy, Sweden, Norway, Spain, Japan, France etc.
REQUIREMENTS
Pass rate 75%+ (at least for Beta)
75 Multiple Choice items (Beta exam had 150 questions)
90 minutes to complete the exam (Beta exam was 180 min)
All questions are valid for Magento Community Edition (2.0.x/2.1.x) and Magento Enterprise Edition (2..0.x/2.1.x). — based on experience also B2B, BlueFoot, Magento Analytics, MCOM and other addons
Certification stuff will provide you with few paper sheets where to take notes, but before leaving you have to give them up. You won't be allowed to have anything with you in the room cell, watch, headphone, gadgets etc.
USED DATA & SOURCES
If you are expert enough, you should pass the exam and receive certification. Your Magento account will get updated with new badge and from Magento account, you will be able to generate PDF Certificate.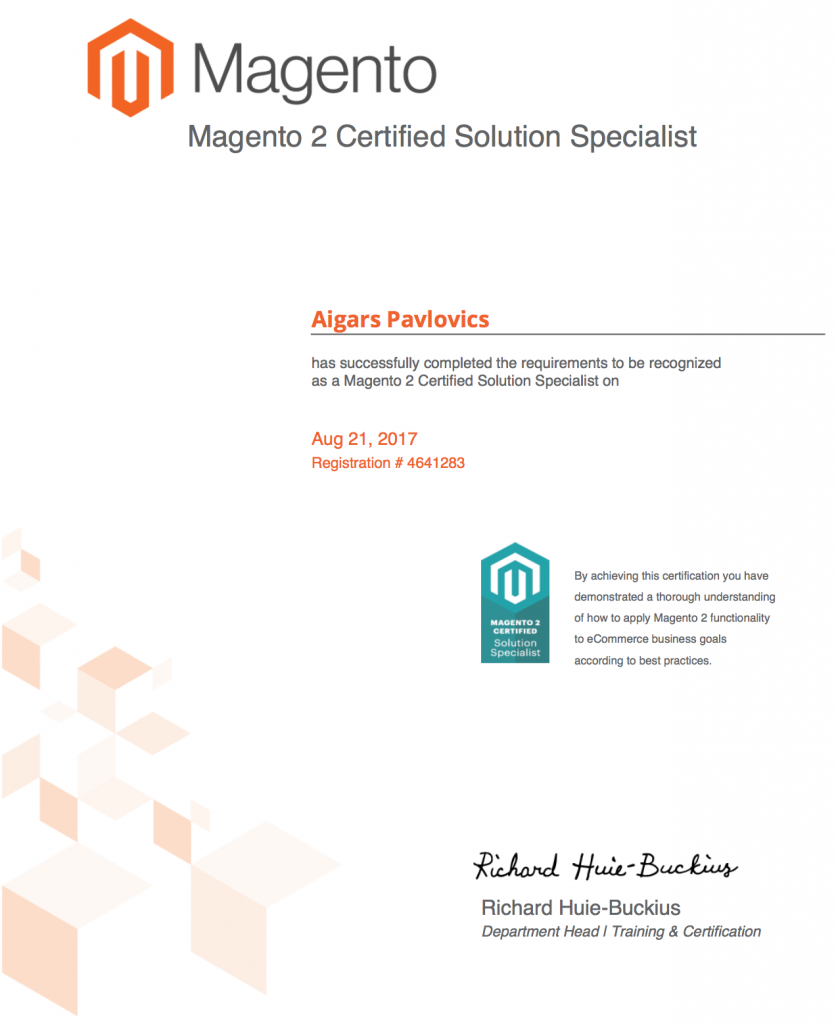 Related articles:
Let us help you! Scandiweb has the largest certified Magento expert team in the world. Click here to check out how we can help your business with Magento. Sounds like the solution for you? Drop us a line at [email protected] to receive more information.