Product Information Management (PIM) solution users can bring their products to market up to 60% faster. The PIM market is expanding rapidly worldwide, and we predict that in 2023, PIM platforms will offer significant business value beyond their core capabilities. With the continuous growth of eCommerce, the primary trend for PIM solutions is a focus on providing engaging product experiences across multiple channels, known as PXM capabilities. PIM solutions are no longer limited to managing product data but also aim to create engaging product experiences.
This report will provide you with all the information you need about PIM and eCommerce integration and give insight into current PIM trends in 2023, such as enhanced personalization capabilities within PIM, the popularity of headless and composable PIM architectures, and the ability of PIM to provide channel-based pricing flexibility. Here's a brief look into the research!
Key PIM trends in eCommerce 2023
Increasing adoption of SaaS from on-premise solutions
SaaS solutions offer flexibility, access from any device, and support for multiple user profiles. Storage scales with needs and upgrades with catalog growth. Real-time synchronization provides up-to-date
information and automated data distribution to various platforms.
24/7 access, self-service, and syndication
Companies want 24/7 cloud-based data access and aim to avoid delays from outsourced vendors and desire technology that offers usability, seamless access, and personal PIM provider assistance when needed. High-value product information must be delivered to all consumers in real time.
Channel-based price flexibility
Integrated price management can enable personalized experiences and agility in providing real-time discounts and offers for special events like Christmas or Black Friday. Thus businesses will benefit from enhanced flexibility and customer-centric pricing strategies.
Headless & composable PIM
Headless PIM apps decouple backend and frontend components, allowing the reuse of backend elements across multiple frontend interfaces. This accelerates development and customization. Composable PIM architecture integrates well with open APIs and low-code platforms.
Enhancing personalization with PXM
Product Experience Management (PXM) offers customers a personalized shopping experience by presenting them with optimal product content and images, regardless of the marketing or sales channel they are using.
and more trends!
PIM best practices
Build a customer-centric data model
Streamline product data organization
Enhance product information visibility
Choose appropriate PIM software
Evaluate PIM system effectiveness
Align PIM with SEO & marketing strategies
Get your free copy of the research below and learn everything you need to know to leverage PIM for your business!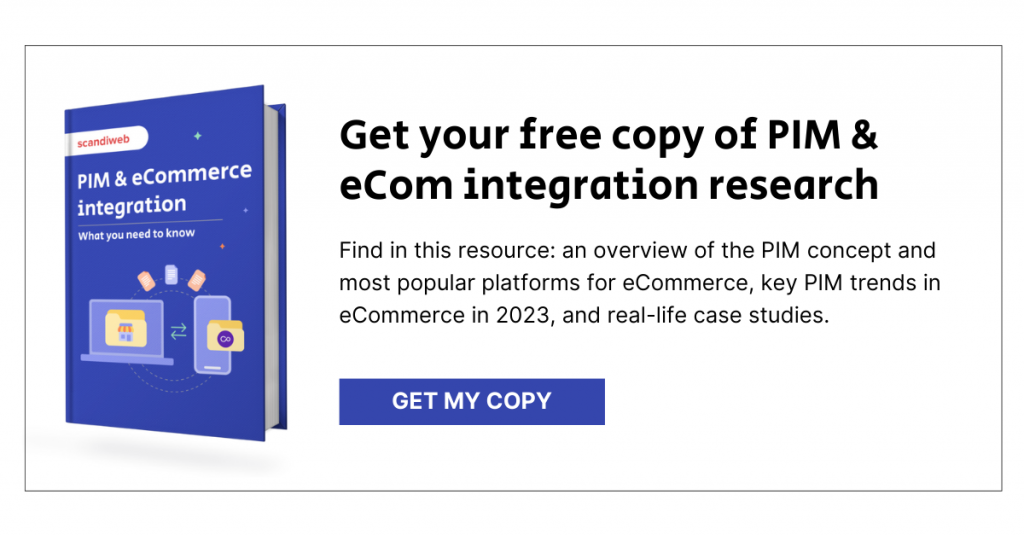 In this report, you will learn about
PIM concept
Key PIM trends in eCommerce 2023
PIM case studies in eCommerce
Top PIM platforms for eCommerce
Are you interested in setting up a PIM system? Shoot an email to [email protected], and we will provide you with a strategy best suited for your business!
Enjoyed the read about PIM & eCommerce integration? Browse our collection of other research papers on the latest trends and strategies in different industries. Request research if you don't find your industry there. Download the research PDFs for free!