Episode 13: Get to know some developers
This week's episode is a mixed bag — we have some senior developers and some upcoming developers and they're all an invaluable part of the team! Meet 5 more devs from Scandiweb's horde of 160+ and learn who they are, what they do, and what they like! Also, don't miss the advice they would give to their 10-year-younger selves — it's right under the picture!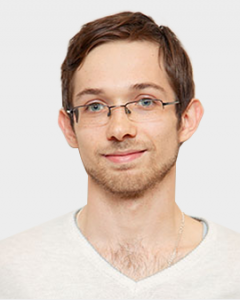 "Don't change a thing!"
Arsenijs Prusakovs
At a younger age, Arsenijs used to believe that bananas are made in factories — the peels being a custom type of packaging. Now he's a senior Magento 2 developer, responsible for transforming business ideas into their technical representations! Arsenijs works with a global perspective — understanding the big picture effects of minute details. This, in unison, with considerable hands-on experience allows Arsenijs to catch potential future problems before they can have any deleterious effects!
A fan of dark humour and dumb jokes, books and traveling, Arsenijs is a riveting conversation partner, his face always illuminated with a winning smile. When prompted for a favourite book, Arsenijs mentions Kesey's "One flew over the cuckoo's nest". Arsenijs is also fond of card games and cycling — riding his bike to and from work whenever possible!
Here at Scandiweb, you can start your working day almost whenever you please, as long as you deliver that which you're responsible for — a type of freedom Arsenijs is very glad to have!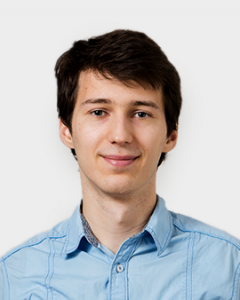 "Be more active in learning and communication"
Deniss Kolesins
Deniss used to believe that cats live on the moon, where they gorge themselves on cheese! Now he's a front-end developer at Scandiweb. Deniss has a BA in IT, during which he participated in a project developing car navigation algorithms. He did such a stellar job, that a project partner invited him to join the Scandiweb team and he did just that! Now that he's here, Deniss applies his ability for systematic thinking and his rich experience on the Byggmax project, doing frontend interface development and styling. His keys to success — quick, open and friendly communication with colleagues, PMs & clients!
With an appreciation for culture, history, and nature, Deniss has numerous hobbies and interests from camping in wild places to reading classical literature and learning about architecture. Deniss also enjoys watching movies about war and conflict or playing such board games as "Risk" and "Jungle Speed" with friends. More than just a consumer of culture, he also has a talent for drawing and a point of pride for Deniss is having participated in a Christian charity camp for kids as a counselor.
As it is the case for many other people, Deniss' favorite thing about Scandiweb is his colleagues, with whom he enjoys sharing both his professional as well as personal experiences and knowledge.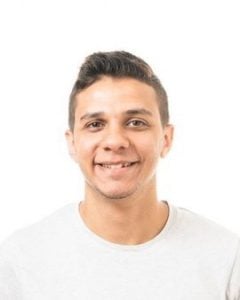 "Listen to yourself, not others!"
Ahmed Ahmed
Ahmed was born in Saudi Arabia, grew up in Cairo, Egypt and was so certain in his belief that cartoons characters live inside the TV, that he opened it up to take a look inside! Now he's a programmer working with Magento. Currently studying Electronics and Mobile Communication, Ahmed is a decorated student having won 1st place in the Garage48 hackathon, 2nd place in a Mechatronics competition, 4th place in Robocon. He's also team leader & vice chair of IEEE's student branch for robotics, where he organized three robotics competitions from scratch! Ahmed is a person born to shine and he's doing just that here at Scandiweb as well!
Outside of work Ahmed enjoys powerful visual experiences — he's a fan of VR games and will always prefer seeing a movie on the big screen, rather than watching it at home. Ahmed's also a great cook, which is a skill he takes pride in. When cravings for some physical activity take over, Ahmed either goes for a bike ride or a swim!
Ahmed's favorite thing about Scandiweb? There's no dress code! One time, a guy came to work in a full-blown Scottish kilt!
"Don't change anything"
Daniels Kursitis
Born and raised in Livani, Latvia, Daniels is now a PHP developer working in the Scandiweb support department. With over 5 years of independent programming experience with a wide array of different languages, Daniels brings a useful versatility to the team. It is this versatility which he considers to be his greatest strength, being able to jump effortlessly between platforms and technologies and being able to contribute to the projects of colleagues, whenever necessary.
Daniels is an aspiring game developer and funnels his free time into evolving his programming knowledge even further, creating all sorts of neat things, with an enjoyable user experience being the paramount criterion. When not at his computer, Daniels likes to pick up a book. A fan of the adventure genre, Daniels names Johan David Wyss' "The Swiss Family Robinson" as one of his favorites.
Happy to have a professional outlet for his skills, Daniels is always looking forward to new projects and challenges to tackle, backed by his supportive colleagues!