Episode 15: Introducing the Designers
These guys are wizards. They can take any idea you have, put it on paper and then make it infinitely better. A talented, friendly and incredibly funny group of people, the designers breath colour into Scandiweb's collective.
Get to know their talents, their hobbies and the advice they would give to their younger selves!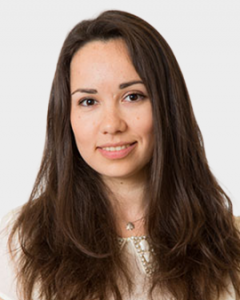 "Keep doing what you're doing and everything will turn out great!"
Natalja Tarasova
At a younger age, Natalja believed in the existence of all sorts of mythical creatures — fairies flying around, gnomes hiding under trees, unicorns living in forests — and that they would come out of hiding when humans weren't around. Now she's Scandiweb's Art Director in charge of everything that has to do with design — from doing estimates to managing projects to working on concrete designs, to leading her team! An artistic personality, with an incredible eye for design-based solutions, Natalja breathes life into every project she touches! She also has a talent for team management, always making sure to keep a light and organized atmosphere. For Natalja, understanding the WHY of design is what separates a designer from the average Photoshop-using Joe, and she has made sure to surround herself with a team of people who know this. 
When she's off work, Natalja enjoys drawing and painting in a non-digital medium with pencils, watercolours, oil, among other things. Being also a fan of Fantasy and Sci-fi, as well as general scientific topics, Natalja's bookcase is quite full, with the works of such authors as Ray Bradbury and Robert Sheckley showing the most signs of wear. Travelling is also an important part of Natalja's life!
Natalja likes that people in Scandiweb are open to exciting and crazy ideas and that there's a CEO who leads by example! People are passionate about what they do and they enjoy the challenges they are presented with!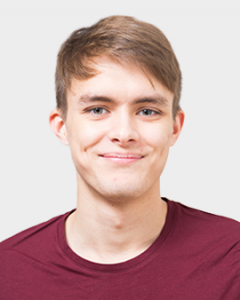 "Get up an hour earlier every day and spend it learning something fun and useful!"
Daniels Gulbis
At a younger age, Daniels thought that Jurassic Park is a real place and that behind his bedroom wall there's an infinite space, just like in Dexter's Laboratory, waiting for Daniels to come and make his own lab, with robots and lasers. Now he's a Motion Graphic Designer spending most of his day writing scripts, drawing storyboards, illustrating characters and making animations. Responsible for helping clients figure out the best story they need to tell to reach their target audience and business goals, Daniels' expert ability of rapid-fire idea generation has left many in awe.
When not at work, Daniel's stream of creativity doesn't stop — he enjoys creating personal projects for fun and recently got into learning 3D modelling and animation. Daniels also likes listening to a wide variety of music from Metal, to Psychedelic rock/pop, to Ambient and Downtempo. When the muse is exhausted, Daniels likes to replenish his energy by playing video games, with action-adventure, RPGs and FPSs being among his favorite genres.
Daniels' favorite thing about Scandiweb are the people — everybody's friendly, funny and interesting in their own unique way. This uniqueness is unleashed thanks to the liberal atmosphere encouraging everybody to be themselves!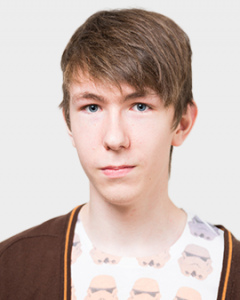 "Learn more about UX/UI and business. Trust yourself and believe in what you're doing!"
Nikita Zadvornijs
4-year-old Nikita used to be called "Cake" by his parents. One day he found some cake molds and asked what those were, to which his parents replied that those are molds for cake. He got excited, thinking they were a present for him, for "Cake", and was devastated to find out that was not the case. Now Nikita is a designer at Scandiweb, responsible for UX/UI web & app designs for all sorts of projects, as well as making banners, logos, prototypes, and presentations. What makes Nikita stand out is his free-flowing style — he can switch effortlessly between different styles, meaning he can fulfil ANY request and do so spectacularly.
A bright personality, Nikita's free time is filled with Anime, Twitch, cosplay, and Comic-cons, and every year since 2012 he has worked as a volunteer at UniCon — Latvia's biggest Comic-con event! Nikita also likes nature and travelling — going on adventures. Baking and skating, which he describes as soothing processes, are what help Nikita relax after a long day.
Nikita's favorite aspect about Scandiweb is the people — everybody's respectful, nice and friendly and management sets the example! All the bonuses, from financial ones, to team events, to cool merch — that's a big plus as well!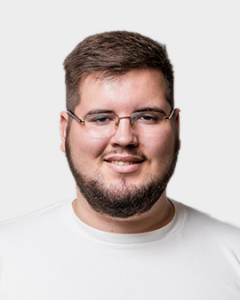 "Buy Bitcoin!"
Igors Koneckis
As a child, Igors used to believe that magic was real and that most people could read each other's minds! He would try not to think of any bad words, in case other people nearby could hear him! Now he's a designer with a broad range of tasks typical to the position, however, his strong suit and favorite things to work on are mobile applications and web design. Always striving to create unique, functional and stunning designs, Igors is detail-oriented and designs with the user in mind. Having led his own design agency for 3 years, Igors understands and is deeply interested in the business aspect of design — how the visual drives the financial.
Media creation defines Igors. On top of graphic design, sound engineering and music production have been a hobby of Igors' for over 10 years! Video graphics and, more recently, filming also take up a lot of his free time! Having experienced pressure against choosing this path, a noteworthy point of pride for Igors is having had the strength to go against the flow and finding his own way in the world!
Igors' favorite aspect of Scandiweb is the people. Friendly and helpful colleagues make every day fun and enjoyable. There's also an incredible learning atmosphere and people are proactive in learning as much as possible!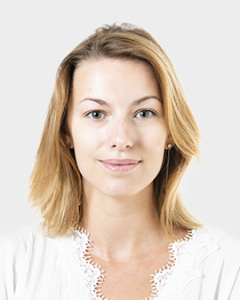 "Become a UX designer as soon as possible!"
Nastassia Biahun
As a child, Nastassia used to think that the events taking place in movies actually happened to the people in them! Now she's a designer, with her strongest suit being UX design. Preparing visually stunning designs for websites, mobile applications, marketing materials, banners, Nastassia's work stands out — she works with a minimalistic mindset, trying to find the easiest solution that works best. A strong believer in a test-based approach, Nastassia enjoys the aspect of design where art and engineering meet — iterating until perfection is reached and it always is.
During her free time, Nastassia likes to paint, expressing her emotions through abstract pieces and describing it as a meditative hobby. Finishing a work, which can take from a couple of days to months, brings a unique feeling of accomplishment and inner peace! Being fond of travelling, a point of pride for Nastassia is having gone to the USA alone at the age of 19, on a work & travel programme!
Nastassia's favourite things about Scandiweb are the challenging, fast-paced and dynamic workflow, as well as the open, non-bureaucratic environment!