Episode 16: 5 more Digital Marketers
Part-time practical psychologists, the Digital Marketers can turn any website into an amazing one that will reach the right people, solve their problems and turn them into loyal customers!
They're an active, supportive and friendly group of people – read their stories below to learn more about them!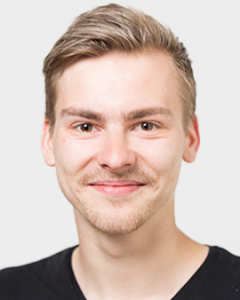 "Develop healthy habits. Read educational books. Learn from happy people."
Reinis Groskops
As a child, Reinis used to believe that Santa's helpers stalk kids to check up on their behaviour, which is how Santa knows who's naughty and who's nice. Now he's a Senior CRO and data analyst, as well as the team-lead of Scandiweb's Marketing department! Responsible for managing the team, business optimization, SEO, analytics data tracking setup and analysis, he is the key driving force behind the Marketing department's success! An analytical mindset, a hang for problem-solving, high adaptability and quick learning — Reinis is the paragon of marketing experts!
Football has a special place in Reinis' heart — he has been playing for over 14 years and likes to follow it as well! He also likes to take part in some extreme sports, such as snowboarding and wakeboarding. To relax — a good stand-up show or a trip to nature will do the trick!
Reinis' favourite thing about Scandiweb is the attitude: there's both a "start-up" culture, which brings about a dynamic and light work environment, despite this being an established company with a rich past, and there's an attitude of "Nothing's impossible" — we constantly take on and execute big challenges!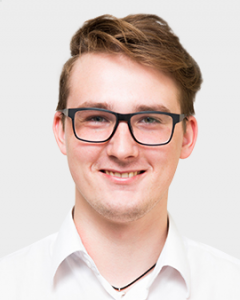 "Put first things first!"
Igors Urbans
At a younger age, Igors thought that he'd be a millionaire by the age of 21 and spend most of his income on all kinds of sweets. Now he's a Digital Marketing specialist, doing everything from the development of web-analytics set-ups to data gathering strategies and logics, to business intelligence and more. A proactive learner, Igors likes to go the extra mile, i.e. learning to implement and optimize analytics set-ups without involving developers. A communicable guy, an experienced team member, and an incredibly supportive colleague, Igors is an irreplaceable part of the digital marketing department.
Friendly and positive by nature, Igors is always making everybody around him laugh, brightening the mood in the office and when out with friends! Music also plays a big part in his life. Frequently attending all sorts of concerts, Igors enjoys a wide spectrum of music — rock, hip-hop, metal, drum & bass, blues — he's willing to give anything a try!
Complex challenges, time for education, liberal corporate culture, modern working environment, awesome colleagues, plentiful support & employee benefits and a flexible working schedule are the things Igors values most in Scandiweb!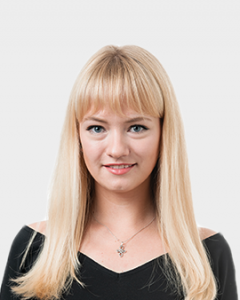 "Keep going! Hard work pays off!"
Olga Kimalana
When she was 6 years old, Olga, whilst swimming, saw a snake and caught it with her bare hands, shocking her terrified friends, her worried grandparents and the unexpecting snake itself! Now she's a digital marketing specialist, with her expertise relating to CRO/UX & Analytics. Researching websites and users, developing wireframes and creating seamless user journeys, doing digital analytics tracking set-ups and tests, as well as data analysis and more — Olga has a versatile skill set. Attentiveness, patience, and the ability to put herself in the users' shoes are what make Olga great at her job, with the latter being an important tool in solving frustrations when it comes to user experience.
Olga enjoys travelling and finds inspiration in other cultures, nature, architecture, food — in short, new experiences. Looking for new experiences at home as well, Olga has started attending Jazz dance classes and has fallen in love with them. Another passion is photography. With a natural ability, developed through years of practice, Olga has a talent for capturing the perfect moment!
At Scandiweb, Olga is happy to have a supportive team, as well as the possibility and resources for professional growth! She's also fond of the diversity of projects she gets to work on — from high fashion clothes to off-road cars — Olga likes to learn about the different businesses, clients and customers!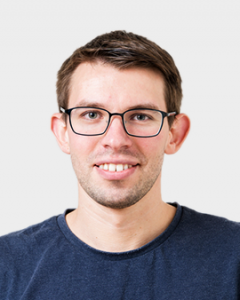 "Don't stress about the things that will be insignificant in 10 years time!"
Aleksandrs Hodakovskis
As a child, Aleksandrs thought that actors in movies are dying for real and was awestruck that they would attempt all the crazy fights and stunts that they did! Now he's a digital marketing specialist fully dedicated to Publica — Scandiweb's internal blockchain startup. His days consist of planning marketing campaigns and communicating with partners and the community. What helps Aleksandrs stay on top of the volatile crypto environment is adaptability — being able to adjust and react quickly to the constant changes taking place — a skill he developed through continuous learning and experimentation.
Aleksandrs is a hardcore fan of all kinds of sports, but football has a special place in his heart — Aleksandrs closely follows Liverpool FC and the Green Bay Packers (NFL). Not just watching, but playing as well — Aleksandrs is very fast on his feet and helped his team win a Gold Medal in football at the Latvian Universiade (a type of national student Olympics)!
When it comes to Scandiweb, Aleksandrs loves the combination of the friendly atmosphere and professional attitude. Naming supportive and smart colleagues as another perk, Aleksandrs is thankful for the many useful insights learned during quick chats at the coffee machine!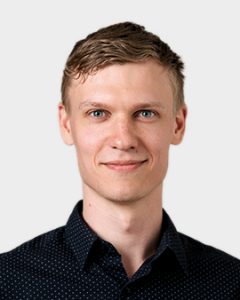 "Ask more questions, talk to more people and step over yourself more often!"
Frenks Rozentals
At a younger age, Frenks held the belief that clouds are static — they stay in place and appear to move only because the planet is rotating! Now he's a digital marketing specialist/manager doing everything from SEO and CRO audits, analysis and research to crypto marketing. Unrelenting by nature, Frenks never sits on his hands and is constantly looking for new ways to challenge himself. Being someone who derives satisfaction from having things run smoothly, Frenks likes to optimize systems and businesses wherever possible, making him a perfect fit for his position! Tackling every task with a calm and collected approach, Frenks is very thorough and can also work well under pressure.
With a bookshelf filled with books on business literature and success stories, Frenks likes to explore what drives achievements in this world. Physical activities also play a big part in his life — Frenks likes to swim, hike, participate in all sorts of active sports, he enjoys riding his bike and danced in a folk collective for over 12 years! Another, recently discovered, hobby of his — escape rooms!
Frenks mentions the work ethic as his favorite aspect of Scandiweb. People put in the effort. The environment is built so everyone can improve themselves and people strive to do so!
← Read the previous Digital Marketer episode!