Episode 21: It's a mixed bag — Devs & Digital Marketers!
This week's episode features 2 Digital Marketers and 3 Developers. When it comes to projects, there's always a close collaboration between the two departments to produce the best possible results — just like this episode! Great people, with great skills and great talents — here are their stories!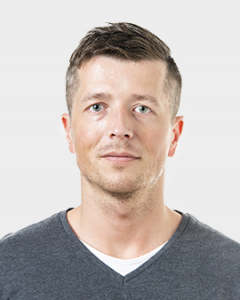 "Start working and studying IT earlier"
Uldis Timofejevs
When Uldis was a child, his grandfather convinced him that if you put your tongue to a door handle during winter time, you could see Riga. Recruited by a friend, Uldis is now a QA specialist here at Scandiweb. Taking pride in being great at what he does, Uldis' day consists of test case writing and testing. With a knack for catching more bugs than an entomologist, Uldis' sharp eye and systematic approach are invaluable assets for making sure everything is in top-notch condition.
Being a strong supporter of an active lifestyle, Uldis spends a lot of his free time doing fitness and boxing. You will find him pushing himself to the limit or helping others do the same! Uldis is a great teacher and finds pleasure in teaching people the correct and optimal methods for training.
Uldis is appreciative of his colleagues and finds the attitude of the company's leadership to be exemplary in its approachability and down-to-earthiness. Uldis breathes energy into everything he does, lifting the spirits of those around him — a skill that makes everyone's day at Scandiweb better.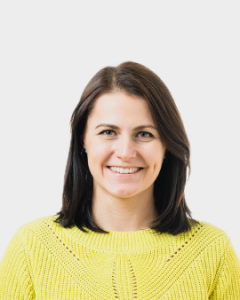 "Attend more concerts!"
Karolina Gavrilova
As a child, Karolina was a very picky eater, but all it took from her parents was to rename the food and she would happily eat it — she hated honey, but woney was amazing! Now she's a Digital Marketer working primarily with CRO, doing analytics, GTM implementation, and more. Aided daily by her experience with GA and social commerce, she, nevertheless, highlights her team as a crucial aspect conducive to her professional success. Indeed, an enthusiastic team player, Karolina is also very individually driven to learn and improve, the drive being her perpetual curiosity.
Karolina's active by nature and has recently switched from team sports (rugby!) to going to the gym and participating in various individual physical activities. Karolina's a fan of rock concerts and attends whatever she can, but when it's time for a cozy evening at home — movies and TV series are her thing! What's more, a point of pride for Karolina is having learned Finnish!
Karolina's favorite aspect of Scandiweb is the big team, which despite approaching 200 people is tight-knit and feels like family, thanks to the friendliness of the people, the openness of the environment and the many events that create bonding opportunities! Another big plus is the feeling of having a voice — your ideas are requested and taken into consideration!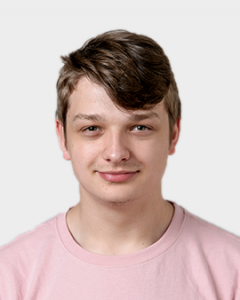 "Learn more about programming!"
Janis Dimants
As a child, Janis was afraid of the dark, believing that monsters were lurking in it and were out to get him! Now he's a developer at Scandiweb, part of the NYT team, writing a lot of code, primarily for Shopify, and enjoying working with and creating web & app logic. Having joined Scandiweb right after high school, encouraged by friends already in the company, Janis has become a vital component of his team. Janis has a natural ability and talent for what he does, which is complemented by a drive to complete tasks as well as possible. Janis is also a good teammate and won't hesitate to turn to his supportive team if any help is needed!
Janis' free time is spent working on his own personal game projects — doing both the programming and the art, both of which he finds highly enjoyable. Unsurprisingly, he's quite talented not only at developing games, but playing them as well, reaching 0.5% in Starcraft 2 a couple of years ago and, more recently, reaching the top 1.5% in Rocket League!
As for many others, the people are one of Janis' favorite aspects of work at Scandiweb. The friendly and supportive atmosphere, maintained by communicative and funny colleagues, makes long days of coding enjoyable!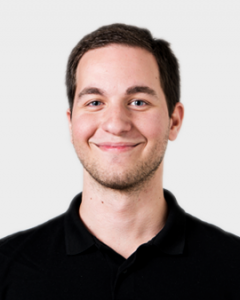 "Don't make Stacey wait so long"
Berkay Alp
As a child, Berkay used to believe that in movie theatres they had big VHS players in which they put big VHS tapes so that the movie would be big enough for the big screen. Now he's part of Scandiweb's Digital Marketing team, his tasks revolving primarily around working with startups — helping them kickoff, as well as some SEO tasks and providing general assistance to colleagues. Berkay's strengths lie in his experience and never shying away from a problem — he will take charge and ensure continuous progress when obstacles are encountered, by resolving them quickly and efficiently. Helpful by nature, Berkay is quick to react when a colleague is in need and is always there to support them, aided by his extensive technical know-how of most SEO issues.
Berkay's free time is taken up by professional self-improvement. Frequently exploring diverse digital marketing aspects, Berkay has even taken up learning design & project management to become more complete in his position and understand the intricacies of related domains in-depth. When he's not working, Berkay enjoys Nordic movies — he finds them engaging and unique thanks to their interesting stories and narratives, focusing on exploring human nature and relationships.
When it comes to Scandiweb, Berkay appreciates the outspoken environment — people are encouraged to be open about their views regarding external and internal projects and policies and their views are taken into consideration both by colleagues and management.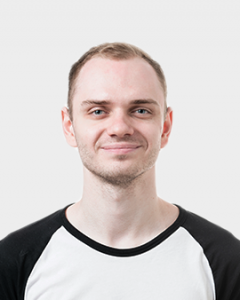 "Pick a career path sooner so you can pursue it earlier."
Arturs Gailis
As a child, Arturs had an irrational fear of getting lost in the supermarket, because the guard would take him and bring him to the "mystery room" — the camera room, where the guard sits. Now he's a Magento 2 developer and part of Scandiweb's Support superheroes, which means his day-to-day consists of a variety of tasks, from adding a simple label or translation to debugging checkouts. Arturs shines in his position because he enjoys the variety. Doing new things keeps mundanity at bay and brings new knowledge and new learning opportunities!
A passionate and skillful football player, Arturs spends a lot of his time on the field. In terms of more mellow interests — late night drives on the countryside roads are also his thing. A lot of Arturs time is also taken up by studying. Being persistent in pursuing his education is something that he takes pride in.
Arturs believes that Scandiweb does a great job at finding an individual approach for every employee and listening to their ideas and concerns. As for his co-workers, Arturs really appreciates them and sees them as a small family — helpful and understanding.
← Read the previous episode featuring the Executive team!