Episode 22: It's all about the Developers!
A developer episode! These 5 guys are incredible and there's over 25 years of experience shared between them at Scandiweb! Read their stories to learn what their success is built on, what keeps driving them to do the great work they do and get to know their passions and interests — from travellers to football players, you're bound to find a kindred spirit!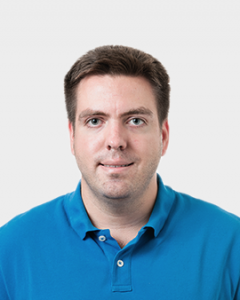 "Everything's going to work out — just keep moving forward"
Vadims Petrovs
Born and raised in Riga, Vadims is a senior developer and has been with Scandiweb for over 8 years! During his tenure, he has worked on countless things — multiple projects, Amazon infrastructure, created a third party client to completely rework the Magento checkout and currently finds himself as a dedicated developer. When asked for what has helped him most in leading such a successful career, Vadims highlights asking questions! Always clarifying things to the last detail, question asking is what helps not only always deliver the client's vision, but also be a great teammate for colleagues, encouraging openness and communication.
Vadims enjoys music and frequents rock and metal concerts. Computer games and mystery/fantasy movies and tv-series (The Dark, Stranger Things) also hold a special place in his heart. However, his passion is travelling. From standard tourism to traversing mountains, to exploring the sea, Vadims finds pleasure in getting to know the world. What's more, he has a talent for mobilizing people, planning events, finding the best places to visit and stay, so he's a valuable travel companion to have!
After almost a decade at Scandiweb work is still exciting, says Vadims. With the company constantly evolving, there are always new projects, new challenges, new technologies, bringing opportunity for personal and professional growth!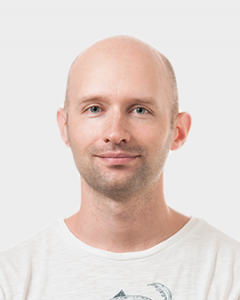 "Nothing happens overnight"
Elvis Zunde
At a younger age, Elvis was very superstitious until he found out that black cats are actually good companions and that there is a huge gap between apparency, beliefs, and reality. From a junior web developer to a mentor, to team lead, Elvis has had a dynamic 8 years at the company and currently finds himself in the role of senior developer. His extensive knowledge is applied wherever possible — having been the first dedicated dev to be based in New York City, working on internal projects such as MageBee and Crowdbonus, and even creating multiplayer games and interactive animations, Elvis' skillset is very sought after. Elvis is persistent by nature and considers this ability of solving problems and finding creative solutions to be of paramount importance for everyone, ranking it higher than any technical skills.
Elvis enjoys reading and listening to audiobooks on various topics, with a preference for autobiographies and books on self-development, philosophy, and religion, gaining knowledge that would be otherwise unacquirable during his lifetime. To stay in shape, Elvis likes to do mountain biking, jogging, workouts and take ice-cold showers, which combined with meditation helps him keep a healthy mind & body for a good work-life balance. Indeed, Elvis continuously strives for self-mastery and understanding. He's also a great spy in Team Fortress 2!
Elvis enjoys the challenges Scandiweb brings on a daily basis and views them as learning opportunities both in terms of developing technical skills, as well as soft ones, such as communication and team play!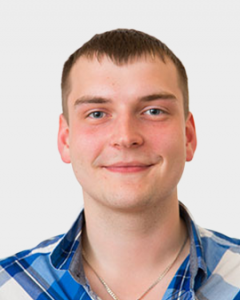 "Everything that happened should have happened"
Vladislavs Piscikovs
As a child, Vladislavs didn't believe in Santa because he had never seen him, which lead him to think that presents simply magically appear under the tree. Now Vladislavs is a Senior Developer and has been with Scandiweb for almost 6 years. Vladislavs is a one-man army, doing everything project-related from A to Z, his broad knowledge coming in handy at every stage of development. He names communication as an invaluable skill that has helped him stay on top of the game. Asking for help, rather than struggling individually is of paramount importance — in a team when one person struggles, the whole team struggles, thus talking problems out is the best way to progress & learn. Vladislavs also constantly looks to improve himself, which maintains his motivation and personal growth at healthy levels.
Despite most of his free time being taken up by studies, Vladislavs always finds time to spend with family and friends. His personal passion, however, is self-development and latest technologies — especially those that will change the world or help humankind, e.g. brain-computer interfaces. To relax, video games, captivating TV-series and spending time in good company are Vladislavs' go-tos.
Vladislavs likes that there are so many people in Scandiweb with diverse backgrounds and knowledge that no matter the question you ask, you will always find someone who knows something about it!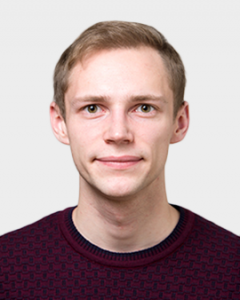 "Don't change anything!"
Vladimirs Stirmanovs
Born and raised in Riga, Vladimirs is now a developer at Scandiweb, currently part of Support department's Hulk team! As for most Support Superheroes, Vladimirs' constantly faces a plethora of different tasks, from urgent issue resolution to bug fixing, to new feature implementation and more — whatever is needed by a client, Vladimirs is there to solve it, often creating unprecedented solutions. With his hand in more than 20 projects, Vladimirs highlights both internal and external communication as pivotal for excellence in his daily duties. What's more, since every project is unique, Vladimirs' broad full-stack knowledge also comes in very handy when a new task pops up!
Vladimirs is very active by nature and has tried all kinds of sports — fighting, basketball, volleyball, even trampoline acrobatics (something he greatly enjoyed). When he has gotten everything he can out of his current interest, Vladimirs likes to move on and try something new. Football, however, is a permanent passion and Vladimirs used to play semi-professionally, actively participating in the second league in Latvia. Recently it has become less serious and he plays with amateurs, however, he still spends a lot of time on the field!
What Vladimirs likes about Scandiweb is that the company provides all the necessary tools and knowledge for people to work, grow and improve!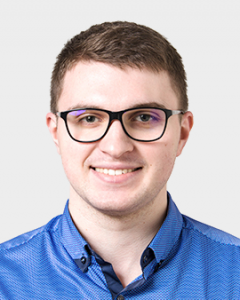 "Do the things you're good at!"
Eduards Mukans
At a younger age, Eduards had a deep-seated belief that the world is fundamentally fair, however seeing the impact luck plays in the day-to-day shook this belief. Now he's a developer, working mainly with iOS applications and adding his touch to Scandiweb's PWA endeavours. Currently doing his MA in Computer Science, Eduards likes to learn and dislikes personal stagnation. Setting high standards for himself, he does the same for the projects he works on, always taking full responsibility the created solutions, striving to take projects to their best possible conclusion.
Studies take up a lot of Eduards' free time and you will find him reading & learning even if it isn't for school — he likes to keep up with the latest technological developments to stay ahead of the curve. Eduards also likes to frequent the gym to stay in shape.
When it comes to Scandiweb, Eduards enjoys the open atmosphere. Colleagues are always willing to give a helping hand and management is just around the corner, thanks to a flat organizational hierarchy!