Episode 3: Meet the Project Managers
You have met some of our developers thus far! This week, as promised, it's time to meet some of Scandiweb's Project Managers! Next week — some more developers!
Scandiweb boasts a large and continuously growing team of brilliant minds. In this, the third instalment of our team stories, Scandiweb would like to introduce you to 5 project managers. They shared their stories, their skills, their experience, their passions and the advice they would give to their younger selves.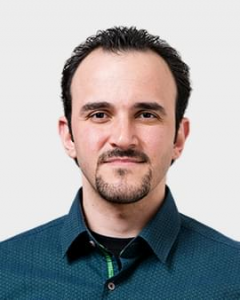 "Travel more. Don't be afraid to make mistakes"
Hadi Abou Reslan
Born and raised in Beirut, Lebanon, Hadi used to be a mischievous kid, with the pinnacle of his escapades being him and his friends accidentally burning down a local store, during a prank gone wrong. Now he's a senior project manager responsible for handling difficult situations with clients, mentoring junior PMs, and providing assistance across Scandiweb whenever possible. Hadi has abundant experience having been a developer, designer, team lead, project manager, and a company manager. This wealth of knowledge has resulted in Hadi developing one of his most useful skills — informed foresight — being able to predict problems and deal with them preemptively!
With more stories than a book, Hadi is a captivating narrator, who loves a bit of dark humour. Hadi loves creating things, which is why he got into programming in the first place, and finds great pleasure in bringing a project to life and watching the emerging interaction between it and the world. Hadi has received many commendations for the work he's done and is doing, but he's most proud of having successfully run his own company for 5 years.
Hadi values the ability to be candid and sincere in a work environment and he's glad that Scandiweb encourages people to do so!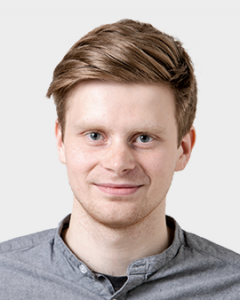 "No regrets"
Klavs Kacevskis
Born and raised in Marupe, Latvia, Klavs is a developer turned project manager. With a whole spectrum of responsibilities from overseeing the team and planning road-maps, to proposing the architecture for solutions and validating the quality of work done, Klavs expertly balances the team's and the client's needs, making sure everybody's satisfied. His previous experience as a developer, in tandem with a BA in computer science, provides Klavs with a thorough understanding of the technical requirements of any project, supplementing his managerial skills.
Klavs has built his own guitar and he's highly proficient at playing it. In fact, his job interview included demonstrating this to Antons, Scandiweb's CEO, and earned Klavs a coffee mug with "Guitar Hero" on its side! When he's not playing the guitar, he's listening to rock music or building furniture from wood.
The freedom is Klavs' favorite thing about Scandiweb. Not being stuck in a box from 9 to 5 results in a liberating atmosphere, allowing Scandiweb's stars to shine at all hours of the day and night.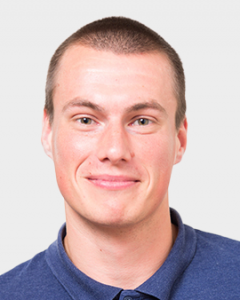 "Send your CV to Scandiweb while still in university — start your career earlier!"
Martins Jakubovskis
Martins, being a very logical child, never believed in fairy tales and, rather astutely, thought that everything shown on TV is a marketing trick/propaganda. Now he's a senior project manager. Martins' success in this position is best illustrated through the evolution of his responsibilities — he went from a PM simply working on individual projects to a PM helping, managing and educating other PMs both internally and externally, all while working on increasingly higher profile cases. With a craving for challenges and continuous improvement, Martins always strives to go above and beyond on anything he touches, which is what makes him excel at his job.
Martins loves what he does and is thankful for the opportunity of travelling all over the world, visiting new places and gaining new experiences. While work and travelling are his main hobbies, Martins will always make the time for a proper morning work-out in the local gym.
Other than the job itself, Martins' favorite things about Scandiweb are his colleagues, the parties and the constant challenges brought about by his work.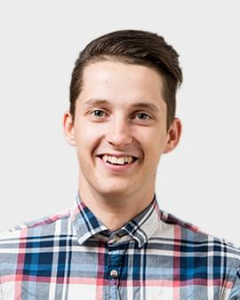 "You will be a happy man!"
Peteris Ozolins
Born and raised in Dobele, Latvia, Peteris is a Scrum master turned project manager. Communicating with clients and managing the project team — Peteris has the workflow of a typical PM and he mentions mastery of this workflow as one of his most important skills — making sure that the engine is always well oiled and working at full capacity. The way he achieves this is by never shying away from an issue — every problem is tackled immediately and dealt with accordingly. Also, often commended for his punctuality, Peteris will always be on time!
Peteris is a perpetually positive person, to the point where people have straight up asked him why does he smile so much. A fan of both playing and watching sports, Peteris is either playing football, basketball, snowboarding, running or watching the national team do it! When not occupied with sports, Peteris is flying his own, built-from-scratch, FPV drone — a personal project he's proud to have completed.
Peteris appreciates the trust Scandiweb puts in him. This leads to heavy expectations, but Peteris finds pleasure in meeting those expectations and going beyond them!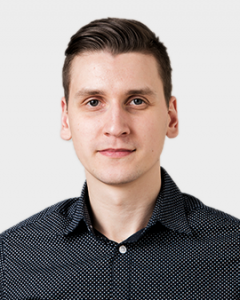 "Experience as much as possible and don't sweat the small stuff"
Rolands Popovs
Rolands used to believe that employers will check your grades at job interviews. Now he's a project manager/product owner at Scandiweb. With a BA in Computer Science, an MA in the works, and significant work experience under his belt, Rolands' technical proficiency greatly supplements his managerial duties, which come to him naturally, being a communicative and dedicated person. Rolands has to satisfy all the parties involved in his projects, while, in the meantime, making sure his team delivers the best they can and grow professionally, and, thus far, his methodology has been successful.
When not at work, Rolands finds pleasure in watching movies and TV shows, giving "The Godfather" and "Breaking Bad" as examples of his taste. Rolands also has a passion for creating videos with a comical twist about people that are closest to him, thus producing positive mementos, which will only appreciate in value, as time goes by.
The open office environment, as well as Scandiweb's youthful attitude, are among Rolands' favorite reasons for working here.