The age of eCommerce allows travel and tourism companies and agents to help prospective customers plan their holidays more efficiently and use eCommerce to their advantage. Discover factors that impact the Travel and Tourism industry and trends for optimization methods frequently used for travel websites.
General overview
In the travel and booking sector, mobile eCommerce sales accounted for 56.1% of 2022, with desktop users taking 43.9% of the market share. However, 73% of airline reservations and sales came from desktop users due to longer and more complicated mobile forms creating gaps in the customer journey.
Travel eCommerce tends to fall short of the general eCommerce average in the cart abandonment rate because of large purchases and multiple platform searches and comparisons, with an 87.9% abandonment rate for travel and 80.68% for overall eCommerce.
eCommerce trends for the Travel industry
Travel and tourism companies need to think ahead to win over customers and stay competitive. A crucial advantage is the best overall customer experience and user journey.
Chatbots
Chat automation to figure out appropriate responses during customer support and offer solutions for customers quickly and easily enhances the customer experience
Quick responses are vital to assure a customer that they have the needed attention and deserved care—and AI chatbots are perfect for the job.
Personalization
Personalization is not just about offering name engravings and offering product customization. It is also about getting the current and potential customers the right offers and providing a personalized support experience
A great way to offer clients personalized offers and deals in the travel and tourism industry is to conduct surveys on landing pages, ads, and checkouts and use first-party data to try and predict desired travel destinations.
Videos
Travel tour operators are increasingly implementing video tours into their platforms
Moreover, short videos, like Instagram reels and YouTube shorts, are enjoyed by the majority of millennials and Gen-Z, and travel videos were the third most trending topic in 2022
Marketing campaigns and sponsored ads are great ways to reach potential customers and try out acquisition channels.
SEO
For startup travel companies, showing up high enough in searches can be challenging. SEO helps with audience targeting and attraction
The best SEO strategy for eCommerce travel is a mixture of keywords, geography, and search terms, backed by relevant content and website blogs
In the era of internet reservations, having a web presence is essential. You want to engage with your audience wherever they are, as most tourists scroll, research, and book online.
How to survive travel off-season
Digital marketing strategies allow travel companies to decrease the dry spells they historically had due to off-season—acquisition methods allow for increased demand throughout the year.
Tourism companies can offer customers discounts during unconventional travel periods for when it is time for the holidays. In addition, email campaigns are a great way to remind potential customers they have great options for in-advance bookings. In turn, these strategies help to re-sell the bought tickets and tours purchased by the agencies, reducing operational costs; consumers can take advantage of great discounts through early offers.
To read the suggestions in more detail and discover the rest of the insights about Travel and Tourism eCommerce today, get your free copy below!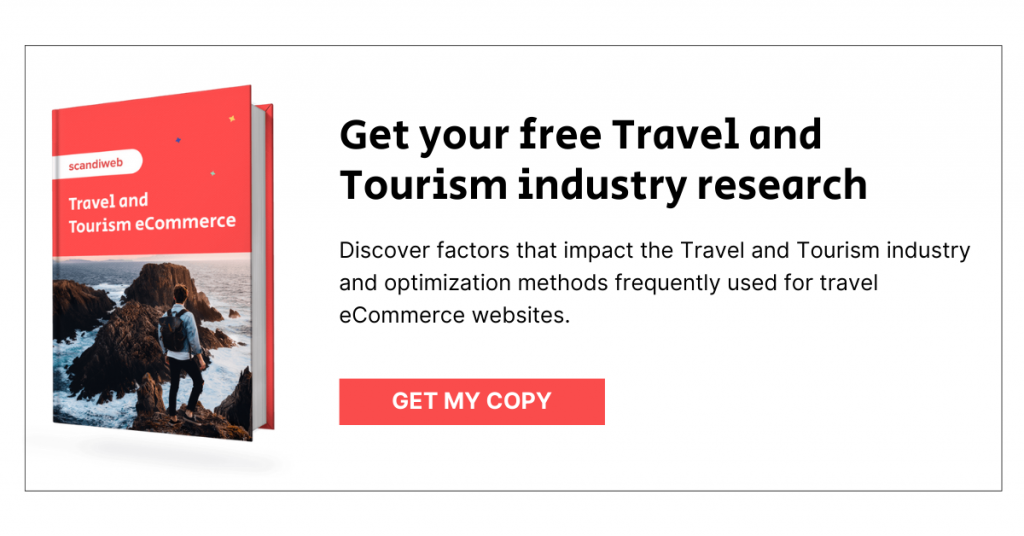 By downloading this report, get access to:
Travel and Tourism eCommerce industry's leading players
Trends and data on segments inside the Travel and Tourism eCommerce industry
Regional overview of the Travel and Tourism eCommerce market
Challenges and trends in the industry
Case studies
Interested in more market insights? Browse our collection of research papers on the latest trends and strategies in different industries. Download the research PDFs for free!