In 2023, the Unified Commerce landscape is witnessing a profound transformation as strategies employed by physical stores undergo a major overhaul in response to shifts in consumer behavior and post-pandemic expectations. Rapid digital advancements have not only revolutionized the e-commerce sector but have also prompted a reimagining of traditional brick-and-mortar sales approaches. Simultaneously, intensified competition among retailers, particularly in the realm of commoditized convenience, is further driving the need for innovative and seamless retail experiences.
Industry overview
We could say that, in 2022, retailers actively prepared to embrace a unified commerce strategy. However, a significant portion of these efforts fell short of meeting customer expectations. Essential features such as curbside pick-up, click & collect, diversified delivery methods for in-store orders, supplementary purchases during store pick-ups, in-store returns, and personalized on-site experiences remained unfulfilled aspirations for many customers.
As online purchases surge and store visits evolve into more planned engagements, the degree of harmony across all shopping channels emerges as the pivotal factor that determines the transformation of fleeting transactions into enduring customer relationships.
Embracing the philosophy of unified commerce presents several challenges in the modernization process. Legacy systems, reluctance to invest in replacements due to perceived benefits not outweighing costs, deficits in visionary planning and execution, and adherence to compliance standards stand out as the key obstacles in this journey.
How retail brands can enhance the customer journey with unified commerce
Unified Commerce is a retail strategy that integrates different sales channels, like physical stores and online platforms, into a seamless system. It ensures a consistent customer experience and provides retailers with a complete view of customer behavior for personalized engagement and efficient order fulfillment. This approach fosters lasting customer relationships and business growth.
The unified platform allows retailers to provide customers with more advanced purchasing and financing options at checkout. For example, a customer can add a product to the shopping cart online, enter a promo code, and then choose a pickup option in-store. Or the retailer can send the customer an email after visiting the physical store with products the customer is interested in to encourage further purchases of those products online. The unified commerce platform can also provide customers with a tracking number that makes no difference whether they complete their order in-store or online.
Digital transformation in retail
The retail landscape is undergoing transformative changes driven by the challenges of 2022. These challenges include integrating applications, retiring outdated systems, and consolidating fragmented sales channels. As the retail industry embraces a hybrid future with blurred boundaries between physical and online shopping, the role of digital technology becomes paramount. The COVID-19 pandemic has significantly expedited this transformation, prompting retailers to focus on technologies like 5G and the Internet of Things (IoT). In response, retailers are strategically prioritizing digital transformation areas to enhance efficiency, optimize operations, and elevate customer experiences.
Key aspects:
Retail challenges and integration
2022 posed challenges in integrating applications, retiring outdated systems, and consolidating sales channels.

Hybrid retail evolution
The retail industry is evolving into a hybrid model, blurring the lines between physical and online shopping, driven by digital innovation.

COVID-19's impact on transformation
The pandemic accelerated digital plans for 75% of retailers, with more than 70% keen on leveraging 5G and IoT for supply chain efficiency and sustainability.

Digital transformation priorities
Retailers are focusing on efficient business operations, enhanced operations, customer insights, and technology investments in AI, robotics, automation, IoT, and edge computing.

Future technology and customer experience
Investments are moving toward 5G and quantum computing, while AR, VR, and blockchain enhance customer experiences and transparency.
Unified commerce strategy for stores in 2023
Retailers are facing a pivotal moment to adopt unified commerce strategies, bridging the gap between physical and digital shopping. Here's an overview of how forward-looking retailers are integrating in-store experiences with the digital landscape to meet evolving consumer expectations.
1. Growth platforms
Finding new revenue streams – consignment or resale, ticketed events, subscriptions, in-store customizations
Using setting tools – endless aisle, remote selling of store inventory
Taking stores anywhere shoppers are – in a parking lot, as a pop-up store, and more
2. Store experience
Creating showcase experiences – interactive fitting rooms, magic mirrors, touchscreen digital websites in-store
Offering the widest options of checkout & payments – from associate-assisted mobile checkout to self-checkout to contactless and cashierless checkout
Providing personalized in-store experiences – using shared customer data across the physical store and digital channels; delivering personalized content and offers
3. Store fulfillment
Improving order fulfillment – launch and scale such omnichannel experiences as click & collect and curbside pickup
Providing store employees with a unified experience – weaving all store operations into a unified interface and helping employees manage various store tasks
Optimizing fulfillment process – empower store associates with dynamic and guided picking plans, reducing customer wait time and order issues
Want to know more strategies to revolutionize your retail approach in 2023? Download the full report on Unified Commerce trends 2023 now and gain a competitive edge in the ever-evolving world of commerce.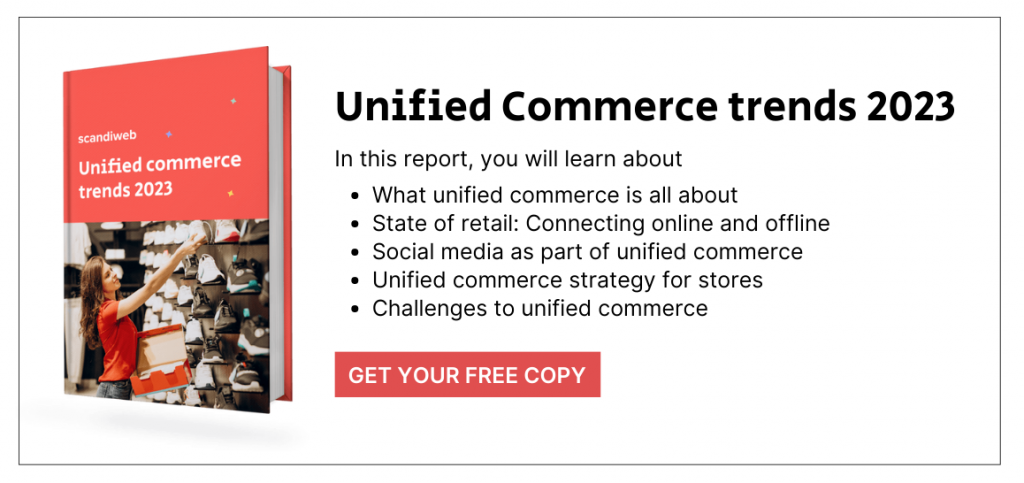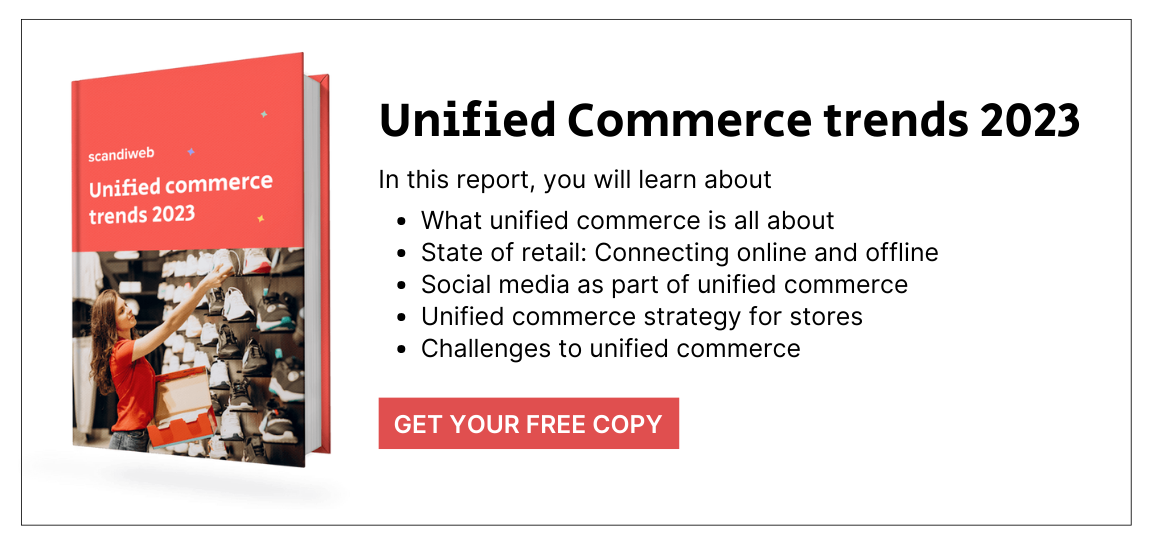 In this report, yo'll learn about:
State of retail: connecting online and offline
Social media as part of unified commerce
Unified commerce strategy for stores 2023
Challenges to unified commerce
Wrapping up
The year 2023 beckons as a time of transformation and opportunity.
Whether through unified commerce strategies, digital transformations, or the integration of cutting-edge technologies, retailers are poised to redefine the shopping experience. As consumers continue to seek seamless interactions and personalized engagements, the retailers who embrace change and leverage these insights will undoubtedly thrive. So, seize the moment and embark on this journey of growth and adaptation, as the future of retail holds limitless potential for those who dare to embrace it.
Explore our extensive collection of eCommerce industry reports covering the latest trends and strategies across various industries. All reports are free to download!
The Unified Commerce series