This is the second installment of our Unified Commerce series, where we explore what it takes for eCommerce businesses to implement this strategy and how Magento (Adobe Commerce) helps achieve that. Read the introduction to unified commerce and the first part of the series here.
In this article, we'll delve into best practices for implementing a unified commerce strategy with Magento (Adobe Commerce) and showcase several case studies that demonstrate successful unified commerce strategy implementation.
Best practices for implementing unified commerce with Magento
Following best practices can help you optimize your storefront, streamline backend systems, and personalize the customer experience to achieve success with unified commerce using Magento (Adobe Commerce). We've highlighted some of those best practices; let's dive in!
Choosing the right extensions
Choosing the right extensions is critical to the success of your unified commerce strategy with Magento (Adobe Commerce) and will help you create a seamless and efficient unified commerce experience for your customers. With a vast selection of extensions available, selecting the ones that align with your business objectives and requirements is essential.
Some popular extensions for unified commerce include payment gateways, shipping providers, and inventory management tools. You should also consider extensions that help with personalization, such as customer segmentation and targeted promotions.
Customizing your storefront
Another critical aspect of implementing a successful unified commerce strategy with Magento (Adobe Commerce) is customizing your storefront. By investing in storefront customization, you can create a unique and engaging shopping experience that sets your business apart. Your storefront should reflect your brand identity and provide a consistent and intuitive user experience across all devices.
Consider incorporating search functionality, product recommendations, and reviews to enhance the customer experience.
Additionally, customizing your storefront can help you optimize your site for SEO, which can drive traffic and boost your search engine rankings.
Integrating backend systems
By connecting your inventory management, order management, and customer relationship management systems, you can create a single source of truth for your business operations, which can help you streamline processes, improve accuracy, and enhance the customer experience. To manage everything effectively, it is necessary to build a unified commerce ecosystem with various components such as PIM, OMS, ERP, and CRM. Magento can serve as the core platform for this ecosystem.
When integrating backend systems, consider data synchronization, security, and scalability factors. You should also work with experienced developers or partners to ensure the integration is configured correctly and optimized for your business needs. With integrated backend systems, you can create a unified and efficient workflow that helps you provide exceptional customer service and drive business growth.
Optimizing the checkout process
Creating a smooth and hassle-free checkout process can increase customer satisfaction and loyalty. With Magento (Adobe Commerce), you can streamline the checkout process by implementing guest checkout, multiple payment options, and one-click ordering features. Additionally, you can use tools such as abandoned cart recovery to reduce cart abandonment rates and increase conversions.
Make sure to regularly review and optimize your checkout process to identify and eliminate any potential roadblocks that may discourage customers from completing their purchases.
Personalizing the customer experience
You should strive to provide personalized and relevant experiences to build lasting relationships with your customers and create a loyal customer base.
Collecting and analyzing customer data allows you to create personalized recommendations, targeted promotions, and tailored content that speaks directly to your customer's needs and preferences. You can also use tools such as email marketing and social media to personalize the customer experience further and stay top of mind with your customers.
It's important to balance personalization and privacy and ensure your customers' data is secure and used responsibly.
Utilizing analytics to measure success
Utilizing analytics is crucial to measuring the success of your unified commerce strategy with Magento (Adobe Commerce). By tracking key metrics such as conversion rates, average order value, and customer lifetime value, you can gain insights into the effectiveness of your strategy and identify areas for improvement.
Additionally, you can use analytics to track the customer journey across multiple channels and touchpoints, providing a holistic view of the customer experience. Remember to review and analyze your analytics data regularly to make data-driven decisions and adjust your strategy as needed.
Unified commerce case studies
With best practices in mind, scandiweb has been helping brands succeed with unified commerce. As we explore these real-life examples, remember that omnichannel and unified commerce integration is not a one-time project but a continuous journey with endless options that require ongoing refinement and adaptation.
In this section, we'll take a closer look at companies that have embraced this mindset and continue evolving their unified commerce strategies.
Sportland
Sportland, a leading sports retailer in the Baltics, has taken a custom approach to implementing a unified commerce strategy on Magento (Adobe Commerce) to create a seamless shopping experience across all channels, integrating its online store, retail stores, and mobile app. They have merged online and offline retail to create a phygital experience for customers, using the right messaging and approach at every customer interaction touch point.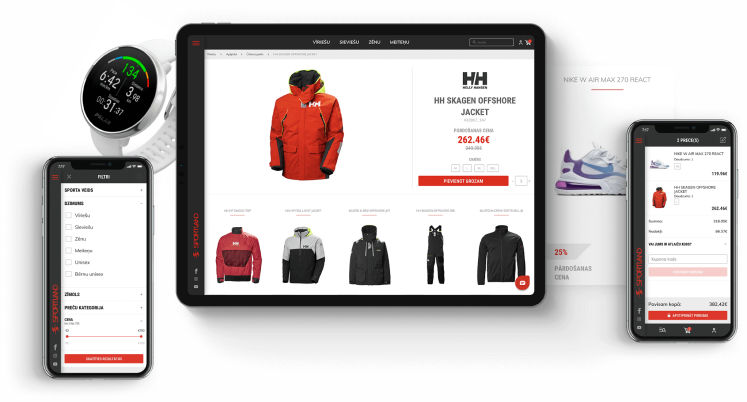 To circumvent possible shipping delays introduced by the pandemic, they developed an entirely custom solution that made store pick-up possible—customers can see which items are available at the nearest store and pick up their orders within 30 minutes with no additional delivery costs.
In addition, to ensure a frictionless UX for in-store use, Sportland enabled and plans to enable the following features:
One-click self-checkout at the store
Personalized recommendations
Search and shop for products from selected stores
Quick access to loyalty cards
Digital try-on
Community Hub
Exclusive discounts and partner rewards
Cashierless checkout
Push notifications
Already, by leveraging data analytics and personalization tools, Sportland increased its customer engagement and loyalty, resulting in a 30% increase in online sales and a 20% increase in repeat customers, with their unified commerce journey continuing full speed ahead.
Read more about enhancing Sportland's customer experience here!
Byggmax
Byggmax, one of the largest DIY stores in the Nordics, implemented a new eCommerce solution that delivers an optimized and unified user experience. Their 160+ physical stores, four Magento stores, six store views, and 55k+ SKUs are seamlessly integrated and managed under one digital roof in Adobe Commerce.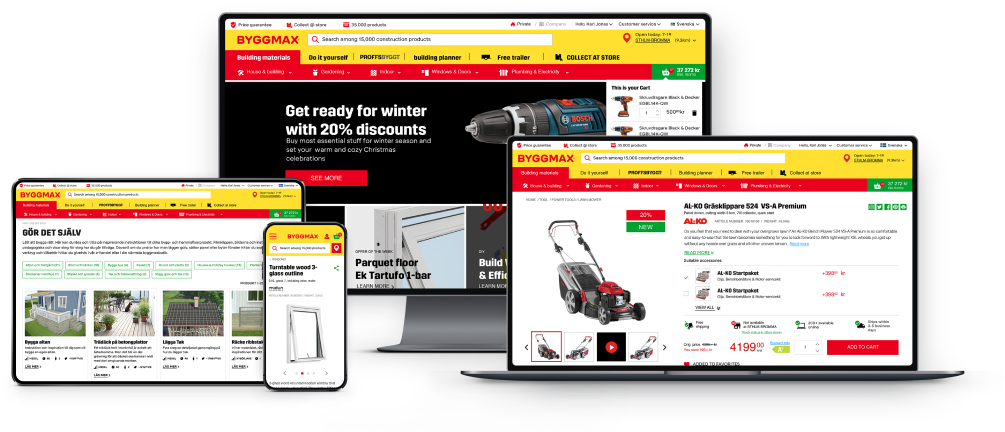 One key aspect of their strategy is an in-store app that allows customers to navigate the store and add products to their cart, which can then be delivered to their homes. It provides an interactive map of the store and real-time information about product availability and pricing. Customers can use the app to scan items as they shop and book a trailer to use for transporting the materials they bought online—from the store to wherever they need them to be.
Byggmax also optimized their operations and supply chain with Inriver PIM integration. It ensures that customers see accurate stock and price information for the selected store each time, contributing to the overall increase in conversions.
Read more about delivering an optimized and unified user experience for Byggmax here!
JYSK
JYSK is an international retail chain of home furniture and accessories and has been collaborating with scandiweb since 2014. During our long-term partnership, we've continuously evolved JYSK's digital presence and worked on the perfect mix of online eCommerce on Magento with their physical retail chain.
To meet the changing demands of customers seeking greater flexibility and convenience, JYSK Canada implemented a buy online, pick up in-store (BOPIS) feature, allowing customers to make purchases online and pick them up at their nearest store. Store locator provides automated store assignment based on customer location.
JYSK Canada now has enabled a unified commerce solution for 50 stores featuring
In-store pickup
Catalogs
Call center
Desktop / Tablet / Mobile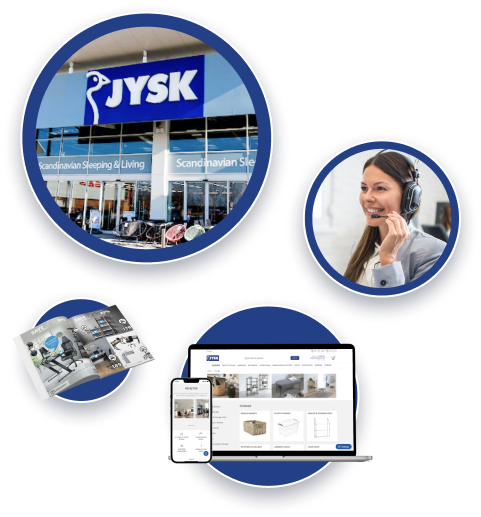 They've also implemented an innovative solution to enhance their in-store experience—the JYSK app. This app allows customers to navigate the store, locate products, check stock availability, and add items to their cart for home delivery. This integration of digital and physical experiences has become a hallmark of unified commerce, and JYSK Canada's successful implementation has helped them improve their customer engagement and loyalty.
Unified commerce integration increased JYSK's online revenue by 12%, and they also saw an increase in conversions due to the store pick-up feature and the call center.
Read more about Jysk's mix of online eCommerce with the physical retail chain here!
Cervera
Cervera, Sweden's leading player in the kitchen and home products sector with a strong eCommerce presence and 70+ physical stores in the country, has successfully implemented a unified commerce strategy that leverages in-store technology to enhance the customer experience.
One of the solutions involved equipping their stores with tablets that serve many different functions, such as allowing sales associates to access real-time inventory data, placing orders for out-of-stock items, and providing personalized product recommendations to customers.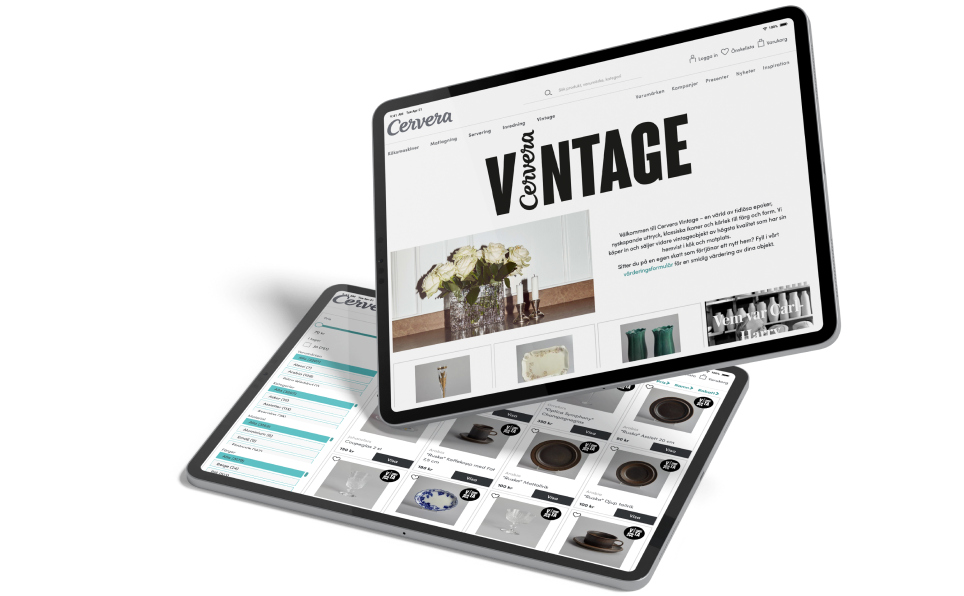 In addition to the in-store technology, Cervera has integrated their eCommerce platform with their physical stores, using an omnichannel approach to expand the customer base and offer a more convenient shopping experience.
By leveraging technology to create seamless and personalized shopping experiences, Cervera has set themselves apart in the highly competitive home goods retail market.
Read more about our project with Cervera here!
Conclusion
If you follow best practices for implementing a unified commerce strategy for your store, you can ensure tremendous improvement in customer satisfaction. Carefully select extensions, organize backend systems, optimize the checkout process, use personalization tools, and utilize analytics to achieve optimal results. We hope these success stories inspired you!
As business owners continue to navigate the ever-changing eCommerce landscape, unified commerce with Magento (Adobe Commerce) presents a compelling solution for meeting customer needs and growing their business.
In our next installment, we'll discuss integrating your sales channels with Adobe Commerce for a seamless unified commerce experience.
The Unified Commerce series
Part 2: Unified Commerce with Magento (Adobe Commerce): Best Practices and Case Studies