Are you unified commerce-enabled? If you're on Magento (Adobe Commerce), your platform is ready to go. It's not all that you'll need but it's where you start—and a big part of what it takes to go phygital.
€2.9 trillion. That's how much opportunity is in unified commerce. If your retail business is already omnichannel, there's no reason to wait.
With unified commerce solutions, you can combine eCommerce and brick-and-mortar business models and thrive in the phygital era.
Physical + Digital = Phygital
Physical and online stores are no longer distinct channels whose performance is pitted against each other as though one is taking away income from the other. It's about time. After all, these channels both funnel sales into the same business. They complement rather than compete against each other.
In this article, we want to show you how unified commerce solutions can bridge the gap in customer experience and what the journey of going phygital could look like for your business.
Phygital, Omnichannel, Unified Commerce

Phygital is omnichannel. But omnichannel is not necessarily phygital. Unified Commerce is the base on which omnichannel strategies are built, merging the physical and the digital spheres of retail to deliver a truly immersive experience for customers.
That's a lot of confusing terms. Don't they all mean the same?
Well, they don't. But they are very closely related to each other.
Omnichannel simply refers to having different sales channels available to customers. And these channels can be entirely separate from one another. For example, a customer can either order an item online or go to a store to buy the product directly, and that's it. While in-store availability of products could be seen online, customers cannot reserve or pay for them online. And while the store staff can view stocks on the eCommerce store and other branches, they cannot process the order for the customer in-store—the customer needs to go to the website/app and place their order there or visit the other branch themself to buy the product.
For more information about retail and omnichannel challenges, trends, and opportunities, watch this interview from the eCOM360 2021 main event. Danone's Director of Global eCommerce, Omer Waysman, shares the latest insights from the European digital space.
Phygital retail is when these different channels merge to provide a unified shopping experience for the customer. It combines eCommerce and brick-and-mortar business models and puts the customer in the center so that no matter which channel they decide to go to, the business is able to respond to their needs.
Unified commerce is what makes phygital retail possible. It brings together all your channels, customer data, product data, and payment systems and allows you to manage them in a single platform. Stocks update in real time, payment systems are interconnected, and customer interactions are captured throughout—across all channels and locations. And all this information is also made available to the customers, allowing them to move across channels at any point in the buyer's journey and still have a seamless experience.
scandiweb's CRO/UX Researcher Patricija hosted a webinar offering a walkthrough of the concept of phygital shopping, the best unified commerce examples worldwide, and what you can do to make it happen for your business. Watch the full webinar recording here:
Unified Commerce on Magento
Magento (Adobe Commerce) is a powerful omnichannel eCommerce platform with a unified back-end that lets you manage all your channels, inventory, payment systems, and customer data in one place.
That said, you will need a whole lot of other systems working together to be able to make this work. You need to build a unified commerce ecosystem—which can include PIM, OMS, ERP, and CRM—with Magento as the base platform from which you can manage everything.
With your unified commerce ecosystem in place, you can do the following from a single Magento platform:
Manage product catalogs
Set custom price lists
Administer multiple sites and brands
View and manage inventory
Have full visibility on customer journeys
Unified commerce is about connecting the physical and the digital realms of retail to provide a unified shopping experience to customers. What this means is that when a customer begins their journey in one channel and decides to move to another channel, businesses can quickly respond and offer the customer what they want.
What do customers want?
They want to be able to seamlessly transition from browsing products that interest them online to trying out these products in-store before purchasing them. They want to know when and where products they're looking for will become available. They want the products they've purchased to be available immediately—even if that means they need to go pick them up from the nearest store. They want to be able to decide which modes of payment to use. They want personalized recommendations that show that the brand they're supporting cares about them.
Customers want to be in control of their shopping journey. And the companies that can give them this opportunity are the ones who will thrive in the phygital era of retail.
Bridging the gaps in customer experience with unified commerce solutions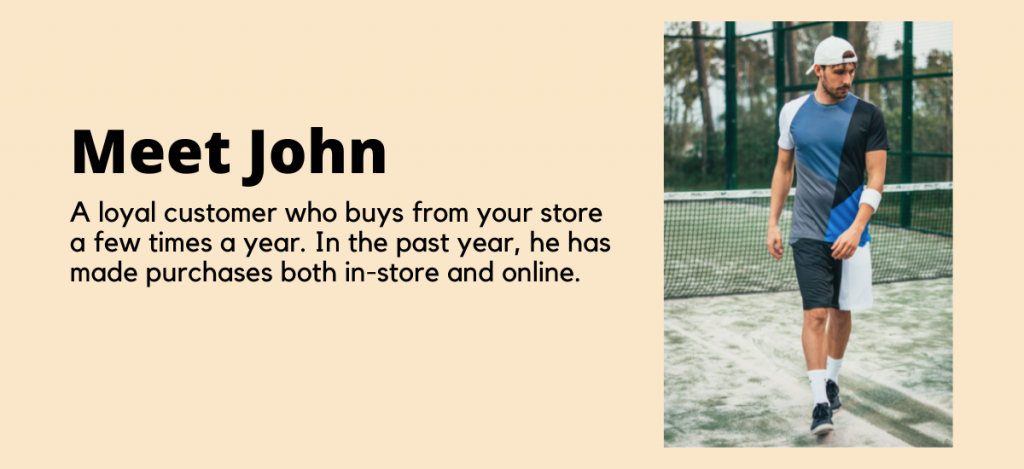 Imagine different interactions John may have with your brand and how your store app can help enhance them.
Scenario #1
John visits your store at the city center and likes a pair of sneakers, but he is not sure if it's worth buying right away.
Unified commerce solution: Providing alternative next actions
Allow customers to do the following by simply scanning a product barcode:
Review outfit recommendations
Read more information about the product
Save the product to their wish list
Order online on the spot to get home delivery (useful for big items, e.g., bicycle, skis, or people in a hurry)
Scenario #2
John has tried on a t-shirt and realized that he needed one size up. Now he has to search for a shop assistant to ask if it's available in this or any other store.
Unified commerce solution: Self-initiated availability check in-store
Let customers check the availability of products in different stores by scanning their barcodes using the mobile app. For a seamless experience, allow them to order directly from there in case the products they want are not available in the current store and they do not wish to drive to different location.
Scenario #3
John is a loyal customer; however, he doesn't feel appreciated.
Unified commerce solution: Cross-channel loyalty program
Embrace cross-channel loyalty and leverage it to retarget customers online.
Store the loyalty card in the app
Encourage store visitors to use the mobile app and scan product QR codes by offering discounts
Retarget brick-and-mortar store visitors in the online environment based on the interest they showed for certain products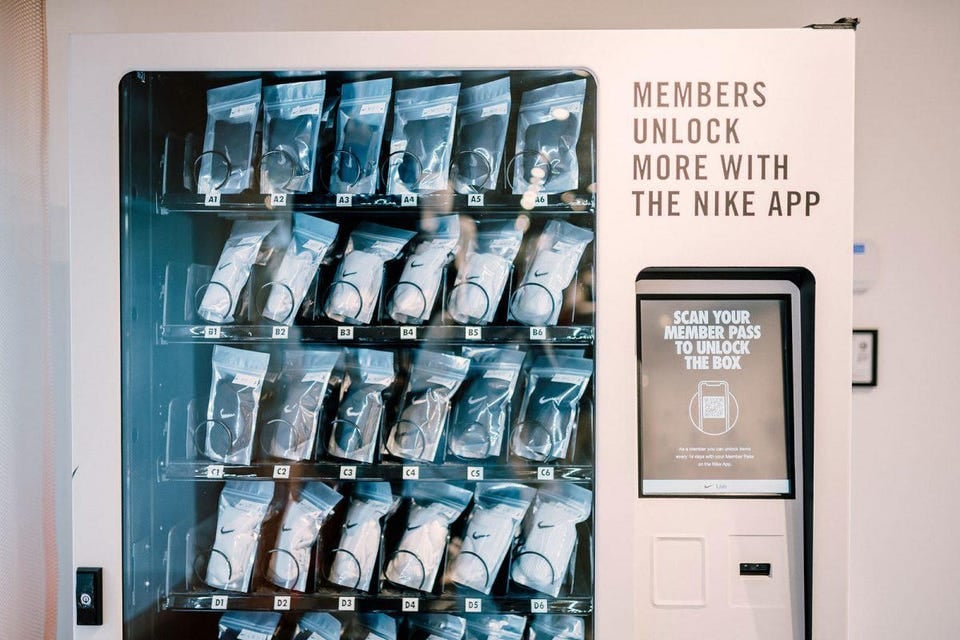 Scenario #4
John was looking for running shoes, but didn't find the right model at the store.
Unified commerce solution: Extending product assortment
By integrating tablets in stores, you are able to extend the product assortment available to brick-and-mortar store visitors. Let customers browse through all the products in your inventory, even though not all of them are available in the store they are currently at.
Scenario #5
John is a huge Nike fan. He could be interested in receiving personalized updates about new stocks.
Unified commerce solution: Lead generation for email marketing
Nudge visitors to scan QR codes scattered inside the store and sign up for brand-specific updates or sports news.
Scenario #6
John has picked up items he liked but is in a rush and doesn't want to stand in line at the cashier's.
Unified commerce solution: Self-checkout at stores
Enable cashierless checkout for customers, saving them from long queues at the cash register and speeding up the whole checkout process.
You've just seen how unified commerce can allow you to deliver a truly phygital experience to your customers. Now let's have a closer look at how this can be made possible.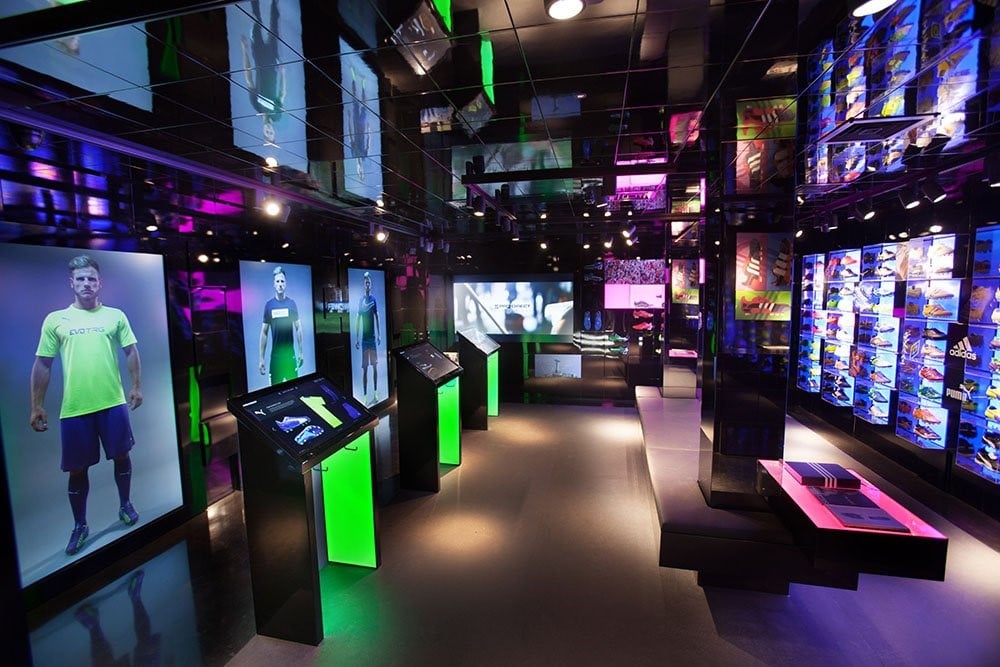 Sample Roadmap: Creating a unified in-store and online shopping experience
Given the sample scenarios and solutions above, we want to lay out what a unified commerce roadmap could potentially look like for a retail business whose online store is already running on Magento and would like the fastest way to connect their online and physical stores. One possible approach to take in this case is to start with a minimum viable product and proceed in stages. And that's what we are going to show you here.
Keep in mind, however, that every business is unique. If we speak of another business case with distinct priorities, the roadmap could be totally different. For example, some companies might jump right away to Phase 2 of the sample roadmap we are presenting here. So don't be constrained by the sample picture we are painting in this article.

Minimum Viable Product
An MVP will require minimal investment and immediately make way for a unified online and in-store shopping experience for customers using the existing UX.
A company can go for an MVP first if they want to test out the concepts in one or two of their physical stores and see how they work, learning from user behavior so the solutions can be optimized further.
In this sample roadmap, the current mobile web store of the company can be enhanced with the following features:
Barcode scanner
Products search by image
Closest store search
BOPIS (buy online, pick up in-store)
Reserve online, pay at store
Buy online, return at store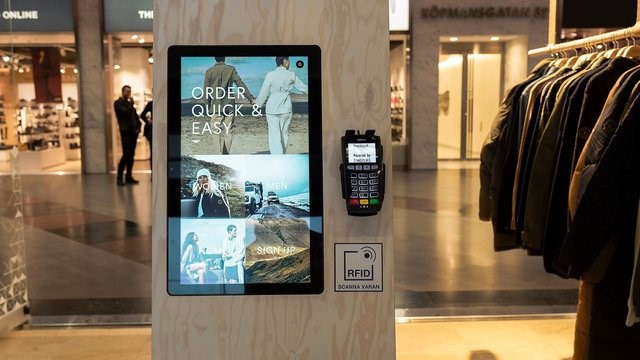 Phase 1
After the MVP, Phase 1 can involve setting up a new Magento store view with a unique layout. This will ensure a smooth UX for in-store use.
Some of the features that can be enabled in this stage include:
One-click self-checkout at the store
Personalized recommendations
Search and shop products from selected stores
Quick access to loyalty card
Then again, the feature list can vary depending on the needs and priorities of another company.
Phase 2
Following the features enabled in Phase 1 in this sample roadmap, Phase 2 can then focus on personalization and increasing customer loyalty.
Important features that can be added include:
Digital try-on
Community Hub
Exclusive discounts and partner rewards
Cashierless checkout
Push notifications
But this is nowhere near an exhaustive list, of course. Any other business-specific feature can be added and prioritized.
As a culmination of Phase 2, a final app can be developed using Reach Native, PWA, or as native iOS and Android apps.
Ready to go phygital? Get in touch today and we'll create a roadmap specific to your business needs. What we've shared here is only a small portion of what's possible with unified commerce. Our Growth Team will be happy to walk you through all the opportunities waiting for you in unified commerce.