Personalized experiences lead to customers spending 40% more time shopping. And 34% of returning customers are likely to shop more if they are shown product recommendations based on their past purchases. That's the power of personalization and we want you to leverage it in your eCommerce store.
Why personalization matters
Would you like fries with that?
This famous cross-selling strategy is estimated to earn McDonald's an additional 15-40% in their annual revenue. Through this simple strategy, they are able to increase average order value without having to assess the actual needs or wants of individual customers.
Imagine if you could personalize your recommendations for each and every customer that visits your store.
Actually, you don't have to.
Just look at the numbers Klevu, a company that offers AI-powered product discovery tools, helped a bedding and bath company achieve after
implementing smart search: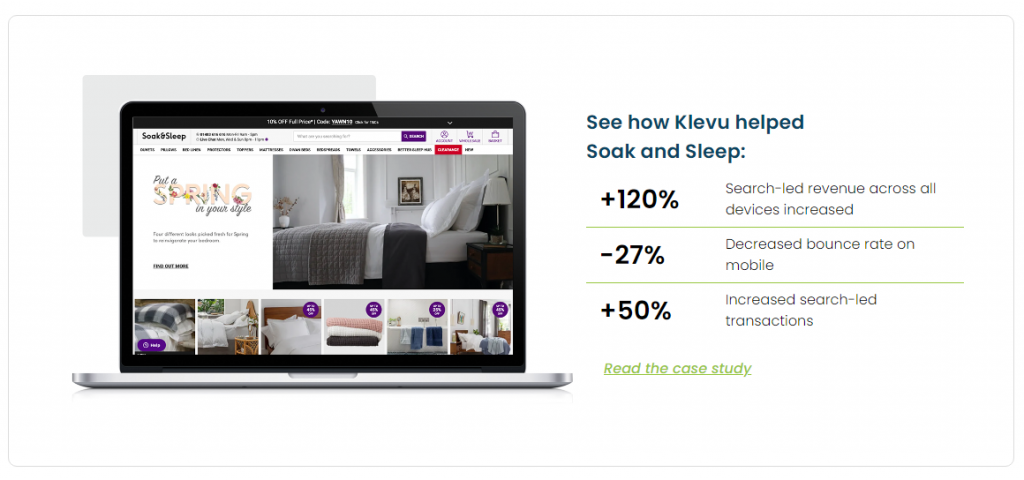 Offering the right products at the right time will bring value to your customers, enhancing their overall experience, and improve conversion rates and ROI for your business. It's really a win-win situation.
AI-driven personalization solutions
Personalization is about pinpointing where the customer's interest is and showing them products that align with their preferences.
Sounds doable. You just assign an account manager for every customer.
But how do you do that real-time in an eCommerce store with hundreds or thousands of customers visiting each time?
You just don't.
This is where personalization tools powered by machine learning (ML) technologies come in.
eCommerce personalization tools use artificial intelligence (AI) to process customer shopping behavior and deliver smart product recommendations, creating a personalized experience for each individual customer.
Here are the main areas where eCommerce personalization is applied to:
1. Search

This solution learns from the customer's behavior—how they interact with the store and what they search for—and optimizes search results based on that. In real-time.
Many solutions also make use of natural language processing (NLP) to capture the nuances of human language, typed or spoken.
With NLP, typos and search words with a combination of product keywords, for example, will not hinder the delivery of relevant results because the tool will understand the intent of the customer for doing the search (e.g., smartwatch with black strap vs. black smartwatch strap).
Below are two solutions focused on Search: SearchNode and Algolia. But Algolia also offers a hosted recommendation API.
Then again, there are also all-in-one solutions that cover all the main areas of Search, Product Recommendations, and Merchandising. And they include Clerk.io and Klevu, as you will see later.
SearchNode
SearchNode offers a fully customized AI-driven search solution as a SaaS product. They go deep into the specific needs of eCommerce companies to tailor the solution for them. SearchNode's AI Search Platform runs advanced NLP algorithms that allow for continuous self-learning and delivery of natural search experiences.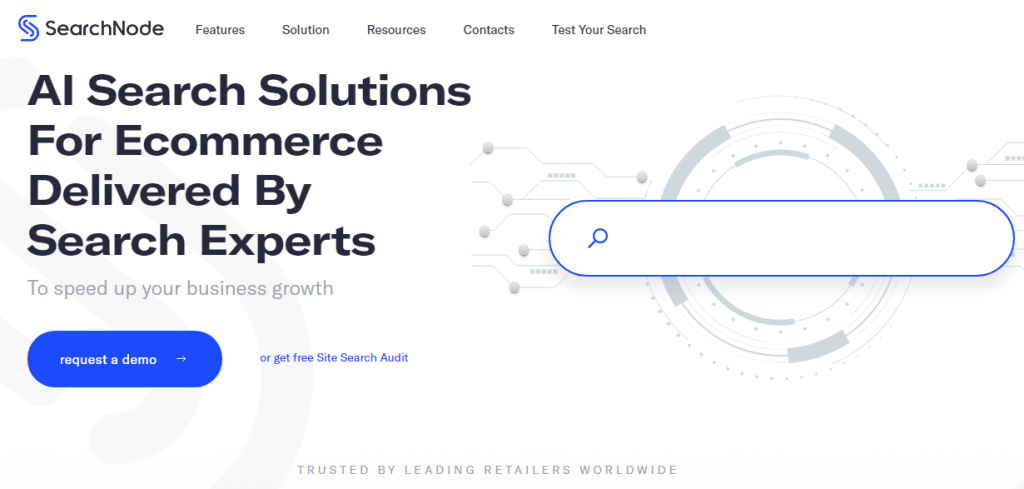 SearchNode not only provides the software but also a Search Expert team that continues to work even after launch to ensure that the solution fully satisfies the specific goals and needs of their clients.
Algolia
Algolia provides tools for developers to implement machine learning-powered recommendations through their hosted Search & Discovery APIs. While other popular personalization platforms primarily focus on integration with Magento and other eCommerce platforms, Algolia is more about offering a flexible solution for all types of use cases.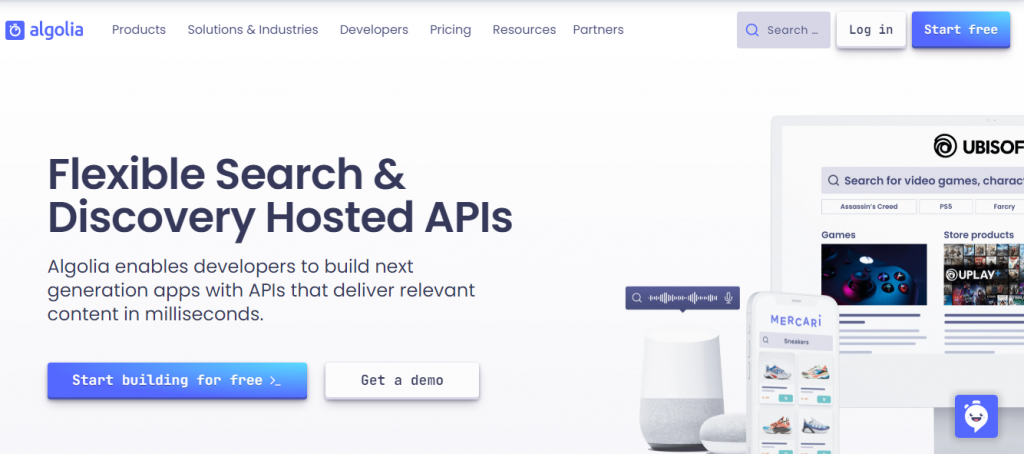 Search implementation and search analytics by Algolia go hand in hand to provide businesses with the tools they need to deliver relevant product recommendations to customers.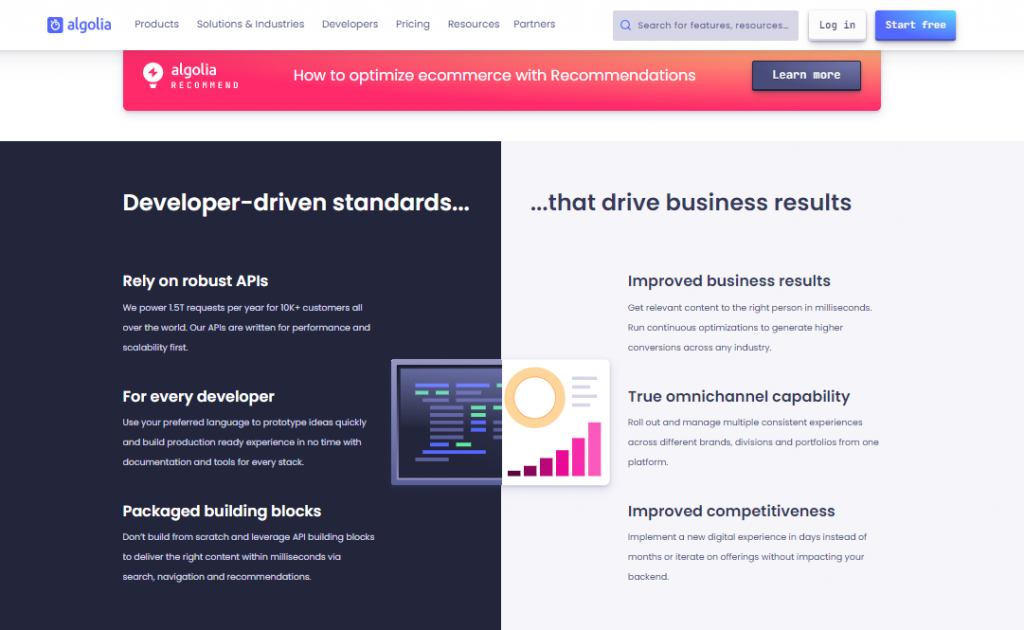 2. Product recommendations

This solution displays product recommendations based on the customer's interests as can be seen on their search behavior, what brands they're looking at, which collection or product pages they're visiting, and the like.
Personalized recommendations make cross-selling and upselling more effective by highlighting products that really add value to the customer based on what they came looking for in the store.
This is what enables an eCommerce store to show very targeted product recommendations. You'll see these products under such headings as, "You may also like," "Complete the look," and "Handpicked for you."
Clerk.io
Clerk.io uses a proprietary personalization technology called ClerkCore™ that has an "algorithm specifically designed and tailored to the needs of the modern e-commerce store."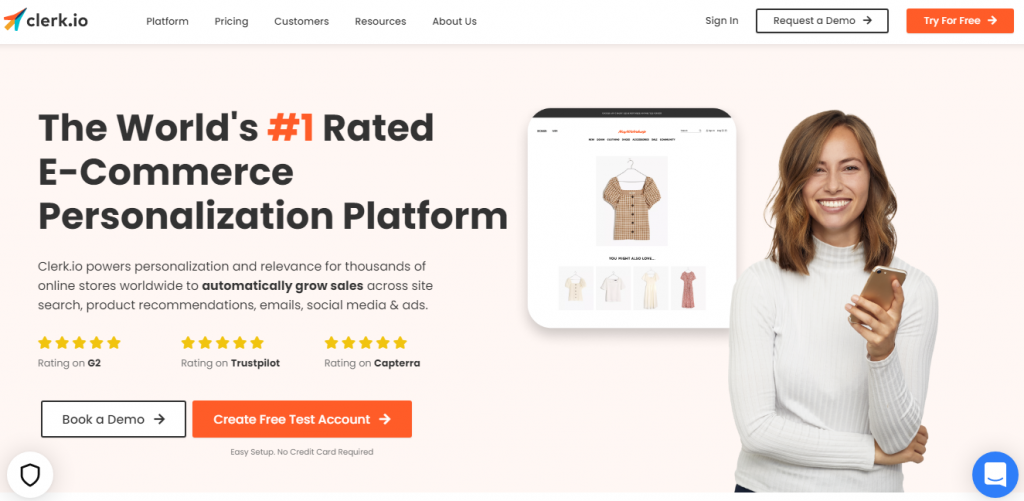 Clerk.io helps eCommerce stores grow sales by powering personalization in the areas of site search, product recommendations, social media, emails, and the like. Customer analytics provided by Clerk.io also enables companies to have a full view of the customer journey and purchasing behavior. Plus Magento 1/2 integration can be done in just 15 minutes. Clerk.io is so complete and easy to implement that it is the all-in-one solution we recommend at Scandiweb.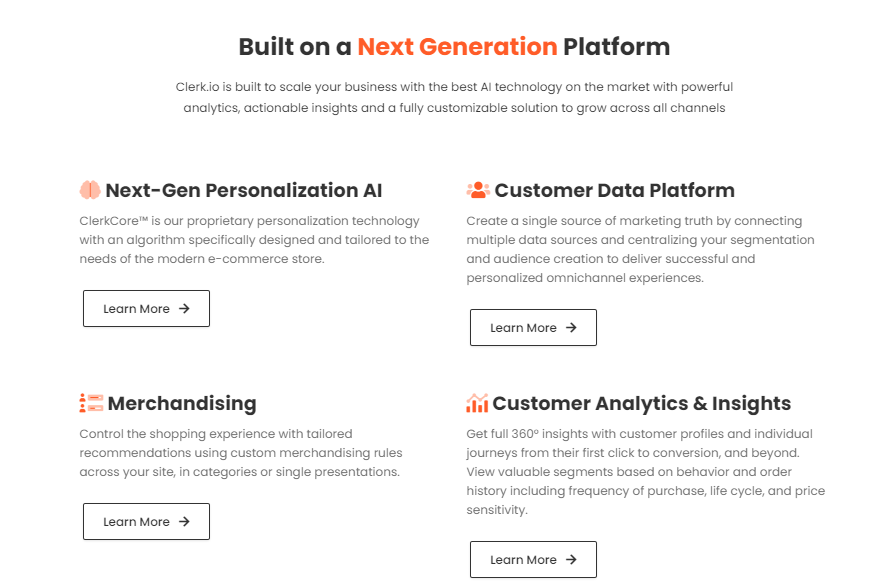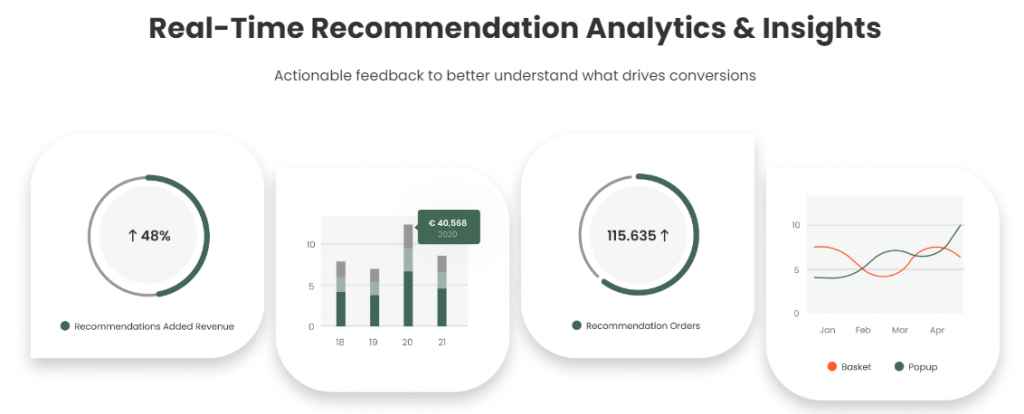 Sooqr
Sooqr offers solutions for Site Search and Product Recommendations. They allow for fully automated recommendations as well as manually set up conditions.
Sooqr is available as an extension for Magento 1/2 and other eCommerce platforms.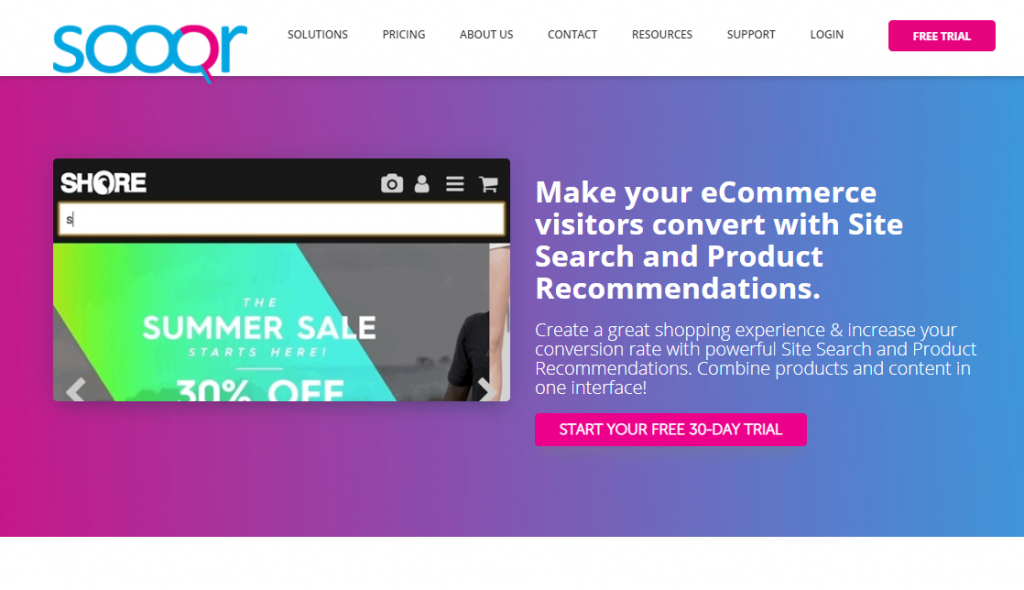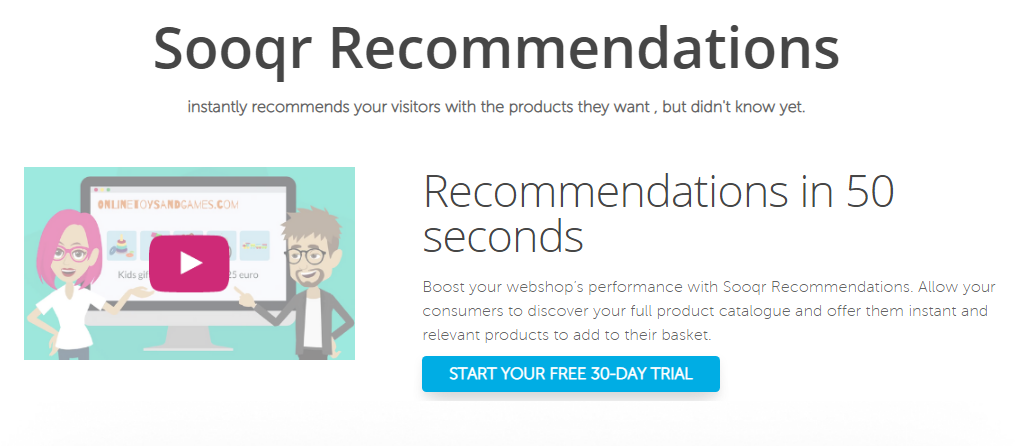 3. Merchandising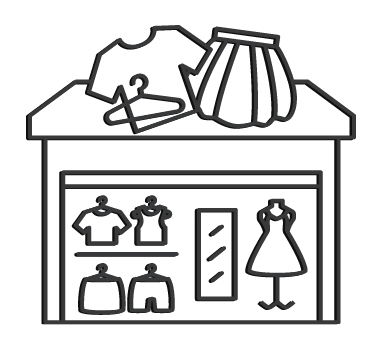 This solution leverages site-wide customer behavior to offer the most relevant and high-value products to the customers. Insights from search, purchases, and navigation inform the personalization tool which are the best products to give a boost in a category or collection page.
For example, the first row of a category page can automatically show the highest-rated or trending products. But smart merchandising tools usually allow merchants to also manually select products that they want to promote.
Klevu
Klevu is an "AI-powered discovery suite" that offers solutions for Smart Search, Smart Category Merchandising, and Smart Recommendations using an AI eCommerce Personalization Engine to show the most relevant products in every step of the customer journey.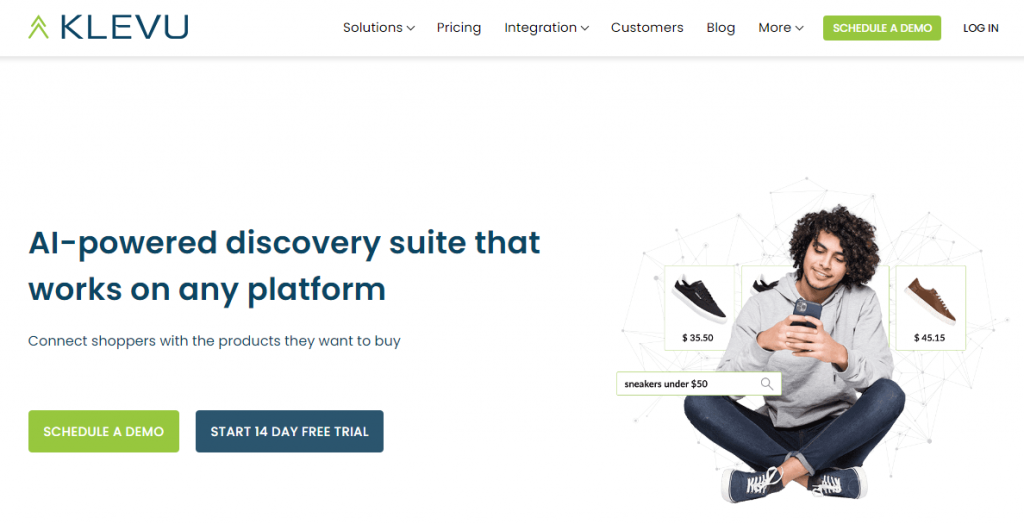 Klevu boasts of instantaneous search results delivery, seamless indexing that ensures data is always up-to-date, 360-degree analytics that provides complete visibility of customer path from search to purchase, and 24/7 support. Klevu can be installed as an extension in any Magento store.

Attraqt
Attraqt offers AI-driven search, merchandising, and personalization solutions to accelerate commercial growth for eCommerce stores. The aim for companies is to optimize the buyer's journey and deliver operational efficiency through automation by understanding shoppers' intent and motivation and keeping them engaged throughout the buying decision process.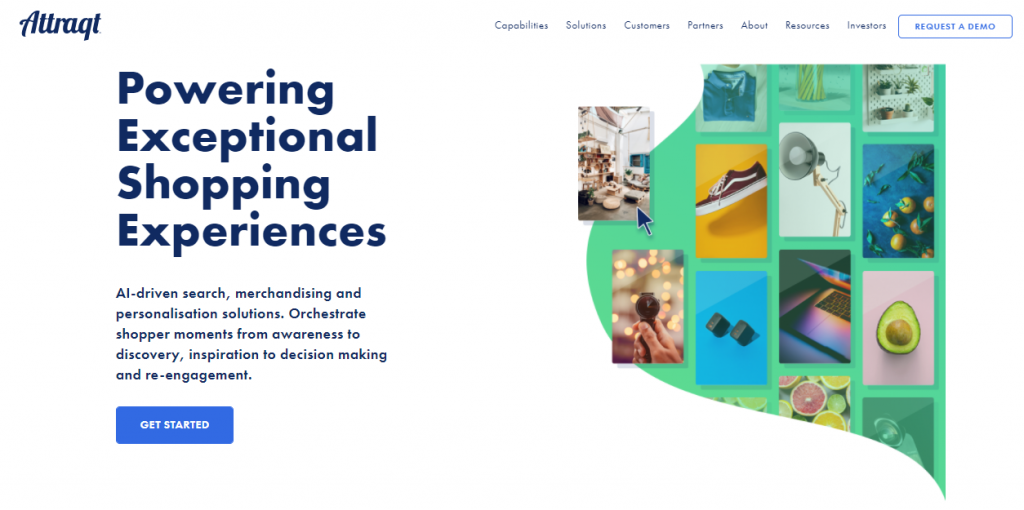 With Attraqt's merchandising solution, products are ranked and sorted according to rules that align with each company's marketing strategies and commercial goals. Based on conditions set for any particular page or collection, relevant content will be shown to users based on intent and behavior.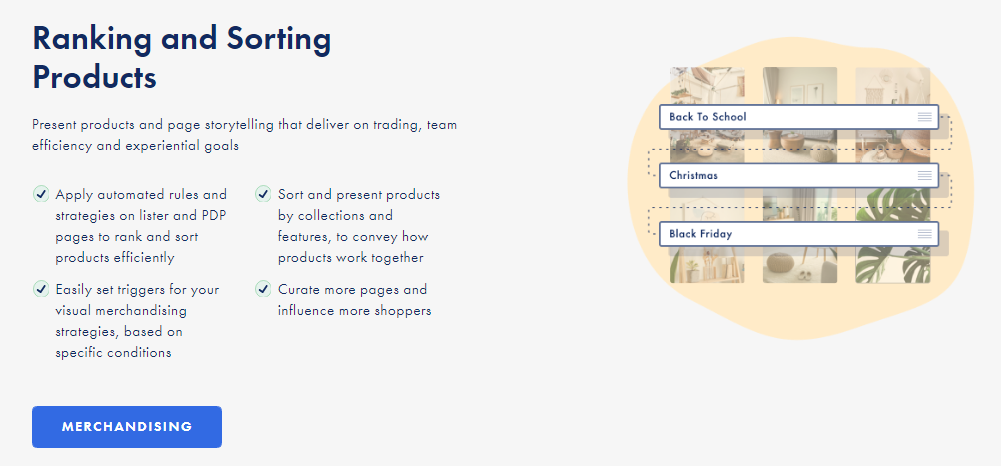 Adobe Sensei
Adobe Sensei is an AI tool that underpins the Adobe Experience Cloud. It seamlessly works with all of Adobe's cloud services to bring the power of AI and ML to search, product recommendations, and merchandising.
Adobe Commerce Live Search delivers optimized results based on each user's profile and previous behavior by combining Adobe Sensei with catalog data.
Product recommendations powered by Adobe Sensei are smart and personalized. In addition, tools are made available to merchants for managing custom attribute support in recommendation rules and scoping recommendations on a category level.

With Adobe Sensei, merchandising is made more intuitive and intelligent. Dynamic digital shelves display products according to set rules combined with all relevant site information, with AI working to either boost or deprioritize results or categories automatically based on performance data.
Meanwhile, Adobe Target is Adobe's solution for testing, automation, and personalization. Adobe Target allows merchants and marketers to
personalize and experiment with content and experiences to improve revenue, conversions, and engagement across different customer touchpoints.
Adobe Sensei powers many of Adobe Target's most innovative features, including automated personalization, auto-allocate, personalized insights reports, auto-target, and personalized recommendations.
Also worth trying—
Klaviyo
Klaviyo is different from the rest of the solutions providers we've discussed in this article in that their focus is on email marketing and SMS personalization.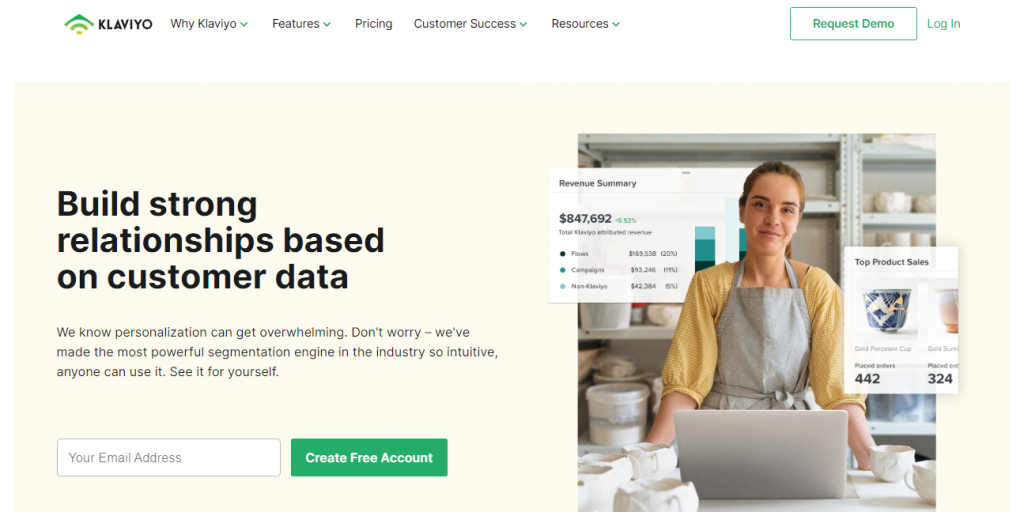 Data about customer behavior—including browsing habits, campaign engagement, and shopping patterns—is used to automatically generate product recommendations and predictions for customer lifetime value. Klaviyo has certified extensions for Magento 1/2.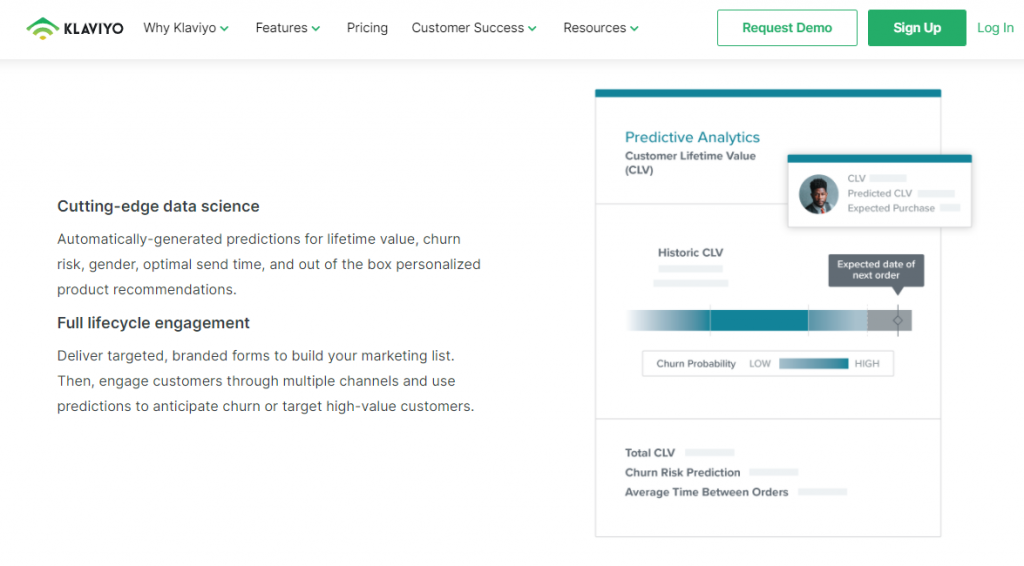 Just realized it's time you implemented smart personalization in your eCommerce store? We're here to help. Sign up for a free consultation and let's get this going. Or hit the orange chat bubble on the bottom right for a faster response.