A few years ago we used mobile devices for social media, music, and gaming only. Now all our daily errands can be fully moved to the digital space. Booking flights and checking in hotels, getting uber and ordering food, paying our bills, and managing finances – we can do everything on our smartphones.
We see the mobile app industry grow each year with a drastic 46% increase in the number of downloaded apps in the last 3 years, reaching 204 billion downloads in 2019.
Although people are eager to download and try new mobile apps, just a few of those manage to stay on smartphones without getting deleted.
Andrew Chen presented an interesting chart from Quettra in his essay covering the Next Feature Fallacy. It clearly shows: the more days have passed since the installation of the app, the less active users are on that particular day.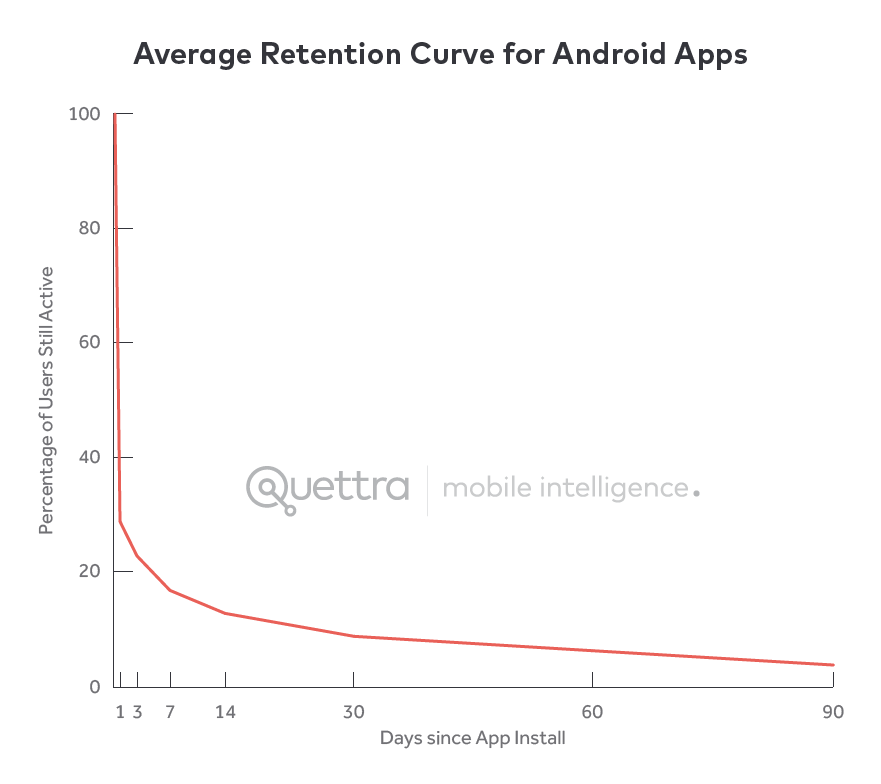 You can see that 77% of users abandon the app in 3 to 7 days after the download.
Hence, the question is "Why are people quick to download and try new apps, but rarely use them after the first session?"
One of the causes of dropping or deleting apps is the lack of clear communication of the value propositions. The users are not fully aware of the app benefits and reasons and ways to use it.
Your app's page on Apple Store or Google Play might be good enough to persuade people to try it out, but the app itself needs to convince people that it's worth using.
User onboarding impact on user retention in mobile apps
One of the factors that determine whether people will use your app after download is the quality of the onboarding process. If set up correctly, it significantly increases the likelihood of users staying on the app.
Let's look at some numbers:
App redesign study by Localytics shows that user retention increased by 50% after introducing proper user onboarding! 
Dan Wolchonok, Head of Product and Analytics at Reforge (and formerly HubSpot), shared numbers of how user retention rate increased after improving the onboarding process in HubSpot's Sidekick product in his talk at Price Intelligently's SaaSFest conference.
As you can see from the chart below, presented by Wolchonok, the retention rate increased from 60% to 75% in week 1 of use and jumped from 10% to 25% in week 10.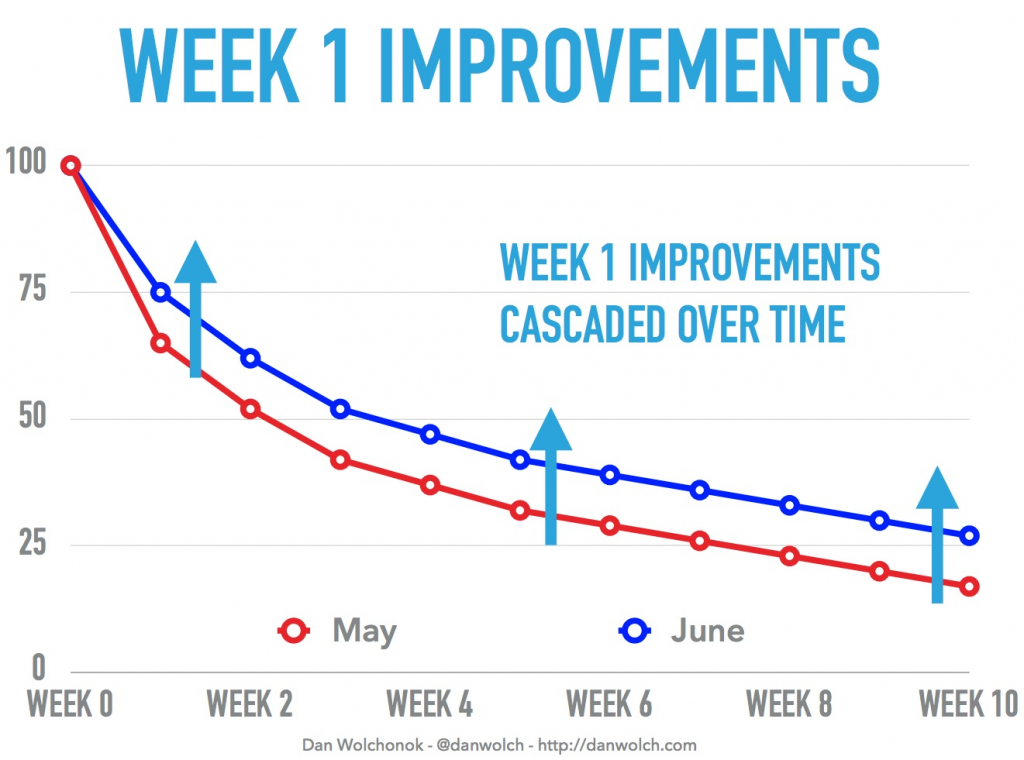 User onboarding best practices in mobile apps
When mapping and designing user onboarding process for your app, there are several onboarding best practices we suggest you keep in mind:
1. User onboarding shouldn't take longer than a minute
Based on a survey conducted by Clutch, 72% of respondents said it was important for them to complete user onboarding in less than a minute.
Don't overcomplicate the onboarding or turn it into an essay. Keep it short & straight to the point.
2. Users should be allowed to skip the onboarding process
There will be a decent share of users who prefer learning how to navigate things on their own, following the trial and error approach. Don't restrict them from doing that and always allow them to skip onboarding at any step of it.
See how Trip.com is doing it, by placing a skip button in the top right corner of every step:
3. Highlight everything user can do within the app, not what it offers
The language you use in your onboarding process plays a crucial role in how users will perceive the app on the subconscious level. Make sure your copy is user-centered and not app-centered.
For example, see how the MUST app (application for creating your movie libraries) leverages YOU being able to create YOUR movie collection.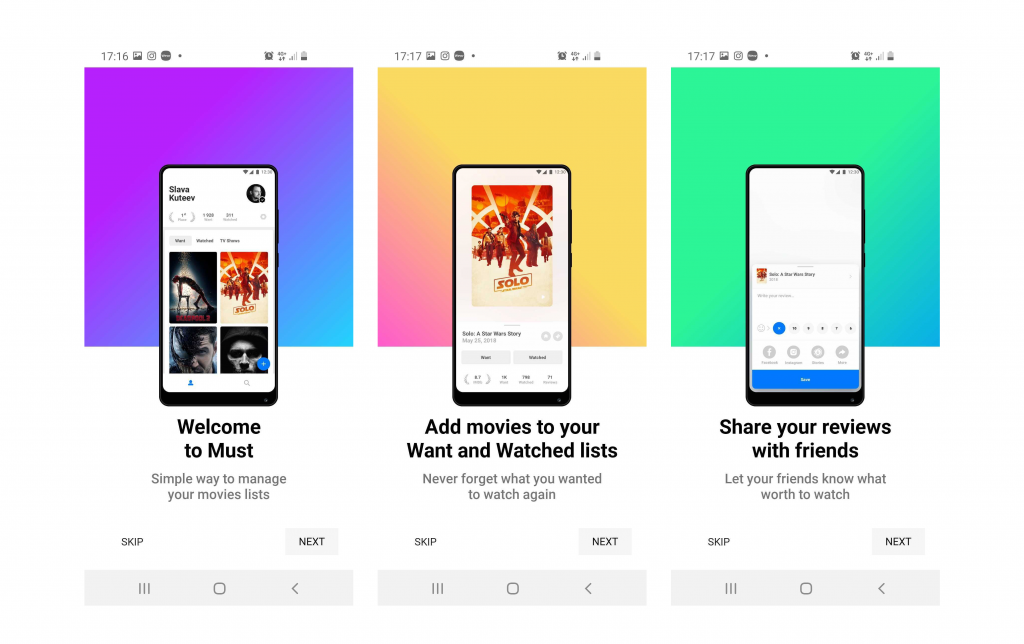 4. Emphasize the value of the app during onboarding
The onboarding process is a way of welcoming users and them getting to know the app. Use it to showcase the value proposition of the app & what users can accomplish there. Persuade new users to explore the app.
A great example of communicating value during onboarding is Revolut. Their onboarding follows all CRO best practices, from listing unique app benefits to using extensive social proof and visible calls-to-action, it indeed makes you want to explore the app more!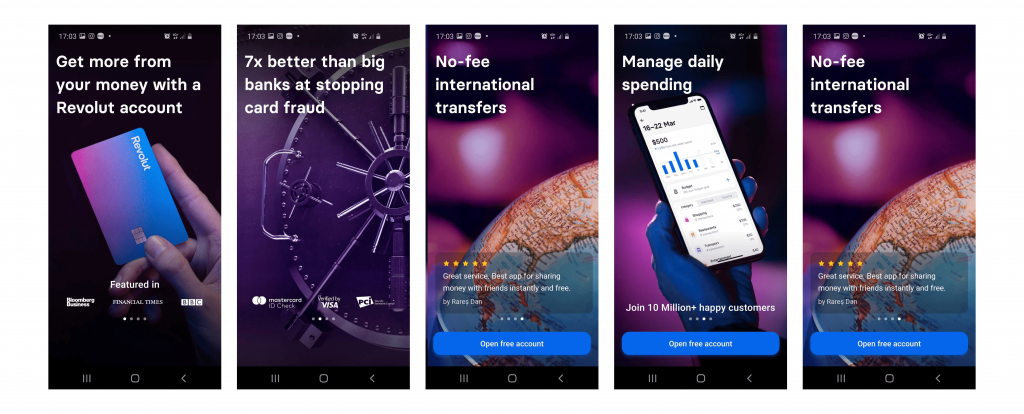 5. Create an "A-ha!" moment
Design the onboarding in a way that it creates an "A-ha!" moment for the user when he understands and appreciates the value provided by the app. Seeing all the cool things they can potentially do in the app makes users interested in learning how to use it.
Here's a great example from Facetune App. When going through their onboarding, there are several "A-ha!" moments of users realizing how easily they can do many things in the app!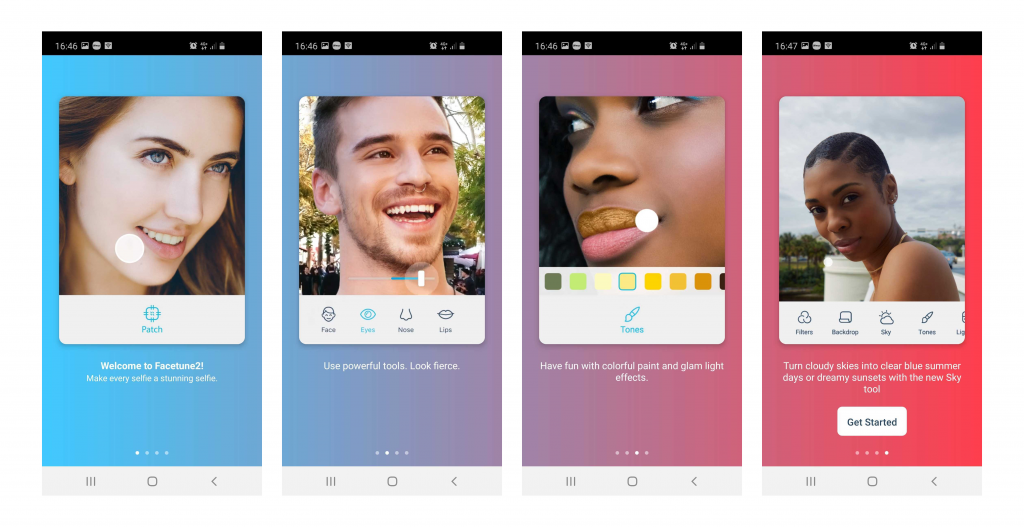 Don't neglect the onboarding process as it can make a huge difference in your app's success. Start to design your onboarding process by outlining the main value your users get from the app and the features that set you apart from other similar apps. Good luck with being bold and creative!
If you find yourself struggling to map your perfect onboarding flow, don't hesitate to contact us, we're just 2 clicks away!