What is a modern data stack?
A modern data stack is a suite of technologies and tools that work together to capture, process, store, analyze, and visualize data. It enables businesses to streamline data operations and gain deeper insights into their data, which can help them make more informed decisions. A modern data stack also allows for scalability and flexibility in handling large volumes of data and adapting to changing business needs.
Benefits of a modern data stack
Complete information: Decision-makers have single-view access to data from various sources, with a wide set of tools to perform analysis on that data and visualize it.
Fast queries: Data warehouses ensure rapid data retrieval and analysis of large amounts of consolidated data without developer input.
Instant reporting: Real-time performance overview and custom alerts for KPI drops or data anomalies.
Accessibility: Everyone (including non-technical personnel) can access and implement data into their work by themselves.
Save time & money: Have more time to pursue higher-value analytics projects otherwise spent designing, building and maintaining data connectors and updating reports.
New technology: Cloud data warehouses allow you to integrate new technologies with ease such as machine learning and AI.
Components of a modern data stack setup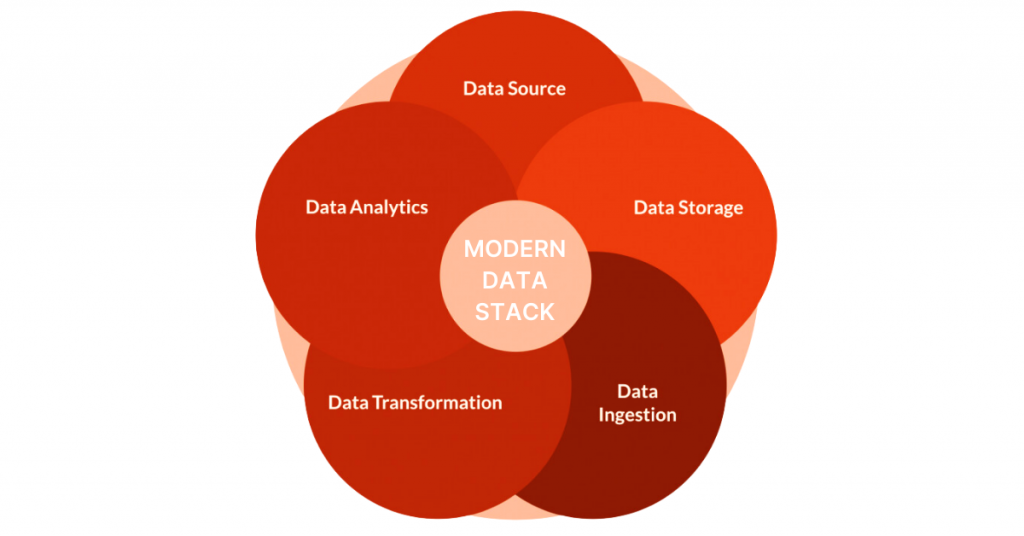 The most important difference between a modern data stack and a legacy/traditional data stack is that the modern data stack is hosted in the cloud and requires little technical configuration by the user.
The entire setup can be broken down into 5 distinct components—layers stacked on top of each other—namely, data source, data storage, data ingestion, data transformation, and data analytics. Not all layers are necessary, as it highly depends on the size and needs of a particular business, but each layer has a unique role.
1. Data source
The data source is any place/environment containing business data, which can be your production database, web server logs, or third-party apps used internally for different purposes within your organization:
Digital analytics (e.g., Google Analytics)
ERP (e.g., Oracle ERP Cloud)
CRM (e.g., Salesforce)
Marketing (e.g., Google Ads)
OMS (e.g., Magento)
2. Data ingestion
This component moves your data from the source to your data storage. Data ingestion occurs in data pipelines that ensure data reaches the storage smoothly and efficiently.
When choosing a relevant tool, try to ensure that it has pre-built connectors to all of your company's data sources. This makes the setup process quicker and allows for scaling data integration. It also accounts for API or schema changes.

3. Data storage
This is where you store your data. It can be a data warehouse or a data lake that acts as the primary gathering point for all your organization's collected data.
All the data from your data source/s flow into this centralized storage, which can be either cloud-based or on-site.
4. Data transformation
This is the process of turning raw data into a user-friendly format. Once raw data reaches data storage, it is ready to be transformed. During transformation, data usually undergoes filtering, splitting, merging, enriching, and deletion (of duplicates) to prepare it for subsequent analysis.
Your transformation tool should be compatible with your destination and have features that make it easy to trace your data lineage, e.g., version control and/or documentation that helps outline transformation impact on your tables.
5. Data analytics
The data analytics component encompasses data visualization and reporting managed within a BI platform that also helps end-users explore and discover insights in their data via interactive dashboards and charts.
In general, you should consider the technical implementation (such as defining variables for users), visualization flexibility, and user accessibility.
Who can benefit from a modern data stack?
Anyone working with data can benefit from a modern data stack, for example:
Analyst
Derive exhaustive insights from data generated in multiple different platforms without tedious and repetitive manual data exports
Discover areas of revenue loss and identify where improvements can be made to save the company money or increase profits by having a full picture of the business at a glance
Develop models and machine learning algorithms to improve the company's operations by taking into account all variables
Easily help other departments with useful reports that can be accessed from everywhere
Work with huge amounts of data without worrying about the feasibility of processing it
Marketing specialist
Connect information from Social, Paid Search, Organic, Retail, and other channels to have a cohesive view on marketing activity efforts
Automatically generate sales and campaign performance reports from CRM and marketing platform data
Instantly identify customer purchasing patterns over time with seamless data refreshes
Find out whether customers are buying products that generate the most revenue for the business, i.e., those with the largest profit margins
Make data-informed decisions in real time by tailoring content and advertisements based on user preferences in pivotal moments, e.g., during Black Friday and Christmas
Effectively allocate resources to various marketing channels based on the value each of them provides to the company
Manager
Always know how the business is doing both on a broader scale and on a more granular level
Get rid of routine tasks such as aggregating data on a monthly/weekly basis and review cumulative KPIs whenever needed
Have access to data from multiple accounts & markets all in one place and effortlessly compare performance and spot trends
Instead of manually preparing reports, receive automated ones directly in your email on a schedule you define
Use Case: Digital Analytics + OMS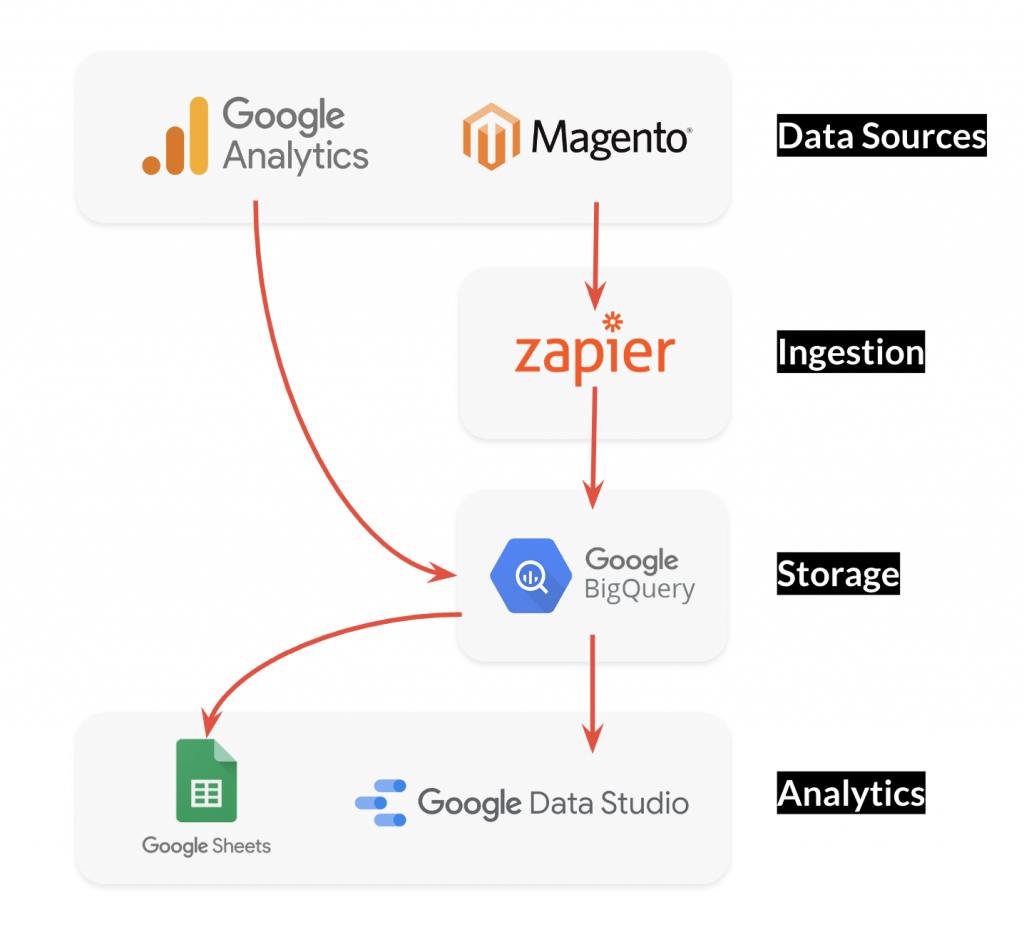 Use online user behavior data available in the analytics platform along with the OMS to have a single source of truth for your eCommerce business.
Since Google Analytics has a native connector to Google BigQuery, it can be directly linked to the data warehouse without any intermediary tool to start accumulating unsampled data straight away. With the help of Zapier, it is possible to ingest the most recent Mage
nto data into Google BigQuery with the maximum delay of a couple of minutes, and afterwards write optimized queries to extract that data into Google Sheets and Google Data Studio to get pivotal business information in a timely manner.
Real-time dashboard
After having retrieved data from both Google Analytics (GA4) and Magento, you can have beautiful reports for your team to track performance on a real-time basis along with valuable metrics to keep track of user activity on the website, which can be something as standard as sessions and also custom events like product availability checks.
eCommerce-related metrics are available at glance, among others:
Revenue
Transactions
Individual product performance
Gross profit
COGS
And metrics coming from various platforms can be combined into a calculated one, e.g., conversion rates.
Ongoing performance dashboard
KPIs can further be displayed on a more extensive time frame both from an individual store perspective as well as aggregate perspective. This lets you capture important insights on overall business performance and easily spot outliers and differences between markets without having to worry about sampling that tends to occur with large amounts of data.
Data anomaly triggers
Custom alerts can be defined in Google Sheets so you receive an email directly when suspicious data points are spotted. You want to be sure you identify and tackle data anomalies before they cause any significant trouble.
And that's what modern data stack is about and why it matters for your eCommerce business. If you still have a traditional data stack, it's really time you revisit your business priorities and considered updating your technology suite.
scandiweb is a full-service eCommerce agency committed to helping companies grow through technological innovation and strategic business development. Make us your growth partner, and we'll guide you every step of the way. Contact us today to learn more about our services and how we can help you achieve further success in the eCommerce space, or request a free data maturity audit.