Are you looking for an eCommerce platform that offers a range of features, tools, and integrations to build and manage your online store? Look no further! BigCommerce is a popular eCommerce platform that caters to businesses of all sizes, from small startups to large enterprises. In this BigCommerce review, we'll dive deep into the platform's offerings, exploring the pros and cons to help you make an informed decision for your eCommerce venture. Let's get started!
Summary
BigCommerce is a comprehensive, hosted eCommerce solution offering extensive features & capabilities for businesses of all sizes.
It offers advantageous features such as powerful store management tools, customizable shipping & real-time quotes, and coupon/discounting capabilities.
BigCommerce provides four different pricing plans with built-in SEO/marketing tools, integrations/add-ons, and customer support resources to help businesses succeed in the eCommerce landscape.
Exploring BigCommerce: an overview
BigCommerce is a comprehensive, hosted eCommerce solution that assists businesses in developing, hosting, and maintaining their online stores. It is trusted by well-known companies such as:

These companies employ BigCommerce for their multiple storefronts. With a 14-day free trial, you can test the platform and explore its wide range of features before committing to a custom pricing plan, which will help you understand the BigCommerce cost.
Also read:
Case Study: What It Takes to Support a BigCommerce Store
The platform is designed to be user-friendly and does not require any coding knowledge. It features a straightforward dashboard and an extensive on-screen tour to help you become familiar with its most important and beneficial features. This makes BigCommerce an ideal choice for launching an initial online store, expanding an existing eCommerce business, and even meeting the needs of enterprise-level companies.
BigCommerce's left sidebar provides access to various sections, such as product management, order processing, and marketing tools, making it the right eCommerce platform for many businesses. The platform offers an impressive set of features and capabilities, likely to be a preferable choice for businesses that need more features and analytics from the start.
Advantages of choosing BigCommerce
BigCommerce stands out for its ease of use, comprehensive built-in features, and powerful SEO and marketing tools, making it an attractive choice for eCommerce entrepreneurs. In this BigCommerce review, we will discuss some of the platform's advantageous BigCommerce features, such as powerful store management tools, an expansive product catalog, customizable shipping and real-time quotes, coupon and discounting capabilities, and more.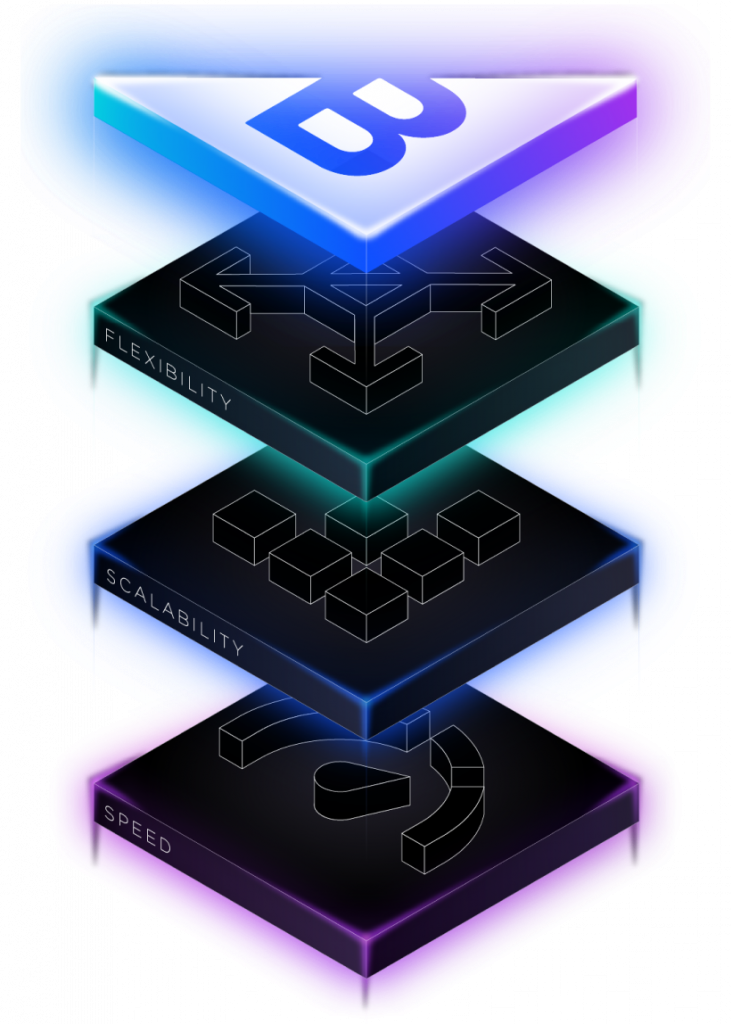 In the following sections, we'll explore the advantages of choosing BigCommerce for your eCommerce store.
Ease of use
BigCommerce's user-friendly interface and drag-and-drop editor makes it easy for beginners and experienced users to create and manage online stores. The platform's interface is intuitive and straightforward, with a quality and appearance comparable to Shopify's and Squarespace's. This makes it suitable for businesses with a multi-storefront approach.
When it comes to managing products and catalogs, BigCommerce performs favorably in terms of usability compared to other platforms. Here are some reasons why:
It is notably more efficient
The Help Center provides guidance to newbies
It has a rich selection of written and video resources that help with setting up the system.
Built-in features
The BigCommerce platform offers a wide range of built-in features, including product management, order processing, and marketing tools, reducing the need for additional apps and integrations. For example, the "Products" section in BigCommerce is utilized to add, edit, view, import, filter, and manage all products. The platform also offers inventory management solutions, enabling users to generate and distribute gift vouchers for specific customers.
The Orders section allows users to:
Process orders
Generate invoices
Modify order status
Manage the order as it progresses to completion
Integration with an Order Management System (OMS) such as NetSuite, Brightpearl, or Order Desk is also possible, as well as utilizing BigCommerce's built-in features.
In addition to these features, BigCommerce provides a built-in blog in the Storefront section, enabling users to publish content to their audience and gain additional indexed pages. However, the built-in blog offers a basic foundation for blogging and may not be suitable for businesses looking to invest heavily in content marketing.
SEO and marketing tools
BigCommerce provides strong SEO and search engine optimization tools to help businesses improve their online visibility and drive more traffic to their stores. The platform offers a robust set of tools and features to help optimize your store for search engines and effectively market your products. This includes:
An SSL certificate and HTTPS protocol for websites
ISO/IEC 27001:2013 and Level 1 PCI DSS 3.1 certifications
Multiple layers of intrusion detection, firewalls, and file integrity scanners
A High-Availability infrastructure that guarantees 99.99% uptime
In addition to these SEO capabilities, BigCommerce offers a channel manager section where you can monitor the performance of various sales channels and identify which ones are the most lucrative. This can help businesses focus their marketing efforts on channels that drive the most sales, ensuring a higher return on investment.
BigCommerce pricing plans explained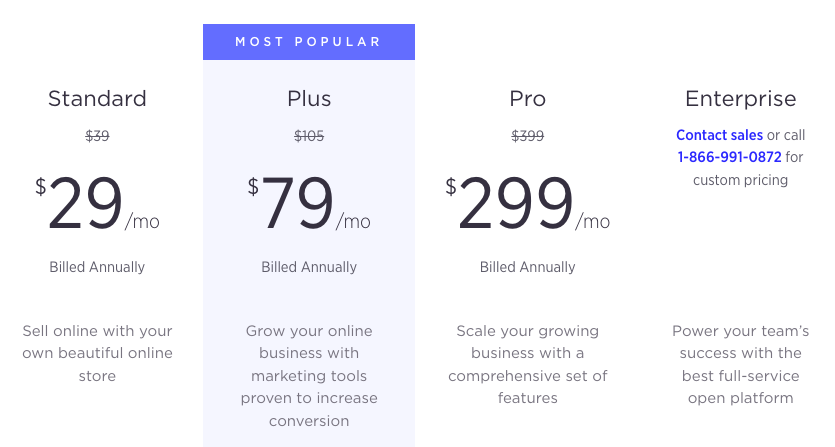 BigCommerce offers four pricing plans, each with different features and sales limits, catering to businesses of various sizes and needs. In this section, we'll review each plan in more detail, helping you determine which best suits your business requirements.
Each plan has its own unique features and benefits, so it's important to understand them.
Standard plan
The Standard plan is an affordable option for small businesses, offering basic features and a sales limit of $50,000 per year. Features such as unlimited products, unlimited storage, and 24/7 customer support are included in this plan. However, the Standard plan does not include abandoned cart saving features.
It provides a solid foundation for launching an eCommerce store for businesses just starting out or with a limited budget. As your business grows, you can easily upgrade to a higher plan to access more advanced features.
Plus plan
The Plus plan is suitable for growing businesses, with additional features like an abandoned cart saver, customer segmentation, and a sales limit of $180,000 annually. This plan includes features such as an abandoned cart saver, gift cards, and real-time shipping rates for added convenience.
With these added features, the Plus plan helps businesses offer a better shopping experience for their customers, ultimately driving more sales and revenue. As your business continues to grow, you may consider upgrading to the Pro or Enterprise plans for even more advanced features.
Pro plan
The Pro plan caters to larger businesses and includes the following advanced features:
Custom SSL
Google Customer Reviews
Sales limit of $400,000 per year
Advanced reporting
Customer groups
Advanced SEO tools
For businesses with higher sales volumes and more complex needs, the Pro plan provides robust tools and features to support continued growth. As your business expands further, the Enterprise plan may be the best fit for your custom requirements.
Enterprise plan
The Enterprise plan is designed for high-volume businesses with custom requirements, offering:
Personalized support
Negotiable sales limits
No additional transaction fees
A full-featured online store
Multi-currency support
API support
Priority support
Express routing
With its tailored solutions and adjustable sales limits, the Enterprise plan is an ideal choice for businesses that require a high level of customization and support. This plan ensures that your business can continue to scale and succeed in the competitive eCommerce landscape.
Also read:
7 Easy Steps to Start Your Online Store on BigCommerce
Customizing your BigCommerce store
BigCommerce offers a variety of customizable themes and a drag-and-drop editor, allowing users to create unique and visually appealing online stores. The platform provides both free and paid themes, with a selection of approximately 180 paid themes and 12 complimentary themes, each with its variations. While free themes tend to be more basic, premium themes usually provide more features, have a sharper design, and are regularly updated.
The platform's drag-and-drop page builder enables users to conveniently select content blocks and place them in the desired position on their pages. This allows for easy customization of the store's design without the need for any coding knowledge. Users can also create custom product categories and assign products to them, enabling a tailored shopping experience for their customers.
Compared to other eCommerce platforms, BigCommerce offers a good balance of customization options and ease of use. Whether you're a beginner or an experienced user, the platform's tools and features allow you to create a visually appealing and unique online store that stands out from the competition.
Integrations and add-ons: enhancing your store functionality
The platform's app marketplace offers various integrations and add-ons to enhance store functionality, including email marketing, accounting, and customer support tools. With over 1,290 integrations in its app store, BigCommerce provides more options than platforms like Squarespace and Wix but fewer than its key rival, Shopify, which offers 8,000 integrations.
Some popular integrations available in BigCommerce's app market include:
Mailchimp
Zendesk
Xero
Salesforce
These integrations can help businesses streamline their operations and automate various processes, allowing them to focus on growing their eCommerce store.
By offering a wide range of third-party apps and integrations, BigCommerce ensures businesses can easily find the right tools and add-ons to enhance their store's functionality and performance. This flexibility allows businesses to create a tailored eCommerce experience that meets their unique needs and requirements.
Payment processing and gateways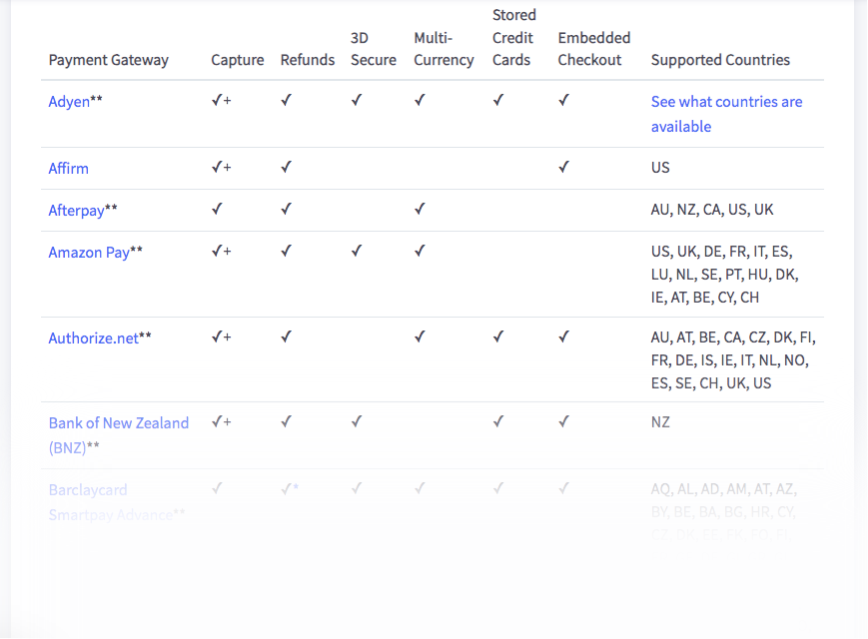 BigCommerce supports multiple payment gateways, offering flexibility in payment processing and ensuring a smooth checkout experience for customers. The platform provides support for payment gateways such as:
PayPal
Stripe
Authorize.net
Square
Braintree
Additionally, BigCommerce allows users to connect to any payment processing mechanism of their choice. This flexibility will enable businesses to offer their customers a wide range of payment options, increasing the likelihood of conversions and sales.
While integrating a payment gateway with a hosted eCommerce solution like BigCommerce may involve a lengthier process, including setting up 'merchant accounts' with the chosen gateway provider and configuring them to work with the store, the platform's support for multiple payment options makes it an attractive choice for businesses looking to offer a seamless checkout experience to their customers.
It's worth noting that BigCommerce does not impose transaction fees for any payment method. However, fees associated with employing a third-party payment processor are imposed by the payment gateway provider, not BigCommerce. This allows businesses to control their transaction costs better and maximize their revenue.
Shipping and fulfillment solutions

The platform provides various shipping and fulfillment solutions, including real-time shipping rates, integrations with popular carriers, and dropshipping support. BigCommerce offers a variety of shipping options, including cost calculations based on weight and partnerships with commercial shipping providers. This enables businesses to provide their customers with a range of shipping options, improving the overall shopping experience and increasing customer satisfaction. Popular shipping applications such as Shipstation, Shipper HQ, and Brightpearl are compatible with BigCommerce, further enhancing the platform's shipping and fulfillment capabilities.
In addition, BigCommerce facilitates the selling of dropshipping products and online sales, making it a suitable choice for businesses looking to explore this eCommerce model. BigCommerce provides pick-up, curbside, and other delivery options for local companies, allowing them to cater to their customer needs while minimizing shipping costs.
Overall, BigCommerce's shipping and fulfillment solutions help businesses offer their customers a seamless and convenient shopping experience.
Analytics and reporting: understanding your store's performance
BigCommerce offers comprehensive analytics and reporting tools, helping businesses understand their store's performance and make data-driven decisions for growth. The platform provides several reports, including customer, product, and abandoned cart data. These reports can help businesses gain insights into various aspects of their eCommerce store, enabling them to optimize their operations and marketing efforts.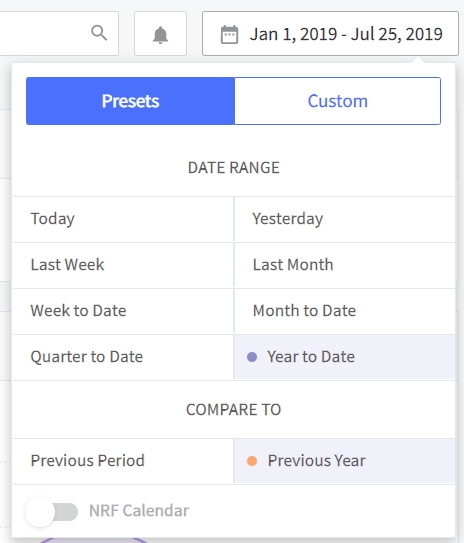 In addition to its built-in reporting tools, BigCommerce offers the 'eCommerce Insights' report for an additional fee, providing an in-depth analysis of customer behavior, product performance, and sales trends. This advanced reporting can help businesses identify areas for improvement, develop targeted marketing strategies, and ultimately drive more sales and revenue.
Compared to other eCommerce platforms, BigCommerce's analytics and reporting capabilities provide businesses with a comprehensive understanding of their store's performance, empowering them to make informed decisions and grow their eCommerce venture.
Customer support and resources
The platform provides a range of customer support options, including:
24/7 live chat
phone support
email support
extensive online resources
a community forum
These support options ensure that businesses can receive assistance whenever they need it, whether for technical issues, platform questions, or advice on store setup and optimization.
BigCommerce University offers extensive tutorials and lessons to help users get the most out of the platform and improve their eCommerce skills. The community forum also provides a valuable resource for users to share tips, advice, and best practices, fostering a supportive environment for businesses to learn and grow.
When compared to other eCommerce platforms, BigCommerce's customer support and resources stand out as a key advantage, ensuring that users have access to the help and information they need to succeed in the competitive eCommerce landscape.
Comparing BigCommerce to competitors
BigCommerce is often compared to competitors like Shopify, WooCommerce, and Magento, with each platform offering its own unique features and benefits for different business needs. Shopify is considered one of the main competitors of BigCommerce, offering a user-friendly platform with customization, scalability, security, and customer service similar to BigCommerce.
WooCommerce, on the other hand, may not offer as many features as BigCommerce and can be more challenging to use, but it is a popular choice for businesses using WordPress as their website platform. Magento is a more robust eCommerce solution, but it may not be as user-friendly, scalable, or secure as BigCommerce.
When choosing an eCommerce platform, it's essential to consider the unique features and benefits of each platform in relation to your business needs. While BigCommerce offers a comprehensive set of tools and features to support businesses of all sizes, it's important to evaluate its offerings alongside its competitors to ensure you're selecting the right platform for your eCommerce venture.
In conclusion, BigCommerce is a comprehensive eCommerce platform that offers a wide range of features, tools, and integrations to help businesses build and manage their online stores effectively. With its ease of use, customizable themes, powerful SEO and marketing tools, and a variety of pricing plans, BigCommerce is a strong contender in the competitive eCommerce landscape. Whether you're a small business just starting out or an established enterprise looking to expand your online presence, BigCommerce has the tools and support you need to succeed in the world of eCommerce.
Frequently Asked Questions
What is the disadvantage of BigCommerce?
BigCommerce does have a few disadvantages, such as its limitations on annual online sales and the limited number of typefaces included in the free themes.
Additionally, many of the free themes are too similar to each other.
Is it free to sell on BigCommerce?
Yes, it is free to sell on BigCommerce, depending on the pricing plan selected. The Pro plan starts at $399/month for less than $400k in online sales, with an additional fee of $150/mo for each extra $200k in online sales.
What does BigCommerce do?
BigCommerce is a paid SaaS eCommerce platform that helps merchants create, build, host, and manage online stores. It also provides tools to handle payments and currency conversions, as well as reporting and pre-integration into third-party services.
BigCommerce's mission is to help businesses sell more at every growth stage.
What are the main advantages of using BigCommerce for my eCommerce store?
BigCommerce provides a convenient platform with powerful features, SEO capabilities, and flexible pricing plans, making it an ideal choice for your eCommerce store.
How does BigCommerce's pricing compare to its competitors?
BigCommerce offers competitive pricing compared to other major eCommerce platforms, such as Shopify, WooCommerce, and Magento, so it is important to compare the various plans to determine which one best suits your business needs.
By breaking down the features and costs of each platform, you can make an informed decision about which one is the best fit for your business. Consider the features, scalability, and pricing of each platform to make sure you get the most value for your money.
As an official BigCommerce partner, scandiweb is ready to take on the challenge of any project and leverage the platform to build top digital solutions. Get in touch with our project managers directly by sending a message in the orange chat bubble to your right or contact us at [email protected].