About
Classic Football Shirts is an online store based in Manchester with the most extensive collection of classic, rare, and vintage football shirts in the world. Our collaboration involves support and maintenance of the Classic Football Shirts website, including a full site migration to Hyvä as one of the processes in our proactive maintenance plan.
Challenge
The client has over 22,000 SKUs enabled across their storefronts, and most of them are unique one-of-a-kind products available in a quantity of 1. It means that the stock available on-site is added and sold out quickly, resulting in a large turnover of individual products.
Our main goal at the start of the project was to find a solution that makes the whole website feel faster for users.
There are two aspects why the page needs to feel fast: constant turnover of information that needs to be loaded and emotional time sensitivity for clients.
With a majority of vintage and rare items in the store, Classic Football Shirts are in a passionate niche, and their shoppers are aware they might lose their chance to grab the rare items. Researching available stock and adding items to the cart makes shopping feel like a competition, especially after sales announcements. Every delay due to page loading feels like ages in that situation and significantly impacts the shopping experience.
Approach
During our collaboration, we've been doing proactive store maintenance and site-wide enhancements for Classic Football Shirts, which include:
Magento upgrade from 2.4.0 to 2.4.4-p2 and an upgrade to the latest version in the near future
Hyvä implementation for the whole website
Navigation menu redesign to unify categories and simplify the user experience
Ongoing extensions and new functionalities development by the scandiweb Support team.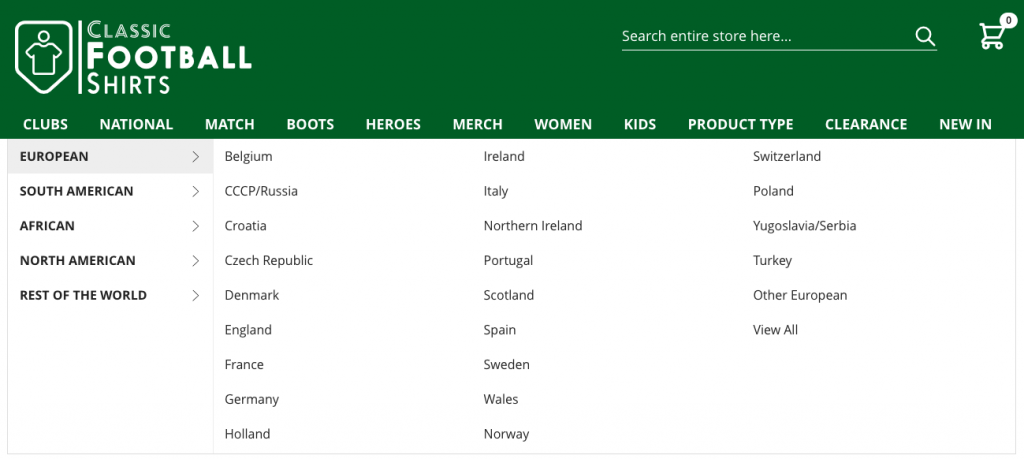 Hyvä implementation
Since the client wanted to improve speed across the whole website, we suggested the Hyvä theme—a proven solution for enhancing website performance for other clients. You can learn more about our Hyvä theme setup framework here.
Due to changes in the header, we decided to migrate the whole website to Hyvä page-by-page. The new store setup is easier for shoppers to navigate and ensures real-time stock updates for time-sensitive shopping.
Read our other Hyvä case studies:
Results
After the Magento version upgrade and migration to Hyvä, Classic Football Shirts website's ​​Page Speed performance score improved by 2.5x with visibly faster load times for stock updates, cart, and checkout.
As a bonus, we saw improved Core Web Vitals across all metrics, with the most notable improvements in
350% First Input Delay (FID)
45% Interaction to Next Paint (INP)
15% Largest Contentful Paint (LCP)
Our collaboration with Classic Football Shirts continues with support from a full-time dedicated developer available for any task based on the client's business needs.
Do you need help with optimizing page performance on your website? Have you considered the Hyvä theme or a similar solution and are interested in the timeline and costs? Let's get in touch, set up a free consultation, and discuss your goals!