Läderach, a celebrated Swiss chocolatier, has firmly established its roots in over 50 countries, enchanting palates through 134 branded stores. With a storied tradition tracing back to 1962, this brand has seamlessly woven its tale of exquisite craftsmanship across continents. Now, to amplify this global presence and reach an even broader audience, Läderach embarked on a mission: to revolutionize its online experience.
Highlights
Achieved a 47.8% increase in conversions through a comprehensive redesign approach focusing on user experience rather than just visual appeal
Realized an impressive 39% growth in revenue by strategically aligning the website with user-centric design principles
Average engagement time rocketed by 25.5% due to the intuitive interface and seamless user experience, surpassing mere visual aesthetics
Achieved 93-99 PageSpeed scores on key pages, maintaining green Core Web Vitals across devices, reflecting the fusion of visual appeal with optimal functionality for an unparalleled user experience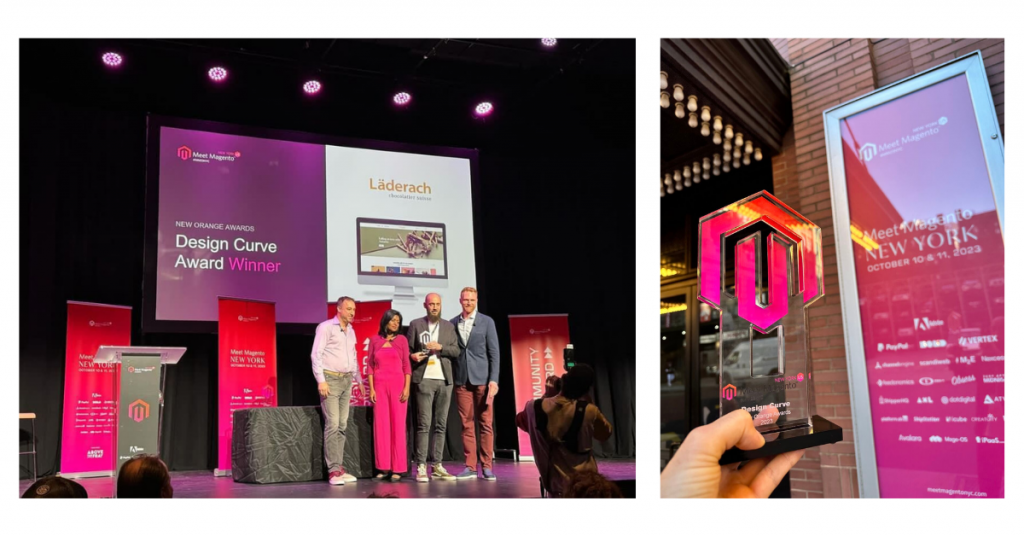 Business Goals
Business goals for Läderach were strategically anchored in enhancing the digital realm with a profound understanding of consumer interactions. Firstly, we aimed to conduct an in-depth analysis to comprehend user behaviors and preferences thoroughly. This included identifying engagement patterns and recognizing critical drop-off points, ultimately driving a more refined and tailored digital experience.
Central to our objectives was the meticulous mapping of the customer's journey within the digital landscape. We sought to utilize the accumulated data to create a comprehensive visualization of how users navigate through the website.
Moreover, Laderach's redesign aspirations went beyond mere conversion optimization. The ultimate goal was to ensure that the revamped website seamlessly aligned with Läderach's rich brand legacy and ethos. By authentically mirroring the brand's narrative and values, the company aimed to create an online platform that resonated deeply with their audience while enhancing the overall digital experience.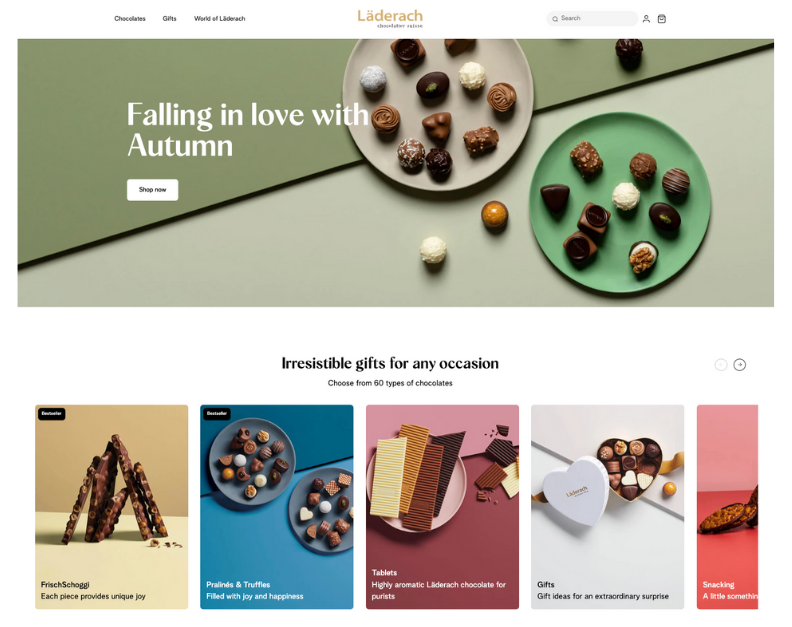 Approach and Solutions
In the realm of luxury and premium eCommerce, aesthetics often dictate design choices. However, Läderach charted a distinct path, anchoring their approach on robust user experience principles. They masterfully intertwined their brand's values and narrative throughout the user journey, ensuring that the website wasn't merely a visual delight but also a conversion-centric platform. Their strategy underscores that while beauty is paramount, it must harmoniously coexist with the vast intricacies of the eCommerce ecosystem, setting them apart as a true role model in the industry.
Laderach worked with a third-party design agency for their rebranding. At the beginning of the project, MetaDesign presented site concepts for selected pages for the website redesign. scandiweb reviewed those pages from the CRO perspective and provided recommendations.
To underscore the importance of conversion principles above aesthetics, we restructured the workflow, initiating the process with the creation of wireframes for key transactional pages, followed by the design agency's development of UX/UI. A collaborative review was conducted with Laderach, scandiweb, and the design team to assess the final design iterations.
Comprehensive conversion rate optimization (CRO) analysis
Navigating through each page of Läderach's website was likened to embarking on a meticulous quest for digital excellence. Initially, a comprehensive audit was conducted. By this analysis, a vivid picture of user behaviors was unveiled, showing pages where visitors were engrossed and others where engagement was fleeting. From this data, the customer's journey was mapped out, with crucial drop-off points and potential hindrances in the conversion funnel being identified.
Integration of data-driven insights
A crucial aspect of the redesign was that it did not only target conversion optimization but also evoked the brand's legacy and ethos. Feedback loops were established, encompassing both internal stakeholders and loyal customers, ensuring the redesign resonated with Läderach's distinguished narrative and values.
Seamless eCommerce platform transition
Moreover, recognizing the need for a cohesive eCommerce platform amidst a fragmented system split between WordPress and Magento 2 (Adobe Commerce), Läderach transitioned all their content to the unified platform of Adobe Commerce.
The result was a revamped AWS auto-scalable infrastructure, ensuring streamlined operations and setting the stage for the integration of a custom JavaScript-based frontend, Hyvä.
Also read: Hyvä Case Studies—Success Stories in Web Performance and User Experience
The integration of Hyvä, rooted in modern tech stacks, not only revitalized the site's aesthetic but also significantly boosted its performance.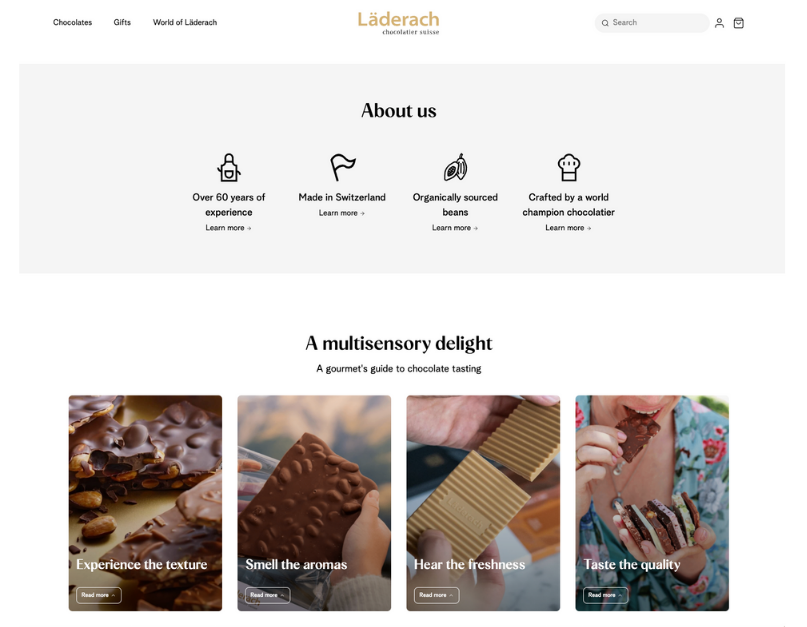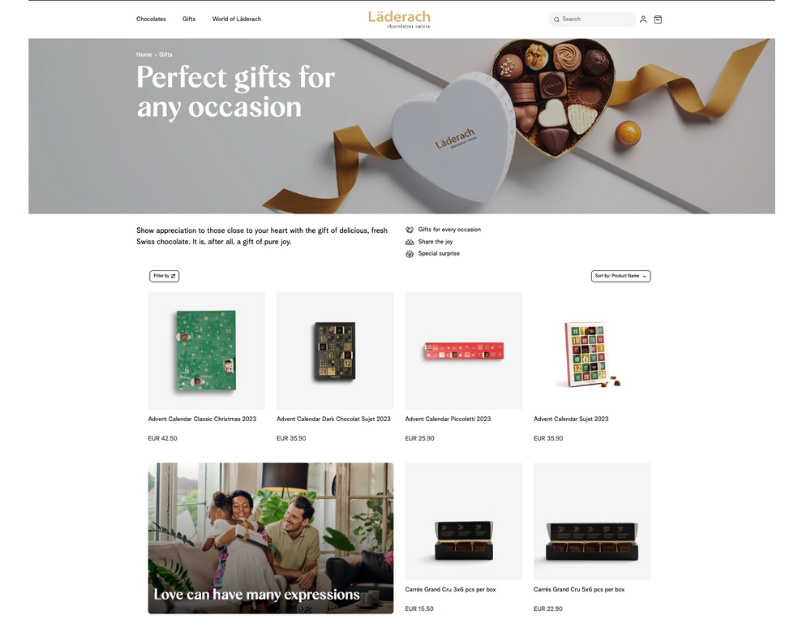 Results
eCommerce redesigns transcend mere aesthetics; they meld form with function. Läderach exemplifies this ideal balance, showcasing that a true digital transformation prioritizes not just visual appeal but also functionality and performance. Their approach emerges as a standard-bearer, underscoring that an effective eCommerce redesign is holistic, intertwining the beauty of the interface with the efficiency of the user experience.
The tangible impact of this approach was remarkable. Läderach witnessed a substantial 47.8% surge in conversions and an impressive 39% increase in revenue. The average engagement time skyrocketed by 25.5%, affirming the success of their rebranding efforts.
Designed to enhance online shopping experiences, and underpinned by modern tech stacks, the new frontend framework drastically improved site performance. Its emphasis on minimalism ensured rapid load times without compromising functionality. This led to 93-99 PageSpeed scores on key pages and, more importantly, maintained green Core Web Vitals across devices. The result was a seamless, fast, and intuitive user experience that mirrored the perfection of Läderach's chocolates.
The outcome was a digital experience that reflected Läderach's commitment to excellence, mirroring the finesse of their chocolates with rapid load times and an intuitive interface.
Ready to transform your luxury eCommerce store into a seamless, personalized shopping haven? Our seasoned Growth team excels in UX design, CRO, and strategic planning, eager to elevate your business. Contact us today for a free consultation.