The ability to cover every target language and country using only three product data feeds is a feature Facebook (Meta) introduced a few years ago—and it has simplified how product information can dynamically change based on where the user viewing the product is located and/or what their language preference is. Here's everything you need to know about Facebook's language and country feed works.
Launching Facebook ads and stores with multiple product feeds
In the past, international eCommerce store owners running Facebook (Meta) ad campaigns or Facebook stores for multiple countries had to use several different product feeds. And the more product data feeds were added, the higher the costs they entailed, and the more time they required for implementation and support.
In response to the daily rise in the number of product data feeds uploaded to their Commerce platform, Facebook (Meta) found a way to optimize how each target location and language could be covered. The solution—only three product data feeds were needed no matter how many target locations or languages were involved.
How Facebook language and country feeds work
The solution was based on the assumption that one list of products is sufficient to cover every target location and language combination for any number of ad campaigns or Facebook stores launched—with data from the language and country feed overriding the data in the list whenever necessary so that the relevant location and language information is displayed.
The language and country feed approach provides dynamic data about the products in the main catalog based on user location and preferred language. Prices in different currencies are covered by the country feed, and descriptions in different languages are covered by the language feed. As a result, products are localized automatically—the correct information is displayed in ads and Facebook stores depending on the customer's location and choice of language.
For example, users in the United States see item descriptions in English and prices in US dollars, while people in France see descriptions in French and prices in euros. For eCommerce products, we recommend that you include title and description in your language feed; then include price, sale_price, sale_price_effective_date, availability, and link in your country feed.
These feeds should be created using any of the formats supported by Facebook (Meta): CSV, TSV, XLSX, Google Sheets, or XML (RSS/ATOM). There is no need for all of them to be in the same format. A common way to implement this approach, however, is to report the initial (main) feed in XML, which is the most popular and widely used format for product feed exports; and language and country feeds in CSV, where it is easy to oversee, edit, and debug data using spreadsheets.
Creating the main Facebook feed and the additional country and language feeds
The main feed should contain the data for all the products. And the list of products in the main feed must be eligible for being reused for every language and country combination described in the language and country feeds.
The main feed does not describe any particular country or language—it is only a source of values that will be overridden based on the country and language settings of the viewing party. All the fields not overridden by the country or language feed will be taken from this main feed. Hence, it is a best practice to use the most widely used language and currency in this default feed—English and euro, for example.
Language and country feeds will use the main feed as the basis for creating all language and country combinations for products. Using the most common language and country information in the main feed will result in fewer overrides needed to be done by language and country feeds.
Steps to create country and language feeds:
Create a catalog for the default language and country.
Upload the main data feed to this catalog.
Create the country or language feed using a template—the template is provided by Facebook (Meta) and can be found under Commerce Manager > Catalog > Data sources > Add localized product information > Build template.
Fill in your country or language feed template by opening any spreadsheet editing program and adding the information to be used for the override, along with the country and language codes identifying the target country and language per entry.
Country feed example

Language feed example

After the country and language feeds have been created, they both can be uploaded to and tested on Facebook. Data sources in Catalog should then appear as follows:
Main feed

Country and Language feeds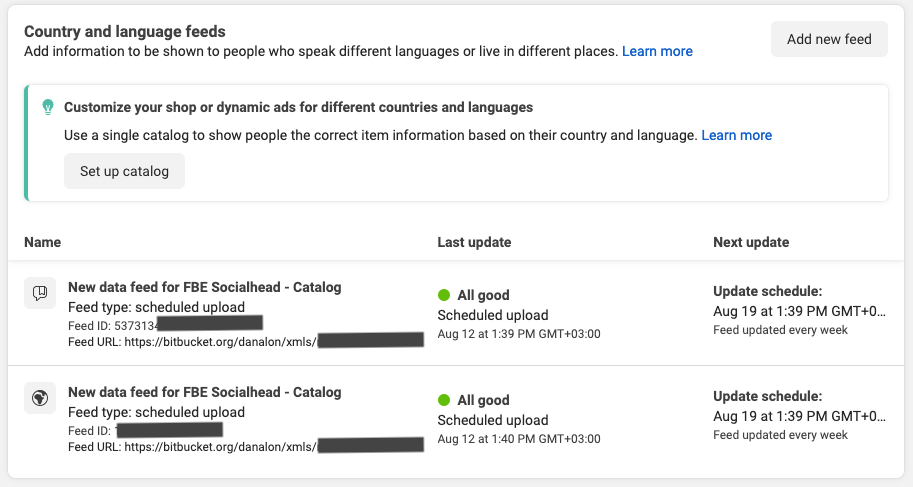 As soon as your catalog contains country and language feeds, you can view and manage localized information for each item in the Commerce Manager. You can choose any country and language combination by choosing from the dropdown options. The relevant country and language data will be shown to the client based on their used browser language and geolocation.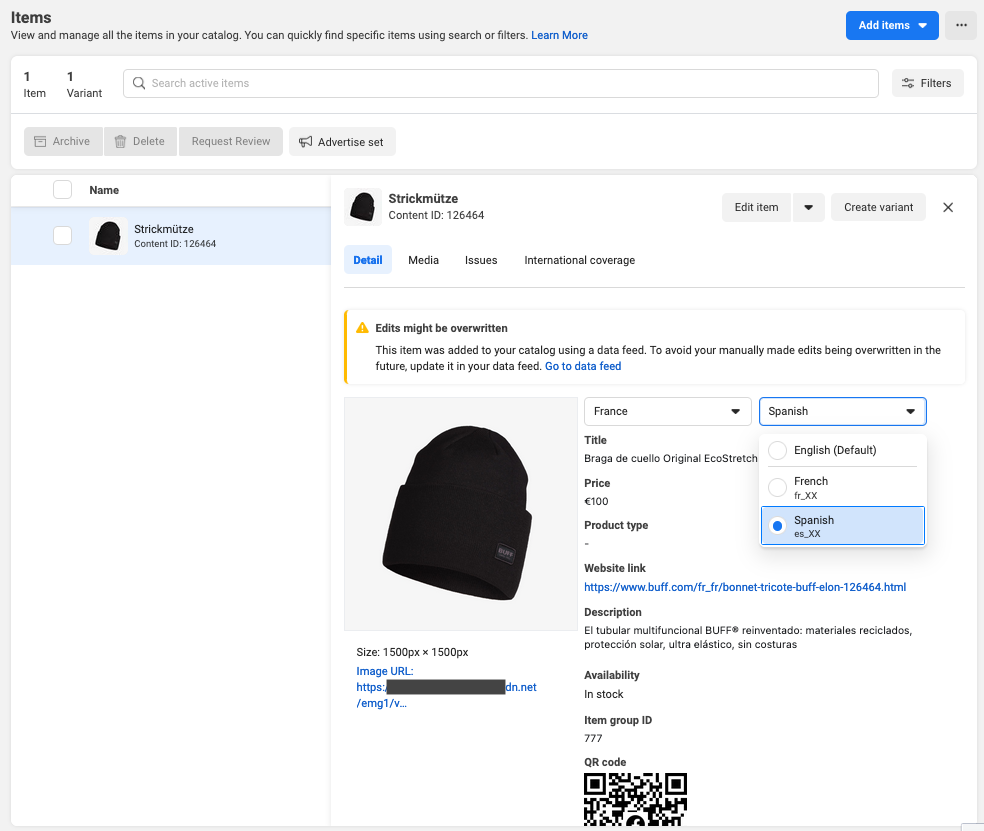 Tip! In Facebook App Preview, it is possible to check how the specific product will be displayed for the user visiting your store based on country and language.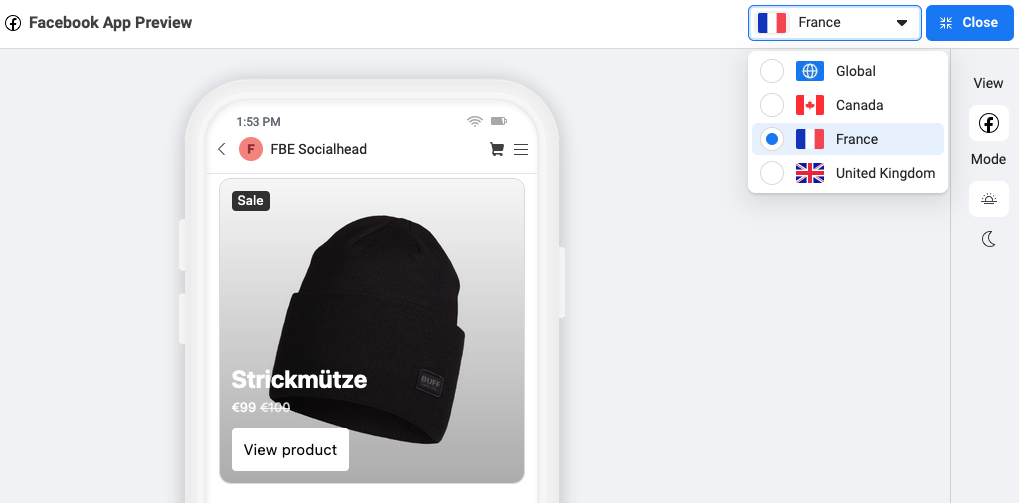 Want to take advantage of Facebook (Meta) product and language feeds to improve the performance of Facebook ads and reduce the costs associated with setting them up? Get in touch today by sending us a message through the orange chat bubble on the bottom right of the page or write us here.