The DIY & Hardware industry is currently experiencing a notable growth trajectory, surpassing a value of $2.62 trillion in 2022. This upward momentum is projected to persist, with a forecasted Compound Annual Growth Rate (CAGR) of 3.7% anticipated through the year 2027. This growth surge has been further propelled by the surge in eCommerce during the pandemic, resulting in an increased demand for DIY home renovation solutions.
Industry overview
The DIY & Hardware industry is embracing eCommerce as a crucial aspect of its operations, even while physical stores maintain their importance. This sector is rapidly digitalizing to provide consumers with an omnichannel experience. It's creating comprehensive content, offering flexible shopping options like online purchasing with in-store pickup, and optimizing last-mile shipping for speed and cost-efficiency.
However, it's important to acknowledge that the industry is not exempt from its share of challenges. Factors such as rising inflation, material shortages, and price hikes are anticipated to impede the sector's expansion.
Key trends in the DIY & Hardware industry
Looking at the DIY & Hardware industry around the world, we can see some important trends that stand out in different parts of the world.
Asia Pacific Region
DIY projects are becoming increasingly popular in the Asia-Pacific region. Home renovation demand is on the rise, driven by a recovering construction sector and increased investment in projects.
Millennials, who actively engage in DIY projects, constitute a significant consumer segment. And tech-savvy millennials consume DIY project content through platforms like YouTube.
North American Region
A shift is observed from DIY to "do-it-for-me" (DIFM) home improvement projects. Exterior replacements are gaining prominence, fueled by increased outdoor area usage during the pandemic. The desire to spend time outdoors is shaping market preferences and demands.
European Region
Sustainable and energy-efficient homes are a priority in Europe, aiming to reduce energy consumption and emissions. The market is growing due to increased interest in smart kitchens and enhanced convenience. Kitchen upgrades and additions are emerging as a top renovation category, integrating smart gadgets and appliances.
eCommerce trends
The DIY & Hardware industry is adapting to eCommerce trends to enhance customer experience and engagement.
1. Online to offline experience
Physical stores are expanding their presence online to cater to changing consumer behaviors and preferences.
2. Mobile impact
Retail giants like The Home Depot and Lowe's are experiencing increased app downloads, emphasizing the significance of mobile tools for consumers.
3. User-generated content
User-generated content, such as product reviews and unboxing videos, plays a pivotal role in influencing purchasing decisions, building trust, and fostering brand loyalty.
4. Sustainability focus
Sustainability and eco-friendliness are gaining traction, prompting customers to seek suppliers aligned with these values through databases like EPREL.
Discover more about the DIY and Hardware industry's current state, key trends, eCommerce insights, and opportunities by downloading our free report now!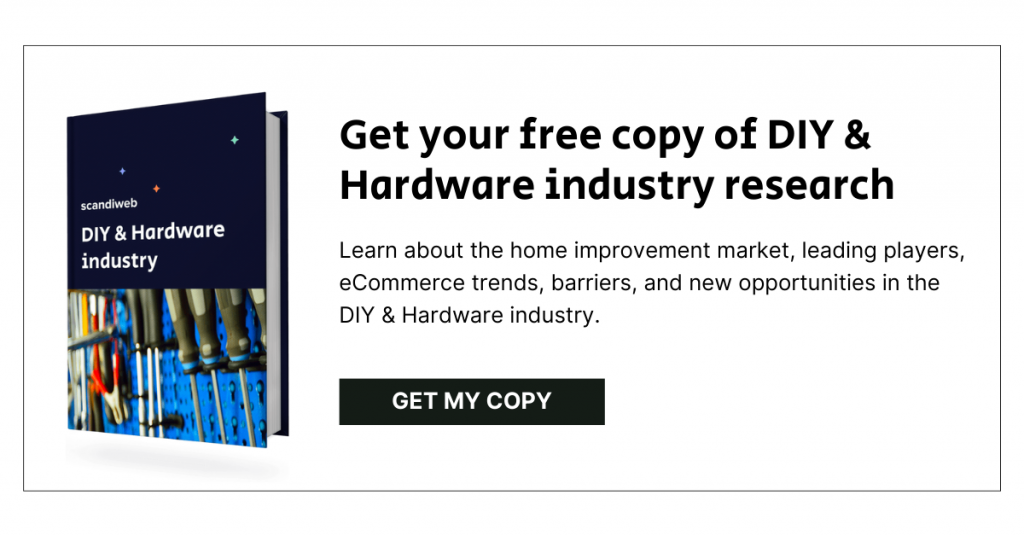 Wrapping up
The DIY & Hardware industry is riding the wave of growth, fueled by eCommerce integration, changing consumer dynamics, and innovative trends. As the sector navigates challenges, it continues to evolve and adapt, offering promising growth opportunities driven by a tech-savvy consumer base, a shift in renovation preferences, and a commitment to sustainability. The future looks bright for this industry, driven by its capacity to blend traditional practices with modern digital solutions.
Explore our extensive collection of eCommerce industry reports covering the latest trends and strategies across various industries. All reports are free to download!