The Hair Extension industry is rapidly evolving within the Beauty and Personal Care market. It encompasses a wide range of products and services designed to enhance natural hair's length, volume, and style by adding synthetic or human hair extensions. The industry is characterized by diverse global players, all competing to meet the ever-changing demands of consumers.
With eCommerce, the industry has seen significant growth and transformation, offering consumers a broader selection of products and more convenient shopping experiences. Despite the challenges posed by market fluctuations and changing consumer preferences, the Hair Extension industry continues to present numerous opportunities for growth and innovation.
This report is a comprehensive analysis of the Hair Extension industry. It provides an overview of the industry, key trends, and major global players and explores eCommerce trends within the sector, potential threats, opportunities, and the target market for hair extensions.
Key industry trends
Ethically sourced hair extensions
Ethically sourced hair extensions are hair acquired without force with fair compensation. Fake hair, as well as low-paying sources of labor, have been constant problems in the industry. Nowadays, interest in ethical hair extensions is growing exponentially.
Remy hair is commercially available hair of the highest quality with minimal processing, where all cuticles have been aligned in the same direction. India is considered the main source of Remy hair for international markets.
Long hair never goes out of fashion. Most popular hair extensions trends in 2022 include 1970s long cut, tape-in hair extensions, extra-long extensions, micro-ring hair extensions, layered hair, beach weaves, big curls, ponytails.
Industry trends within eCommerce
Making online & offline work together
Mobile eCommerce
High-quality content and reviews
Promotion of hair extension via social media platforms
Buy now, pay later
Hair insurance for B2B customers
If you're interested in Hair Extension industry statistics, trends, and eCommerce developments in more detail, get your free copy of the research below!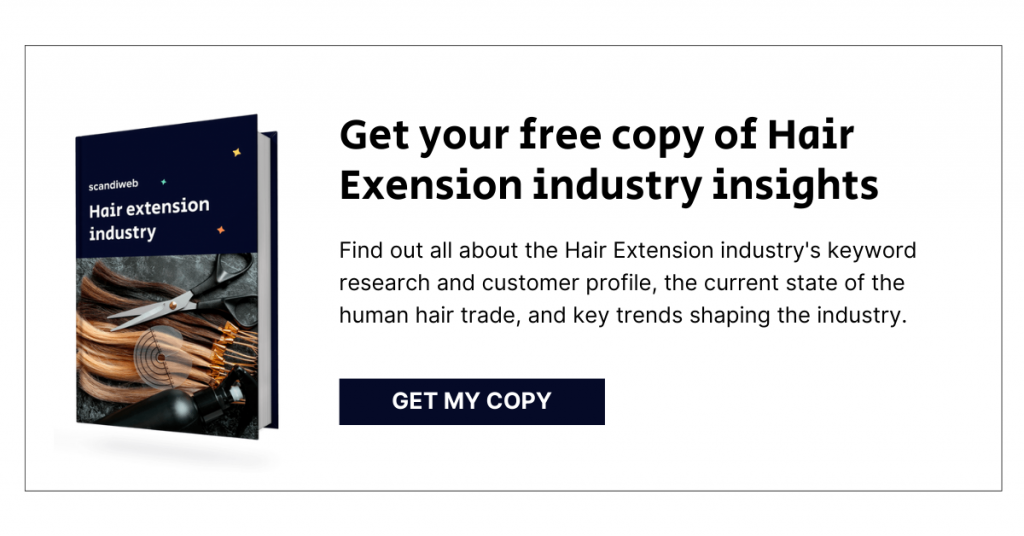 In this report, you will learn about
Hair extension industry size and global growth rate
The current state of the human hair trade
Industry segmentation
Key trends and major players shaping the industry
Target market for hair extensions: industry keyword research and customer profile
eCommerce trends within the industry
Industry threats and opportunities
Interested in more market insights and predictions? Browse our collection of research papers on the latest trends and strategies in different industries. Request research if you don't find your industry there. Download the research PDFs for free!