You just launched several campaigns and click-through rates are soaring. You recently got your Magento store redesigned and social media attention is picking up, too. A shiny landing page is waiting to welcome customers. You're already excited about how much revenue will increase for the month.
But nada.
Sales barely improved since your last campaign. And you've invested so much in making your website better. You got everything covered.
Wait, did you get a checkout redesign?
Checkout is one of the most critical parts of an eCommerce store, yet many business owners fail to realize this. Checkout optimization addresses cart abandonment issues and makes online purchasing go as smoothly as possible for the customer.
In this post, you'll learn about:
cart abandonment
common checkout issues
eCommerce checkout types
What is cart abandonment?
Cart abandonment is when customers add items to their cart but leave your website without completing a purchase. And it's a pressing issue because you are losing opportunities at the final stage of the sales funnel—the purchase! All your efforts are aimed towards this last step, so if you fail here, it's like all your efforts have gone to waste.
What are common checkout issues?
Customers usually abandon their carts for the following reasons:
unexpected shipping costs
forced registration
complicated checkout process
too many fields to fill out
absence of estimated delivery time
website bugs
On average, 75.8% of customers abandon their carts due to one or more of the above issues. In a case study conducted by Scandiweb, the cart abandonment rate for one confectionary store was as high as 77.45%, and abandonment occurred during the step where customers needed to enter shipping information and select the shipping method.
How can you improve the checkout experience on your eCommerce site?
The first thing to look at is the checkout type you have. Is it seamless that it leads your customers right into clicking the "Pay now" button or is it driving them away?
eCommerce checkout types
Here are the checkout types to consider, along with positive and negative points for each.
Accordion Checkout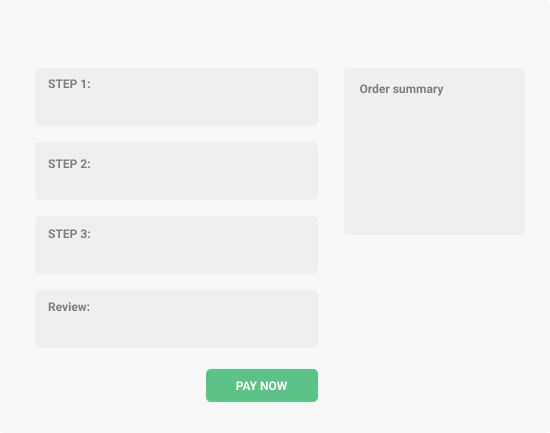 PROS
The form is compact: users are more likely to perceive checkout as easy
Same-page edit: entered data can be reviewed any time; no need to go back to the previous page
Auto-fill: logged-in users can have fields already filled out
CONS
More complex implementation
More complicated setup of data tracking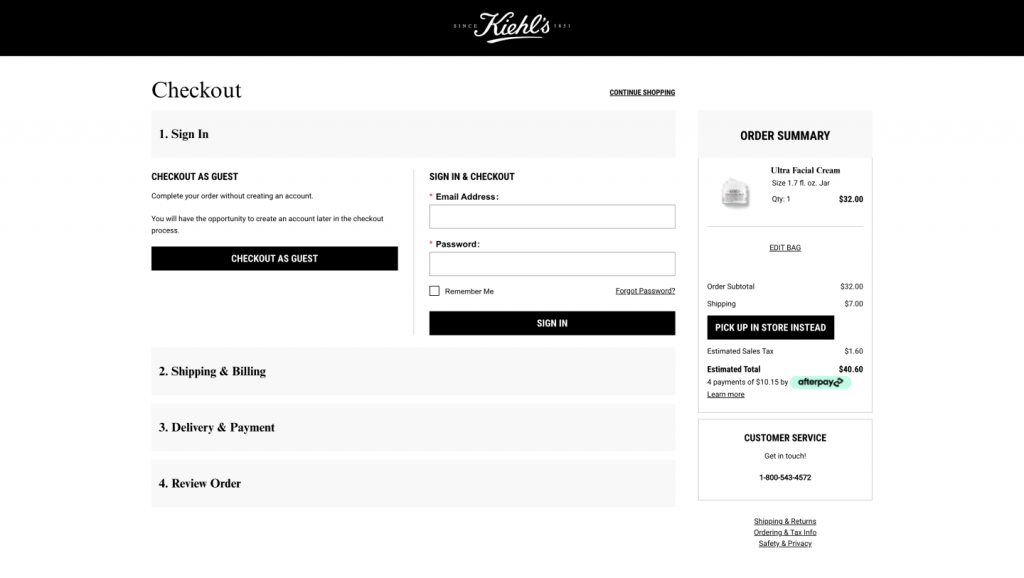 Even in 2016, Baymard Institute already identified this checkout type as one that eCommerce sites needed to consider more and predicted its popularity to grow even further. Some of the biggest brands that currently use accordion checkout are Nike, Glossier, and Kheils.
2-Step Checkout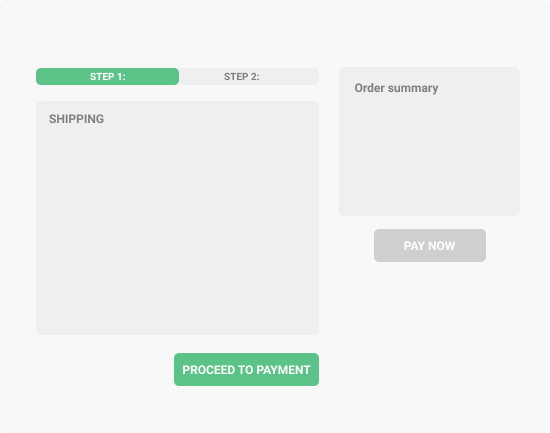 The 2-step checkout is one of the most popular checkout approaches and is the default functionality offered by the biggest eCommerce platforms Magento and Shopify.
PROS
Faster development: default functionality of Magento
Clear progress: users clearly see at which step they are in
CONS
If the user wants to review or edit entered data, they have to go back to the previous page
The form may be perceived as more complicated and longer for some users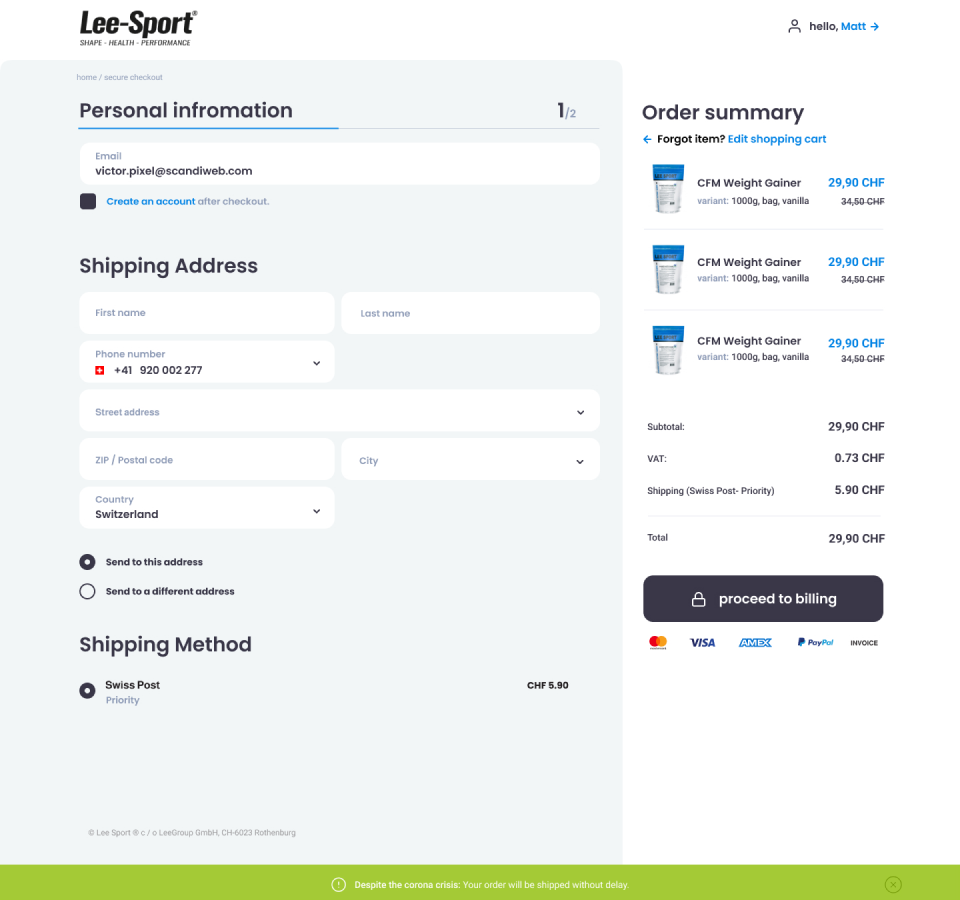 This checkout type is widely used in eCommerce as it is built-in functionality in most platforms.
One-Page Checkout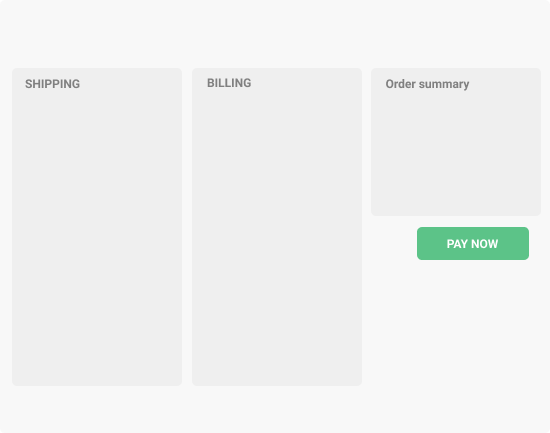 PROS
Easy viewing: users can easily review and edit all entered data
Auto-fill: logged-in users can have fields already filled out
CONS
The form may be perceived as more complicated and longer for some users
More complex implementation
More complicated setup of data tracking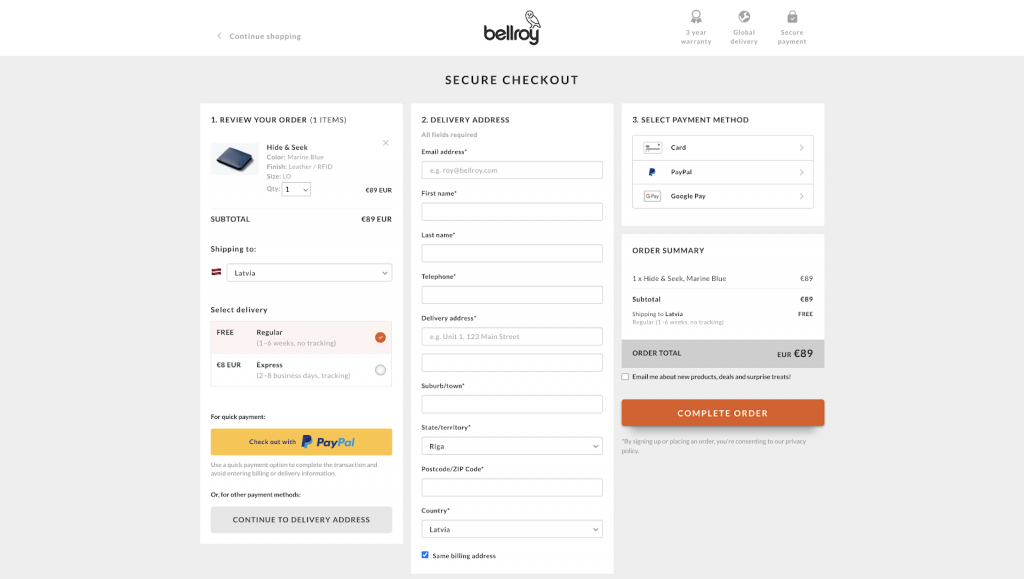 Although the one-step checkout approach is still considered popular, fewer and fewer eCommerce stores now use it, including Magento stores.
Is there a clear checkout winner?
While there is no statistical data on the most popular and best-performing checkouts yet, there is an observed trend towards accordion checkouts. And this is one reason to keep an eye out for this checkout type.
It is then important to note that many studies stress that checkout conversion rate depends largely on checkout optimization, best practices, and custom solutions tailored to a particular business. Picking one checkout type over another is not a solution in itself.
For example, ScandiPWA is the fastest way to turn any Magento store into a progressive web app—of course, that includes an optimized and more instinctive checkout process than regular eCommerce sites. You can learn about it more from our ScandiPWA case studies.
If your current checkout approach is not working for your eCommerce business, you could benefit from our Checkout Optimization Program. Tell us what your conversion goals are and we will create a data-informed growth strategy to help you achieve them. Within 48 hours, we can start working on your website!