Statistics show that 60% of customers feel frustrated with their product search experience. When users visit a website and cannot find what they are looking for, they quickly leave and explore other websites.
Nevertheless, when used effectively, site search can become a valuable business tool that enhances conversion rates, improves customer experience, and provides data-driven insights to achieve eCommerce success.
This research covers strategies that define eCommerce site search best practices in 2023—standard methods for improving site search and intuitive search features, design elements for effective search, and promising search options, such as image and voice search. Here's a brief look into the research!
Site search statistics*
63% of eCommerce sites are unsatisfied with their site search, and 36% don't benefit from the analytics provided by site search
Search bars significantly affect customer journey and experience—68% of customers experience frustration during a product search, and 12% of users switch to a competitor's site after an unsatisfactory search
Up to 30% of users utilize the search bar, and more than half of eCommerce sales may be attributed to search bar usage
Typically, users make five searches per session on average
Up to 9% of searches contain typos, and up to 53% of searches use filters
Advanced site search features lead to nearly tripled conversion rates, and improved search conversion rates result in higher overall conversion rates for online stores.
*Doofinder
Site search best practices
Maximize search box visibility and design
Optimal placement for enhanced visibility
Consistent accessibility across all site pages
Color contrast for the search box design
Clear identification with a magnifying glass icon or a search button
Engaging placeholder text
Improve search experience
Relevant and timely results
Autocomplete and error correction
Alternative suggestions for no-results
Optimize for mobile devices
Make the search bar big and easy to tap
Incorporate image and voice search functionality
Place corresponding icons, such as a camera and microphone, next to or within the search bar
If you're interested in site search best practices in detail and the top tools to implement them, get your free copy of the eCommerce site search research paper below!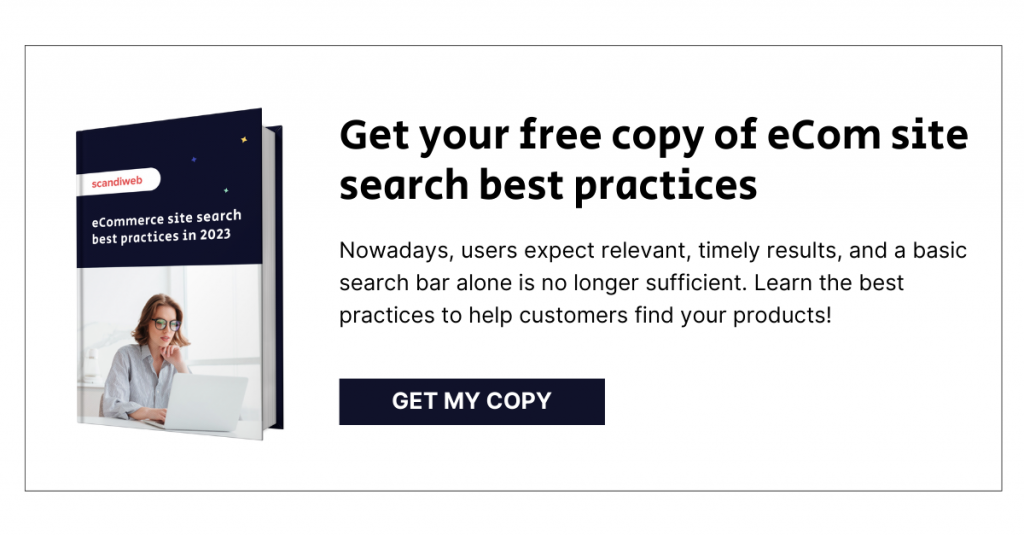 In this report, you will learn about
Why search matters in eCommerce
Different types of eCommerce site search queries
Best practices in 2023, such as maximization of search box visibility and design, improving the overall search experience
Top eCommerce site search tools in 2023
Are you confident users enjoy browsing your store? Need help with adjusting your site search? Request a free UX audit from our specialists!
Enjoyed the read about eCommerce site search best practices? Browse our collection of other research papers on the latest trends and strategies in different industries. Request research if you don't find your industry there. Download the research PDFs for free!