Internationalization (i18n) is a significant step toward brand expansion in different countries, including preparing products, services, and internal operations for entry into global markets. The main objective of eCommerce internationalization is for the established design of a brand and its software product to support multiple languages, regional preferences, and cultural norms without significant changes to the code.
General overview
According to a study, over 70% of customers spend most of their time on websites in their language, and every dollar a business invests in a localization strategy generates $25 in profits.
Although internalization is initially unrelated to any translation, most companies need to translate their content into other languages for international markets (website localization).
Localization (l10n) is the actual process of adapting a previously internationalized product to a specific culture. The main objective of localization is to get an end product that feels local to the target market. In contrast to simple translation, localization takes a broader approach, including cultural adaptation.
Benefits of eCommerce internationalization
Easier maintenance
Increased market share
International search presence
Decreased cart abandonment
Faster delivery
Easier personalization
Improved conversion rate
Faster growth
Consumer expectations
While consumers may want the products or experiences on an English-language site, most still instead think, act, and buy in their language.
However, internationalization is more than just translation; it's about cross-border purchasing behaviors. Privacy, payment options, delivery, and customs procedures are significant components of the internationalization strategy and can affect the customer's online experience.
Main aspects to localize in an eCommerce store
Product details & descriptions
Keywords & SEO
Multimedia & branding
User reviews
Payments & currency
Customer support
Internationalization strategy that work's today
These are the five main steps of a strong internationalization strategy:
Competitor analysis and market research

Researching international markets to pull data and understand target audience and customers
Exploring key competitor websites

Technical implementation

Setting up the URL structure

Content translation and localization

Prioritizing content based on business goals
Maintaining at least one social media page in the local language
Localizing pictures, videos, graphs, SEO, product descriptions, branding, marketing, and customer support
Localized mobile app

Local UX/POS considerations

Exploring legal requirements
Calculating duties and taxes
Showcasing shipping, duty, and import taxes
Setting up currencies and payment methods
Localizing inventory
Optimizing shipping options

Testing the process
We've succesfully applied these internationalization strategies for many of our global clients, including Sportland, Macron, and BUFF®.
If you're interested in detailed steps for a successful eCommerce internationalization with solutions to common localization challenges, get your free copy of the research and guide below!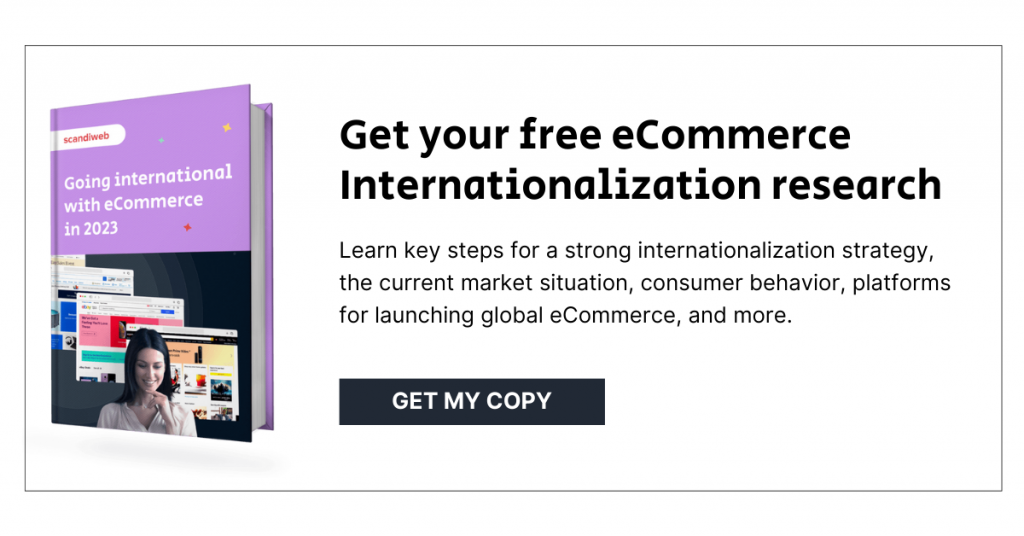 In this report, you will learn more about:
eCommerce internationalization statistics
Consumer expectations
Internationalization strategies for 2023 with implementation milestones
Market research tools
eCommerce platforms globally
Main internationalization problems and solutions
Interested in more market insights and predictions? Browse our collection of research papers on the latest trends and strategies in different industries. Request research if you don't find your industry there. Download the research PDFs for free!