The Menswear industry reached $500 billion in 2022. However, the industry has been hit hard in recent years due to the Covid-19 pandemic, rising remote workers, and unemployment. But there's a bright side! The introduction of digital solutions is predicted to double the speed to market of new brands and reduce their production costs by up to 20%. The rapid growth in sales of virtual goods, a third of which attributes to virtual fashion, will make it possible to compensate for the costs of introducing innovations, creating virtual registries, and micro-fulfillment technologies.
This industry research shows the general dynamics of the Menswear industry, highlights key industry and eCommerce trends, the barriers faced by major players, and the new perspectives emerging in this area of fashion.
General overview
The current state of the Menswear industry includes the following trends:
Consumer market's uneven recovery after Covid-19
Logistical issues, shipping-cost increases, and shortages of many kinds of clothes
Wardrobe reboot, demand for novelty, and more social freedoms outside
Social shopping experiences a surge in engagement from brands & consumers
Influencers and celebrities impact fashion brand choices using social media
Circular textiles reduce resource waste and negative environmental impacts
Organic clothing is becoming increasingly popular
Blockchain-based digital products passports which combat counterfeit
Shortage of talented, interested, and qualified workforce
Growing metrosexual attitude to pan out for the global Menswear industry.
Menswear industry eCommerce trends
Metaverse reality—immersive augmented and virtual reality
Introducing new metaverse innovation and commercialization technologies will allow fashion companies to increase their income from virtual activities by more than 5% within five years. Digital fashion and virtual skins in gaming environments will facilitate this in the short term, such as NFT for authentication or loyalty tokens.
Hyper-personalization—data-based hyper-personalized product recommendations
Advanced personalization techniques are used across industries, raising the bar for fashion brands. The competition for customer attention is increasing, and new privacy restrictions on third-party data collection lead to higher conversion costs. Providing a purchase history to the customer on request across all touchpoints can enhance customer segmentation and increase customer lifetime value.
Connected stores—online access to stores using mobile apps and micro-fulfillment
Mobile applications offer a frictionless shopping experience for various shoppers, whether they are looking for convenience or an engaging social experience. Reducing associated costs by up to 90% and processing orders efficiently from stores became a reality with micro-fulfillment technologies.
End-to-end upgrade—automation and updating of value chain integration using AI
In the next few years, companies will have to create custom solutions or prioritize weak spots as only some off-the-shelf solutions are available to integrate the fashion value chain from end to end.
Get your free copy of the industry research below for more insights into Menswear industry dynamics, threats, and opportunities!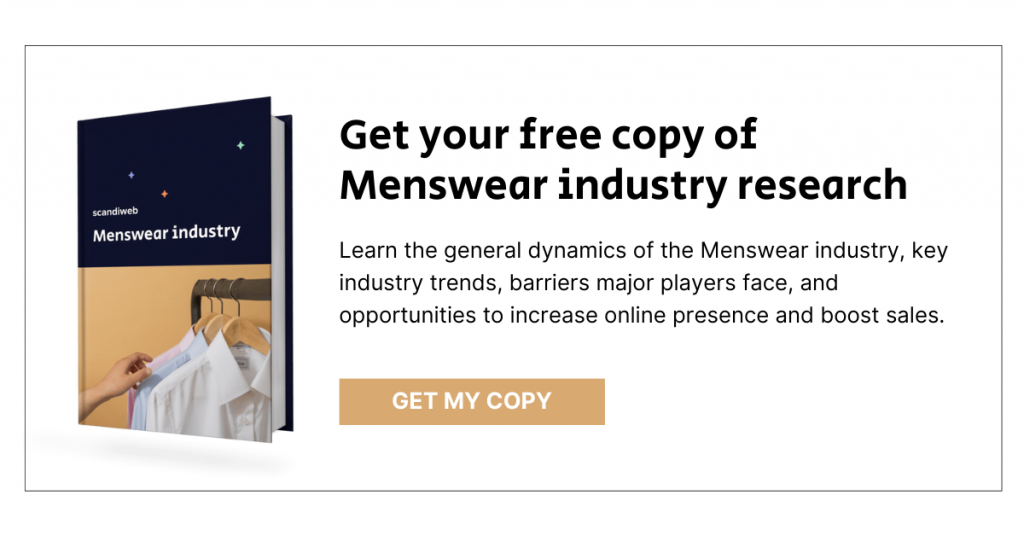 In this report, you will learn more about:
Menswear industry size and global growth rate
Key trends shaping the industry
The current state of the Formalwear market
Major players in the Menswear industry
Main eCommerce trends within the industry
Threats and opportunities
Interested in more industry insights? Browse our collection of research papers for a range of different industries. Download the research PDFs for free!