The Sports Sunglasses market was valued at $2.9 billion in 2021 and is anticipated to reach $3.7 billion by 2027. eCommerce is continuing to transform the market with an increase in the number of eCommerce websites, platforms, and marketplaces, the promotion of the omnichannel concept, the rise of mobile eCommerce, the importance of social media in sports glasses sales, and AR and VR technologies.
However, the premiumization of sports sunglasses, sustainability trends in production that increase the cost of manufacturing sports eyewear, and the presence of counterfeit products on the market contribute to more difficult entry conditions for new sellers.
General overview
These are the key driving factors of the Sports Sunglasses market:
Growing outdoor boom and the popularity of activities such as cycling, running, ice climbing
High level of participation in sports-related activities across the globe and rising government investment in sports like the Olympics, Formula 1 racing, Cricket World Cups, and FIFA
Increasing awareness about sports-related eye injuries and the necessity of special glasses for sports
Famous professional athletes are endorsing sports glasses
Rising consumer spending capacities, along with the increasing preference for premium-quality and branded sports gear
Increasing prevalence of eye diseases that lead to people being unable to play sports unless they wear prescription sports glasses
Rapid advancements in terms of technology and design in the sportswear industry
Sports glasses on the market are typically available in these variations: eyewear, sunglasses, and goggles. In 2022, there were an average of 29,000 monthly searches for sports glasses globally—that's one search term every two minutes!
Sports Sunglasses eCommerce trends
Trend 1: Buy now, pay later
Sports sunglasses brands provide customers with more and more flexibility in how and when they decide to pay. Buy now, pay later is a popular omnichannel payment option that allows shoppers to spend less without worrying about interest rates.
Trend 2: Digital optical tools
There are two options for prescription wearers who want a sporty frame: optical insert models and prescription-ready/RX-compatible sports frames. Both options make it difficult for consumers to buy sports glasses online. However, new digital technologies and apps allow them to get accurate and reliable optical information online. Various cooperation of prescription sports eyewear brands and digital optical tool providers simplify and improve the online experience for customers.
Trend 3: Pro-athlete marketing
Social media has become a powerhouse for brands that want to improve brand recall and expand their audience reach. Pro-athlete marketing has become extremely popular because people want more authenticity and to be closer to the action and their favorite athletes. That's why sports eyewear brands often collaborate with highly accomplished athletes who compete in various sports events.
Trend 4: Virtual try-on
The market's most advanced eCommerce tool is a virtual try-on. Sports eyewear brands collaborate with software companies to offer augmented reality to their customers. As a result, customers can try on each model of sports glasses online without leaving the home. It leverages personalization, enhances customer experience, improves conversions and average order value, reduces returns, and increases purchase frequency.
For more insights into Sports Sunglasses market dynamics, threats, and opportunities, get your free copy of the research below!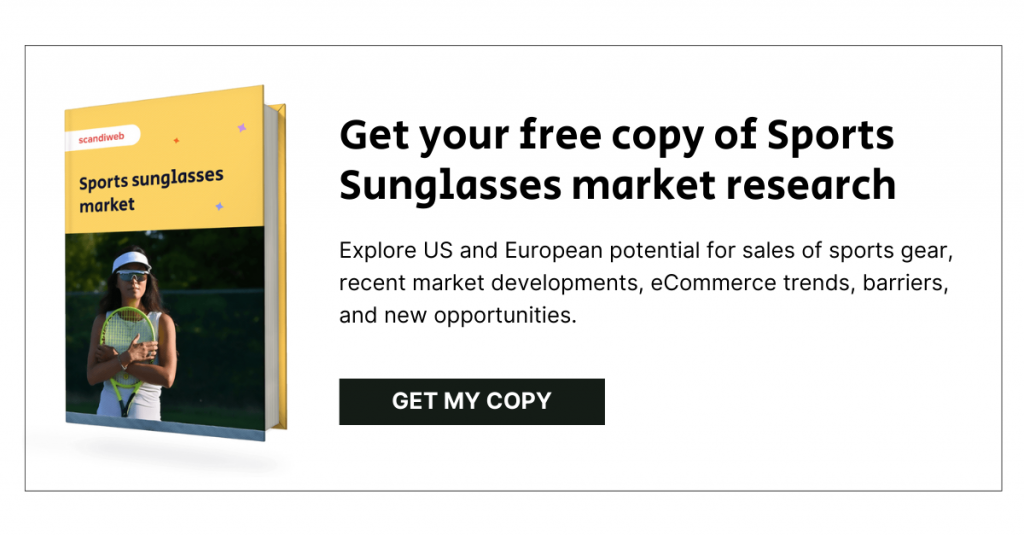 In this report, you will learn more about:
Sports sunglasses market size and global growth rate
US and European potential for sports gear
Market keyword insights
Recent market developments
Major players shaping the industry
Market trends within eCommerce
Market threats and opportunities
Interested in more industry insights? Browse our collection of research papers for a range of different industries. Download the research PDFs for free!