About 20% of a company's profits can come from loyalty programs alone. So, it's no surprise that loyalty programs have become an increasingly popular marketing tool used by businesses across various industries to retain customers, foster brand loyalty, and, of course, increase sales. In this article, we're talking about creating a loyalty program that works so you can start enjoying that twenty percent. Sounds good?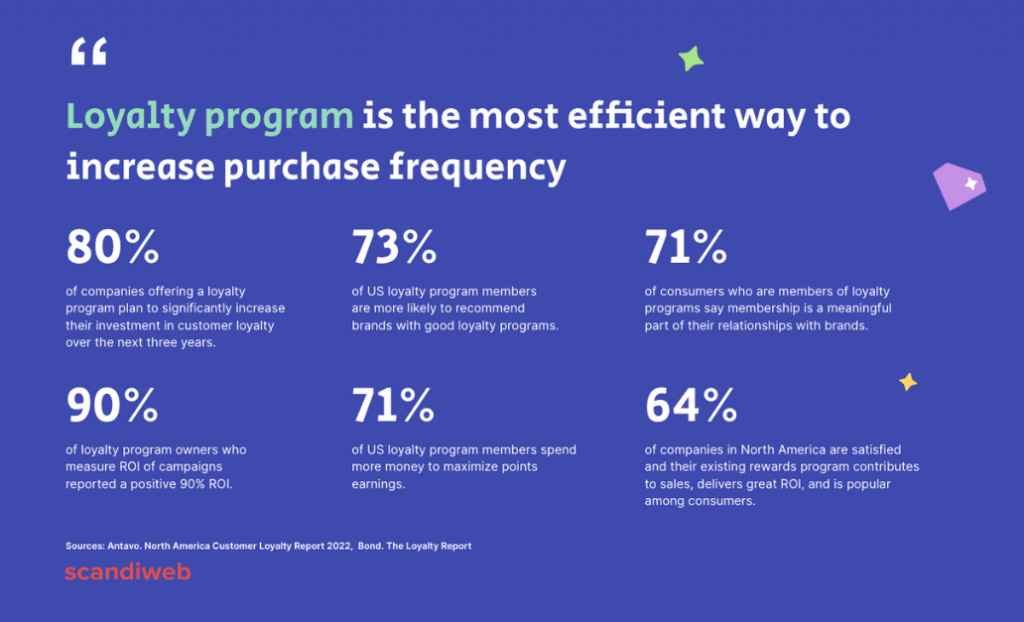 Why eCommerce companies need a loyalty program
Loyalty programs offer rewards, incentives, and exclusive benefits to customers who frequently engage with a brand or business. And they are critical for the success of eCommerce companies as they offer several benefits that can help the business thrive in a highly competitive environment. By leveraging the power of loyalty programs, brands can differentiate themselves from the competition, drive sales, and build a loyal customer base that will sustain them for years to come.
Customer retention
By offering rewards, exclusive discounts, and personalized promotions, eCommerce companies can foster a sense of community and belonging among their customers, encouraging them to continue making purchases and engaging with the brand.
Customer acquisition
Loyalty programs can drive customer acquisition by attracting new customers who are attracted to the program's benefits and incentives. A well-designed loyalty program can help a business stand out and attract new customers who may have otherwise gone to a competitor.
First-party data
Customers signing up for loyalty programs is an opportunity for brands to gather valuable customer data, which can be used to personalize the customer experience and improve the effectiveness of marketing campaigns. That eCommerce companies can collect information directly from the customers, i.e., first-party data, is especially important in the present era of strict data privacy and security laws. Third-party data can no longer be relied on to power brands' marketing strategy.
Also read:
CPRA and VCDPA 2023 Privacy Updates
Case Study: Google One Tap Sign-in Implementation

Setting up a loyalty program
How do you go about setting up a loyalty program? Here's everything you need to consider.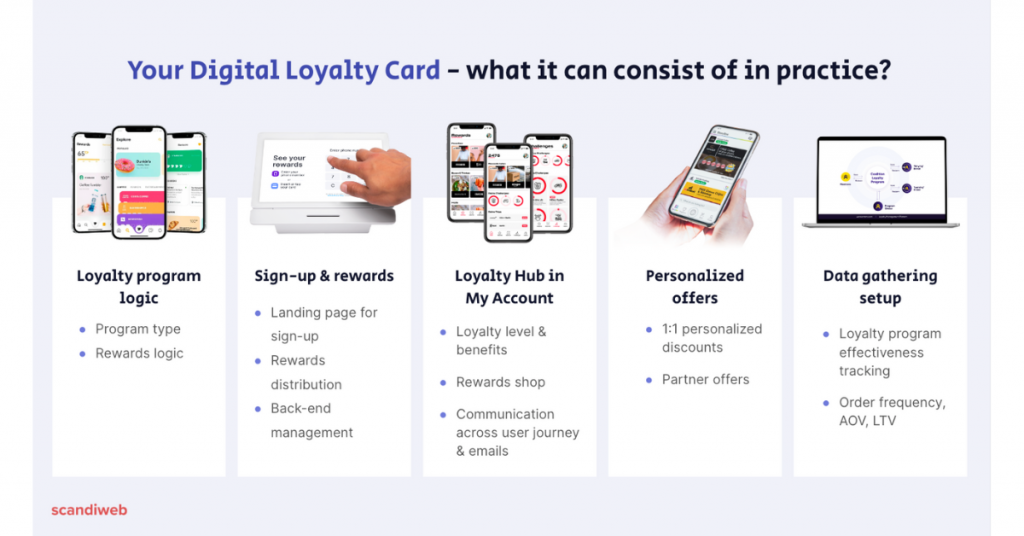 1. Loyalty program logic
First off, we need to identify the program type to run and the rewards logic.
Here are 5 of the most common types of loyalty programs:
Points-based: Customers gain points from purchases, which they can then redeem for rewards (discount, free product, etc.)
Tiered progression: Customers also gain points from purchases, and the more points they collect, the higher their status as a loyal program member / brand advocate becomes.
Value-based: Instead of monetary or material things, the rewards can be in the form of charity donations or some other way of supporting a cause that the customer cares about.
Omnichannel: Customers accumulate points no matter where they make the purchase from, whether online or in-store.
Paid membership: Customers need to pay for membership to access special offers, discounts, or exclusive services.
2. Sign-up and rewards
Communicating the loyalty program across every user journey step is critical to drive loyalty program success:
Creating a landing page explaining every tier and it's benefits
Explaining how to progress to the next tier
Defining & designing nudges motivating users to add more products
Developing rewards store to exchange points
Email communication
Use email to bring users back to site and leverage their personal offers:
New deals communication
Personalized products offering
Birthday special discount
Rewards update
3. Loyalty Hub in My Account
Create a space where the user can see:
Their loyalty status
Current benefits
Balance
What is necessary to get to the next step
Perks & reward options
4. Personalized offers
Integrate personalized offers for every user to drive:
Increased demand for selected products
Purchase in specific days
Awareness of partner offers / other group brands
Bundle products upsell
New products release
5. Data gathering
Run incentivized surveys to gain extra feedback.
Keep an eye on the following KPIs:
Average Order Value
Purchase frequency
Lifetime Value
6. Setup options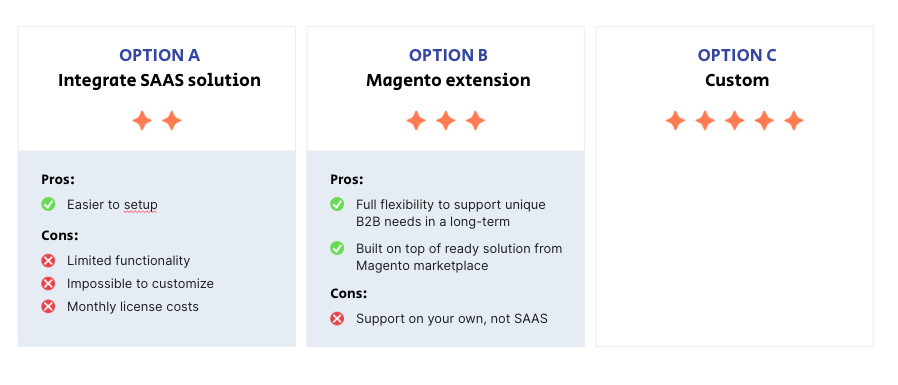 Case study: Loyalty program for a sportswear company
We launched a unified loyalty program for a leading sportswear retails company in Europe. UX being one of the brand's top priorities, we came up with solutions that put the customers first, which involved a lot of personalization.
Goals
Combine loyalty offers so that it would be convenient for customers to use them both online and in-store
Make the loyalty program easy to understand for the customers
Design the programs so that it's easy to manage internally (for company use)
Approach and solutions
One of the challenges we had was implementing a new feature on an outdated UI. But after redesigning the account page, we found room for all the new features and made it easy for users to enjoy the benefits of the loyalty program.
We also had to be creative and UX-conscious while rethinking the registration steps—optimizing it and making the process seamless as it is an essential step in joining the loyalty program.
Creating the loyalty program
Here are the stages involved in designing the loyalty program:
User research
UX planning
Design development
Technical development
Tracking
Conducting an audience research was crucial to developing a customer experience journey plan.
For UX/UI design, we needed solutions to increase awareness of the new loyalty program—embedded in the user journey to ensure its relevance. As the loyalty feature will only worked when users create an account, it was critical to raise awareness about it. Hence, we came up with the following:
Showcasing the loyalty program in the USP section of the eCommerce store's homepage
A landing page that emphasizes all the benefits the customers will get by joining the loyalty program
Pop-up notifications with animation to highlight the new feature in the app
Email campaign to inform customers of the loyalty program, including an animated GIF with mobile view
Finally, it was as important to measure the success of achieving the goals set at the beginning of the project so we developed customized tracking to monitor everything.
Results
Clients actively signed up for new accounts to access their discounts, with the customer list continuing to grow. Our team also continues to develop new activities and ways to make using the loyalty benefits even more convenient for customers.
With the new loyalty account, customers now receive personalized offers for different product groups and their favorite brands. They can shop online and in-store and experience seamless loyalty benefits.
Based on Google Analytics data, 2 out of 3 transactions are being made with a logged-in state. And in the past 6 months, registration has grown by 52%.
Want to start a loyalty program that works? You only need to drop us a line at [email protected] and we'll guide you all the way from start to finish!