Black Friday 2022 is predicted to raise $158 billion in total sales. And 76% of American consumers are expected to shop for Black Friday Cyber Monday (BFCM) deals with an average budget of $574.
This holiday shopping season—starting from November 1 and extending to December 31—Adobe expects US online sales to reach $209.7 billion (2.5% higher compared to 2021). From this total, 16.3% of the online sales ($34.8 billion) will be made during Cyber Week.
Now that Black Friday 2022 is just around the corner, here are 7 areas you want to make sure you've got covered if you want to thrive this season.
1. Early-access deals
Consumers start shopping for the holidays way earlier than Black Friday, and many say they're also actively looking for deals way later than on Cyber Monday.
According to a LoyaltyLion survey, 80% of respondents said early access to sales would likely make them buy during BFCM.
However, Adobe research predicts that the contribution of major sales days spanning Cyber Week (Thanksgiving–Cyber Monday) will continue to be significant but smaller than in previous years as consumers spread out their spending during the whole holiday season.
2. Multichannel marketing remains effective
Based on Drip Black Friday statistics, cart abandonment emails have a 34% open rate and a 9% click-through rate during Black Friday. Targeted Black Friday emails get 5.83% more opens than non-targeted emails. SMS marketing can result in as much as a 2000% ROI during Black Friday
Related article: Unified Commerce on Magento: Enabling Phygital Retail
3. Double-digit discounts
Adobe forecasts the following categories to have discounts ranging from 10% to 32%:
Computers – 32% discount
Electronics – 27%
Toys – 22%
Televisions – 19%
Sporting goods – 19%
Appliances – 18%
Apparel – 17%
Furniture – 11%
Consumers will be shopping for the best deals, so be ready to drop your prices to as low as you can if you want to compete this holiday season.
4. BOPIS and curbside pickup
Nearly a fifth of online orders placed on Cyber Monday in 2021 was for curbside pickup, a sign that online shoppers are open to store visits. In 2022, 35% of consumers say they plan to use curbside pickup services this holiday shopping season. BOPIS (buy online, pick up in-store) is expected to peak on December 22 – 23.
5. Price, delivery, returns
The standard package consumers expect to snag this shopping season includes the lowest price, free delivery, and seamless returns.
About 31% of people will look for free delivery, 25% will search for products with fast delivery, and 24% will check customer reviews before purchasing an item, a report from Tidio says.
According to a LoyaltyLion survey, 74% of consumers will shop around for the lowest price, 51% for the best returns policy, and 64% for the best shipping policy.
6. Buy now, pay later
Due to inflation and tighter consumer spending, we can expect to see BNPL (buy now, pay later) used at an even higher rate this year than in 2021, where stimulus checks and higher household savings helped with better household cash flows. So in 2022, the use of BNPL financing will increase as consumers try to manage their budgets more carefully and spread out expenses given the higher costs of goods.
Related articles:
Case Study: Multiple Payment Systems and Order Tracking
eCommerce Review: Popular Payment Methods in Europe, UK, US
7. Social media and mobile shopping
According to Shopify, sales generated by seamless social integrations in BFCM 2021 almost tripled compared to 2020. And 71% of purchases were made from mobile devices (desktops, 29%).
This generation of consumers spend a big chunk of their free time on social media, surfing the newsfeed on Facebook, Instagram, and TikTok on mobile devices. Hence, it is a must for brands to create mobile campaigns for Black Friday and up their social media game.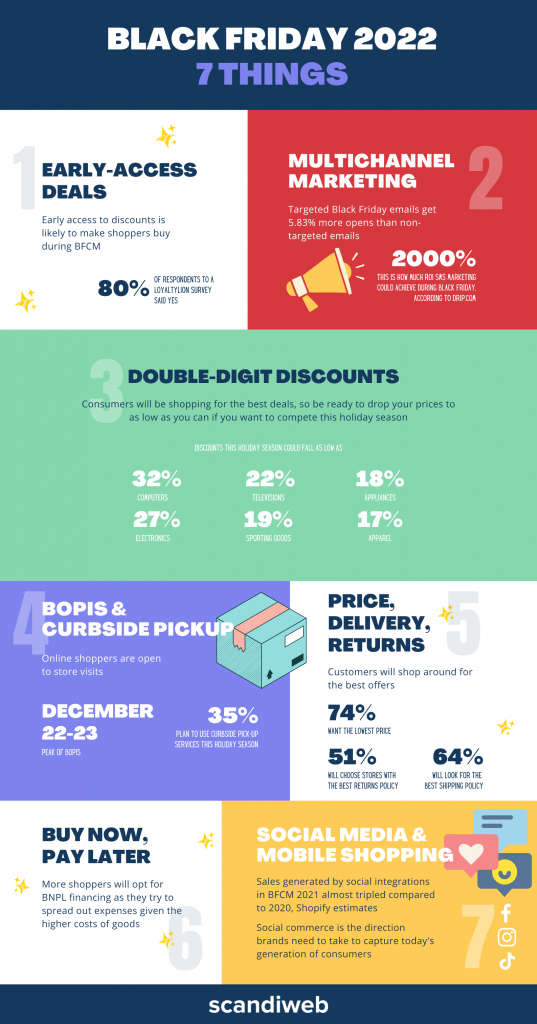 Download FREE "Black Friday 2022: 7 Things" cheat sheet
And there you have the top 7 things you need to prepare for this Black Friday 2022. But as a bonus, here's a round-up of BFCM essentials you should also be on top of:
Using paid advertising in advance
Keeping customers engaged via chat, SMS, and email
Ensuring product descriptions are accurate
Testing site speed and make site improvements ahead of time
Creating product bundles
Also read:
Black Friday 2022: How Not To F Up
eCommerce Strategies for Black Friday Cyber Monday 2022
Avoid server downtime, hosting errors, and other mishaps during the visitor spike this Black Friday Cyber Monday 2022 by fully preparing your eCommerce site and revisiting your marketing strategies with an expert team by your side. Sign up for 24/7 monitoring for the Black Friday 2022 weekend by dropping us a line at [email protected]! Limited slots available.