Black Friday Cyber Monday (BFCM) remains to be the biggest shopping event of the year. For that, whenever it comes around, it seems to also inevitably mark a period when eCommerce businesses reflect upon their learnings from BFCMs of previous years—what they did right, what went wrong, successes, failures, and so on. And rightly so, because understanding past challenges and performance will help companies develop the best strategies moving forward.
That time of looking back is now. So here it goes.
The eCommerce landscape is ever-changing, and we already know that. But when the pandemic hit in 2020, it accelerated online purchases at an unprecedented rate that nobody was prepared for. Traditional businesses scrambled to go online to stay afloat, while those already with an eCommerce presence were challenged to find creative ways to serve customers' needs when product shortages and shipping logistics proved to be a nightmare. For some, this paved the way to growing their business in ways they had never before imagined or to starting a new venture altogether and thriving online.
But 2020 is long gone. What happened in 2021? And what should businesses be on the lookout for on Black Friday Cyber Monday 2022?
Sign up for 24/7 monitoring for the Black Friday 2022 weekend by dropping us a line at
[email protected]
! Limited slots available.
BFCM 2021
Learning from shipping delays and supply shortages induced by the lockdowns of 2020, retailers started their sales events earlier in 2021 and encouraged shoppers to buy early. And they listened. Consumers bought holiday presents before BFCM—according to the National Retail Federation, 61% of US shoppers did.
Black Friday 2021 was on November 26, and Adobe reports that sales reached $8.9 billion (-1.3% YoY) in the US that day, with 42.4% of revenue or about $3.7 billion coming through smartphones. Summing up all the eCommerce spending for the 2021 holiday season (Nov 25 – 29), a record-breaking $204 billion was recorded in the US.
While Black Friday sales increased by 20% when compared to the pre-pandemic figures of 2019, and Cyber Monday only by 14%, the latter actually recorded more revenue than Black Friday—$10.7 billion (-1.4% YoY) in total sales. In fact, it has been so for two years in a row.
Finally, in-store sales increased by 61% over 2020 figures, according to a report by in-store analytics platform provider RetailNext.
Summary
61% of consumers in the US started holiday shopping way before the BFCM week
Revenue declined YoY but remained significantly higher than pre-pandemic figures—a recording-breaking $204 billion total spending for the holiday season
Mobile shopping accounted for 42.4% of Black Friday revenue
Cyber Monday has surpassed Black Friday in terms of revenue for two years in a row—$10.7 ($10.6) billion vs $8.9 ($9) billion in 2021 (2020)
Shoppers have gone back to in-store shopping—seeing a 61% increase in sales compared to 2020
Black Friday Cyber Monday 2022
So, what can we learn from these BFCM figures from 2021?
Black Friday 2022 is on November 25. If we tackle each bullet point above, what needs to be done this year seems straightforward. Let's try that.
Building on the success of BFCM last year, implement the following strategies for Black Friday Cyber Monday 2022:
And there you have it. Just make sure you get all of the above covered, and you should be ready for Black Friday Cyber Monday 2022. Right?
Well, the above strategies certainly make sense and should get you started. But we realize that five bullet points without specific action items wouldn't be enough. So, we prepared this Free Black Friday Cyber Monday Checklist to guide you on specific steps you can take to ensure that you're ready for BFCM 2022.
6 eCommerce areas to strengthen for Black Friday 2022
1. Data Analysis
Perform data analysis on Black Friday last year to gather insights into user behavior and uncover issues that should not be repeated.
Not sure how to make sense of your data? We can help you take data-driven actions to optimize your business performance with our Business Intelligence and Actionable Analytics services.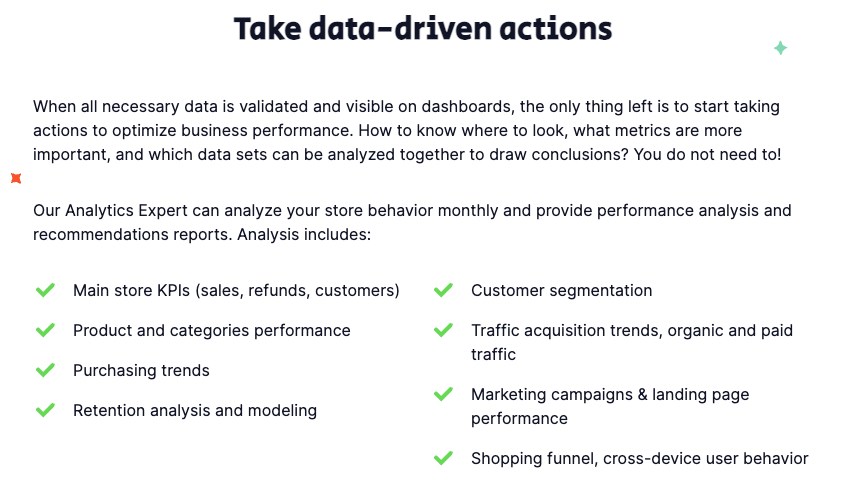 2. Functionality
Identify and fix/redirect 404 pages, update extensions and security patches, and test all your eCommerce store features to make sure they are working properly. Test coupon codes if you have them and enable upsells and cross-sells to increase average order value. Reduce purchase friction caused by website errors and malfunctions as much as possible.
If you need help with user experience and conversion optimization, the scandiweb Growth Team is happy to power your business with CRO strategies and UX solutions that drive revenue growth across eCommerce channels.

3. Support
Prepare to deliver top-notch customer service. Ensure that customers can reach you beyond website support—engage with customers through social media, chat, email, and call centers.
4. Traffic Acquisition
Optimize your promotional emails—ensure your email campaign is optimized for mobile devices. Engage prospects by offering discounts and other promos and reengage site visitors who have abandoned their carts. Ensure your shopping feeds are working properly and leading to the relevant product pages.
scandiweb provides complete CX optimization services for eCommerce that includes strategies that will help you reach more customers and improve the way you deal with them pre- and post-purchase. Or if you need support with marketing automation, just reach out to let us know.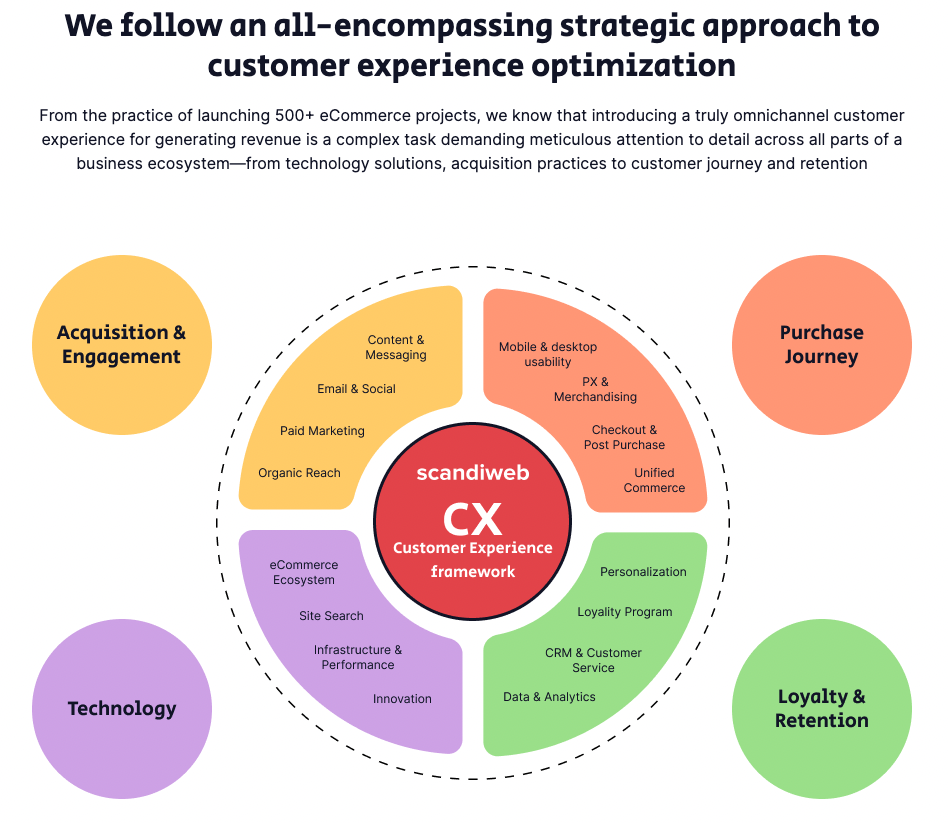 5. Infrastructure
Test your servers, upscale your infrastructure as necessary, and optimize your site speed if needed. You don't want your server to crash during the most important shopping event of the year!
Relevant articles:
The Waiting Room: Virtual Queuing for eCommerce
Server Auto Scaling in Magento 2: Say Goodbye to Store Downtime
6. Content
Add Black Friday Cyber Monday content to your website to drive more organic traffic. Ensure your policies on shipping and returns are updated. Create offers exclusively for BFCM.
These areas are defined in more detail in the Black Friday Cyber Monday Checklist you can download for free.
Avoid server downtime, hosting errors, and other mishaps during the visitor spike this Black Friday Cyber Monday 2022 by fully preparing your eCommerce site and revisiting your marketing strategies with an expert team by your side. Sign up for 24/7 monitoring for the Black Friday 2022 weekend by dropping us a line at [email protected]! Limited slots available.