The concept of the waiting room is pretty straightforward: you stay there and wait until it's your turn.
Yeah, that's expected when you're at the doctor's office. But when shopping online?
"With Cloudflare's Waiting Room, no code changes to the application are necessary and a Waiting Room can be set up in a matter of minutes for any website without writing a single line of code."

Cloudflare
Cloudflare, an industry leader in web infrastructure solutions, recently made their Waiting Room available to their Business plan clients and made setup super simple. They've been excited about it since January this year and so have we!
What gives?
Virtual waiting rooms in eCommerce
While historically there were not many websites that needed waiting rooms—you usually just encounter them when buying concert tickets that sell out fast—eCommerce stores are now seeing the need to have their own waiting rooms to help manage traffic surges and protect their business during the most important days of the year. Think Black Friday 2021!
Black Friday, Cyber Monday, and the days leading to important holidays like Christmas and New Year bring an insane amount of traffic to eCommerce stores—traffic that is way more than what they're prepared to handle and could potentially send everything crashing down. Oh, no.
With waiting rooms, eCommerce companies can ensure that no such nightmarish events will happen even though expected traffic still exceeds their infrastructure limits.
What does the virtual waiting room do, again?
The waiting room queues the users wanting to visit a website or access an application when traffic approaches a certain limit set by the owners of these websites or applications. This ensures that their capacity is not exceeded and everything is kept running smoothly.
According to Cloudflare, "the main job of the Waiting Room is to protect the customer's application while providing good user experience." And they make this happen by safeguarding that the limits for users on the web applications are respected, latency is kept low, and users are queued and admitted automatically.
How does the waiting room actually work?
For a brief explanation of how waiting rooms work, we'll still refer to Cloudflare's technology.
So three important configurations define how the waiting room operates:
The total number of users actively using the web application at any given time
The total number of users that can be allowed in per minute
The duration of inactivity after which a session is terminated
These configurations determine how the waiting room will manage incoming traffic. When more users are trying to access an eCommerce store, for example, than the limit set by the store owner, Cloudflare will start issuing tickets and sending new users to the waiting room.
The ticket given to a user is actually an encrypted cookie that includes information on their position in the queue based on the time they first tried to access the store. And the waiting room page displays the estimated time before they can be allowed in.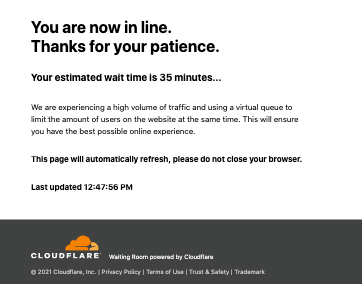 Of course, the waiting room has a complex technology behind it. But it is now made easy for eCommerce businesses to set up their own waiting rooms without concerning themselves with these complexities or writing even a single line of code, which we think is absolutely amazing.
Scandiweb built a custom waiting room for Publica for their token sales in the past and it was a lot of work. But now, Cloudflare just asks their clients to fill out 5 fields to get a waiting room up and running!
First, the name of the waiting room. Second, a hostname. And remember the three configurations above? That's it. No coding or any other setup is necessary. The waiting room will be ready in just a few minutes whether a store is running on Magento (Adobe Commerce) or any other platform.
Do you feel this post has an abrupt ending? We only wanted to give you an overview of how waiting rooms work and their relevance in eCommerce. If you think you'll need one for your eCommerce store—hey, Black Friday is coming!—we'll be happy to tell you more and guide you through setting one up. Hit us up on the contact page or drop a message in that orange chat bubble on the right.