Are you ready to turn your business dreams into reality by learning how to create an Amazon store? If so, you've come to the right place! In this comprehensive guide, we'll walk you through each step of the process, from setting up your Amazon seller account to launching your store and scaling operations. The goal of this article is to assist you with creating a thriving online store that engages customers and elevates your brand.
Also read: How to Sell on Amazon for Beginners
Key takeaways
Create a professional Amazon seller account to access millions of potential customers
Design an engaging and visually appealing storefront with the help of Brand Registry tools
Utilize Amazon's resources for optimizing your online presence and scaling operations.
Setting up your Amazon seller account
As a first step, you'll need to create a professional Amazon seller account on Amazon Seller Central for a monthly fee of $39.99 to start selling products on the platform. This account allows you to create an Amazon storefront and enhance the shopping experience for your customers. To set up your Amazon seller account, select a business type, select the regions where you wish to sell, provide your company's contact details, and have a chargeable credit card. Although it's not mandatory to register as a Limited Liability Company (LLC), doing so can help customers trust your brand more.
Once your account is up and running, you can start selling products by creating product detail pages for your items. Both the individual ($.99 per item sold) and professional ($39.99 per month) pricing plans allow you to create these pages. However, you should opt for the professional plan to take full advantage of the Amazon Stores Builder and other brand management tools.
Creating a professional Amazon Seller account is the first step in building a successful online business. With access to millions of potential customers, Amazon provides an unparalleled platform for showcasing your products and growing your brand.
Establishing your brand on Amazon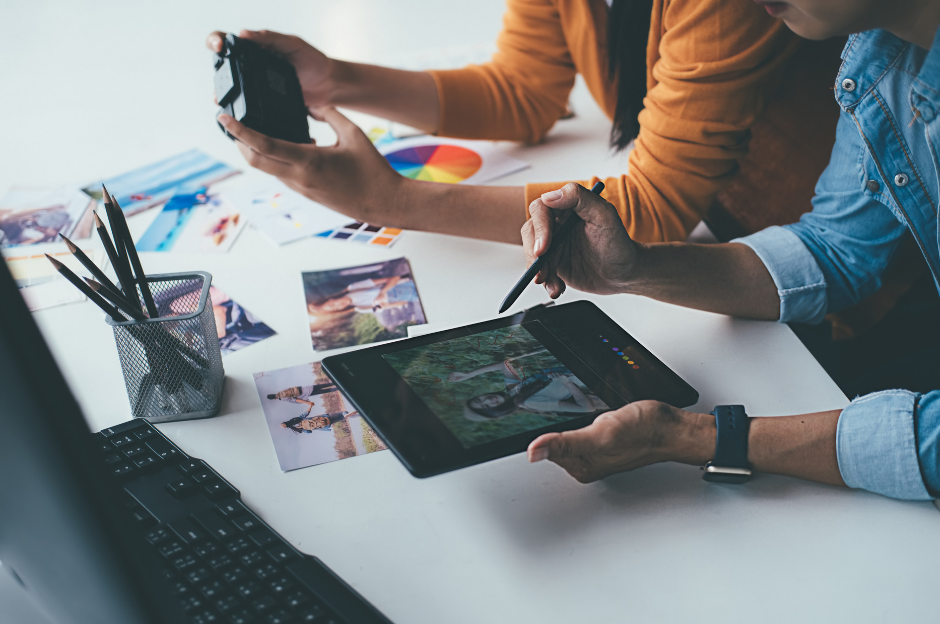 To further elevate and protect your brand, you'll need to enroll in the Amazon Brand Registry. This program requires a registered trademark and offers access to the Stores builder and other brand management tools and assistance, including creating custom pages for your Amazon store.
The advantages of Amazon Brand Registry go beyond simply protecting your brand; it also provides access to valuable tools that help you create a unique Amazon store with a professional and engaging appearance. To enroll, complete the required information and submit it for review.
Enrolling in the Amazon Brand Registry offers several benefits for your brand, including:
Access to powerful tools and resources
The ability to create an Amazon store that stands out from the competition
Increased sales and visibility for your brand
These benefits can help you build a robust online presence for your brand.
Accessing Amazon Store builder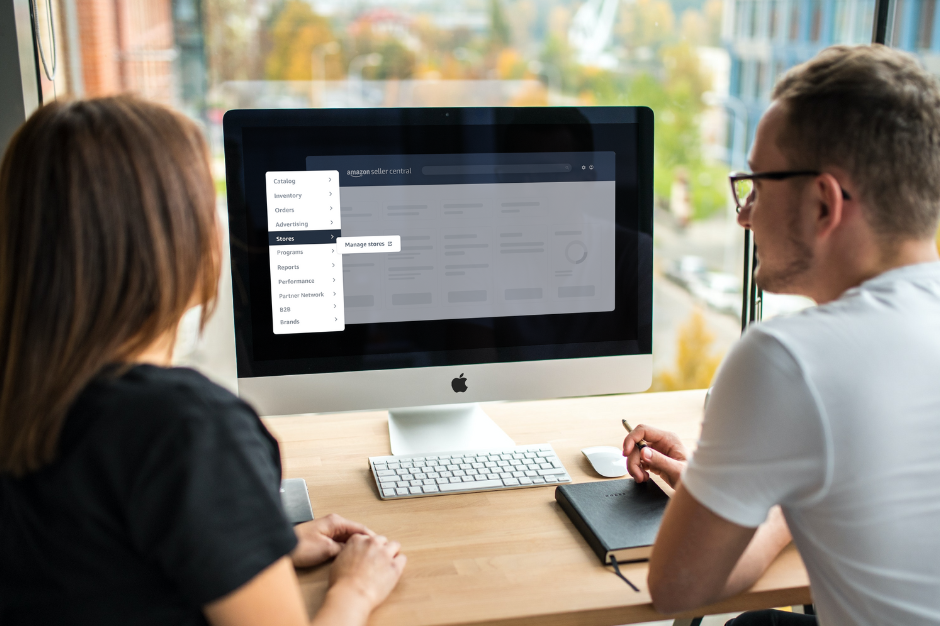 After enrolling in the Amazon Brand Registry, you can access the Amazon Store builder. This user-friendly tool allows you to create a customized, multipage storefront with a unique web address and rich media content, such as videos and images.
The Store builder offers a variety of dynamic widgets that leverage Amazon data, such as keyword search, best-selling products, and recommendation history. These widgets help optimize and update the products displayed on your storefront, ensuring you showcase the most relevant and popular items to your customers.
Designing your storefront
To design your Amazon storefront, you can use the Amazon Store builder's drag-and-drop tiles, which require no coding or design experience. When creating your storefront, strategically utilize artwork that stands out on the page and emphasize bestsellers or new items near the top of the page to make it more engaging.
Remember that certain elements should not be included in your Amazon store, such as website URLs, physical addresses, and contact information like phone numbers.
When designing images for your store, avoid replicating Amazon elements such as pricing references or pack sizes that are dynamically pulled from the ASIN detail page. Instead, use product tiles and product grids to showcase your items.
A carefully designed storefront that adheres to Amazon's creative guidelines will yield an engaging and visually appealing shopping experience for your customers. This will encourage them to explore your store and increase the likelihood of them making a purchase.
Adding products to your store
To add products to your store, use the "Add a Product" button for individual items or add multiple products simultaneously using a Microsoft Excel-based spreadsheet. When adding products, ensure that each item has a unique SKU number and includes detailed information to help customers make informed decisions.
One way to enhance your product listings is by incorporating Amazon A+ Content. This tool provides advanced features such as lifestyle imagery, comparison charts, and more to optimize your product pages. To incorporate A+ Content, log in to Seller Central, select Advertising from the navigation menu, and choose Enhanced Brand Content. Enter the SKU of the item listing you wish to enhance, choose a template, and fill in the template with photos and additional information.
When creating A+ Content, explore various combinations of images, text fields, and videos to find the best mix for your brand, convey your brand story and mission, and provide detailed information to assist customers in making informed decisions. This approach results in engaging and informative product listings that encourage customers to make purchases.
Launching your Amazon store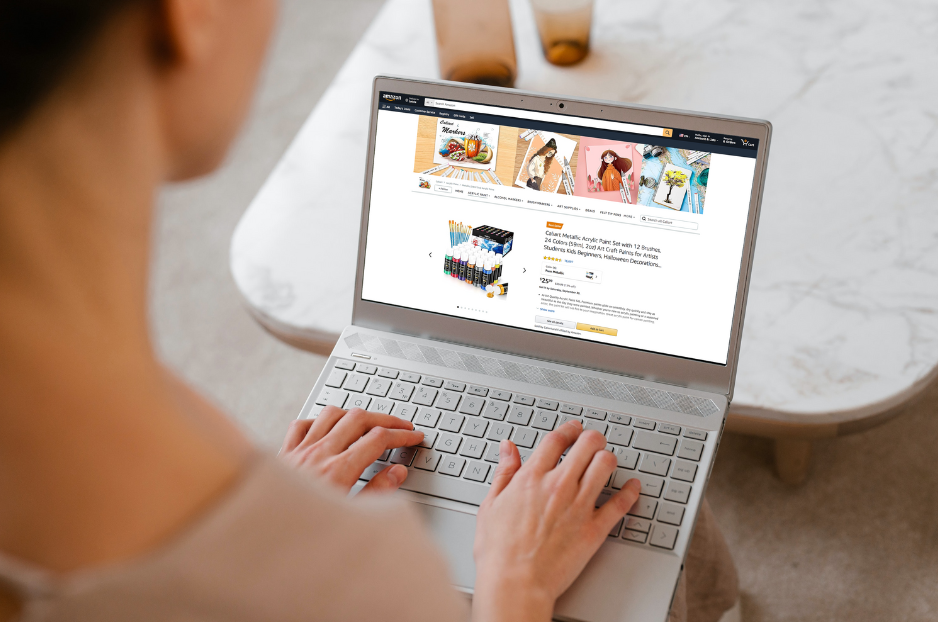 Reviewing Amazon's creative guidelines for stores and general rules for sellers is a crucial step before launching your Amazon store. This will ensure that all required elements are in place and that your store adheres to Amazon's policies for listing products and maintaining an active account.
Once your store is ready, you can launch it by submitting it for publication on Amazon. If you get a soft rejection on your submission, you have the choice to go ahead with publication. You can do this by selecting "Ignore warnings and submit for publication" in the form. After launching your store, it's crucial to regularly monitor and update it to keep it fresh and engaging for customers.
Adhering to Amazon's creative guidelines and ensuring all necessary elements are in place will lead to a successful launch of your Amazon store, marking the start of your thrilling online selling journey. With a well-designed and engaging storefront, you'll attract customers and grow your online business.
Optimizing your online presence
To drive traffic to your Amazon store and generate sales, optimizing your online presence is essential. Performance advertising, a form of online advertising focusing on driving traffic to a website or online store, can help raise brand recognition and generate leads. Additionally, various eCommerce marketing tactics, such as email marketing, content marketing, influencer marketing, and retargeting, can boost your store's visibility.
Leveraging SEO and social media is another crucial aspect of optimizing your online presence. You can use social media to drive traffic to a blog, where visitors can be encouraged to subscribe to a monthly email newsletter that provides helpful tips, advice, promotions, and coupons for products available in your Amazon store.
Implementing these strategies will increase traffic to your Amazon store and enhance your overall online presence. As more customers discover your brand and products, your sales will grow, and your online business will thrive.
Utilizing Amazon seller resources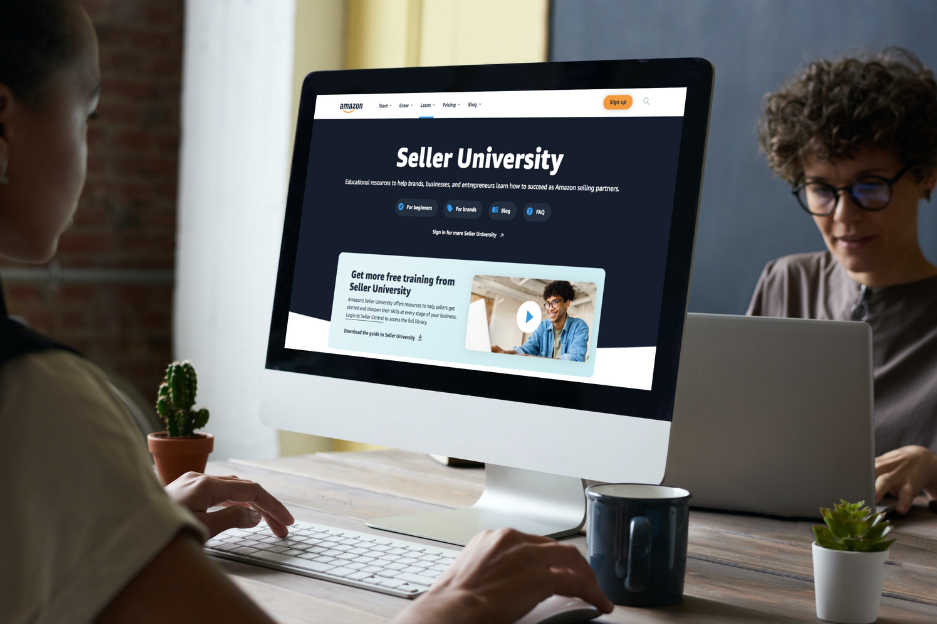 As an Amazon seller, you have access to various resources that can help you learn and grow. Amazon Seller University, for example, offers a range of helpful videos on selling features, best practices, case studies, and more. Leveraging these resources will keep you updated with the latest strategies and platform changes.
Other resources available to Amazon sellers include:
Amazon Seller Central—a comprehensive platform of tools and resources designed to help sellers manage their businesses
Amazon Seller Forums—a platform for discussion and knowledge exchange among sellers
Amazon Seller Support—a team of experts providing guidance and assistance to ensure a successful selling experience.
These resources will provide valuable insights and tips, aiding your success as an Amazon seller. As you learn and implement best practices, you'll be able to grow your online store and achieve your business goals.
Monitoring performance and scaling operations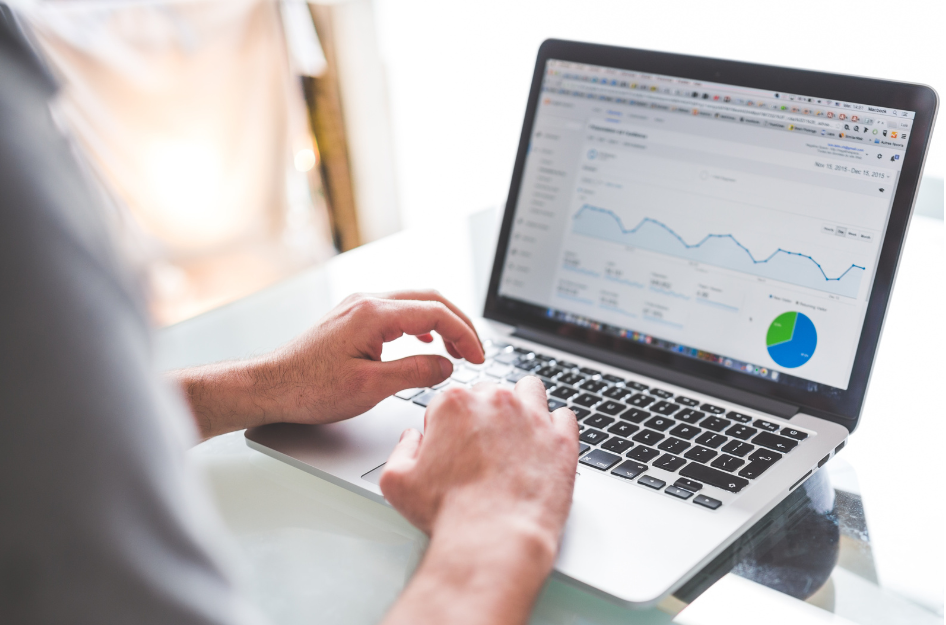 Monitoring performance on Amazon involves:
Recording performance-related metrics
Analyzing metrics when events or incidents occur
Establishing key performance indicators (KPIs) to measure workload performance
Utilizing automation tools like Amazon Kinesis, Amazon Simple Queue Service (Amazon SQS), and AWS Lambda to address performance issues.
Additionally, CloudWatch Metrics can be employed to monitor your application's performance. Visualization of performance data, alarm creation, and correlation of data to identify and address performance issues are possible through CloudWatch Metrics.
Regularly monitoring your store's performance and data analysis enables informed decisions about scaling operations and expanding your online business on Amazon. As you implement strategies to optimize your store, you'll see increased sales and customer satisfaction.
Summary
In conclusion, creating a successful Amazon store requires careful planning, attention to detail, and a willingness to learn and adapt. By setting up your Amazon seller account, enrolling in the Amazon Brand Registry, designing a compelling storefront, and optimizing your online presence, you'll be well on your way to building a thriving online business. Don't forget to utilize available Amazon resources and monitor performance to ensure continued growth. With determination and perseverance, you'll see your dreams of a successful Amazon store become a reality.
Frequently Asked Questions
How much is it to set up a store on Amazon?
Setting up a store on Amazon costs nothing if you open an Individual account, but Professional accounts cost $39.99 per month.
Can I start an Amazon store for free?
You can open an Amazon store for free with an Individual Account or through the Amazon Brand Registry. However, Amazon will charge a small fee per item sold with an Individual Account.
Can anyone open a store on Amazon?
To open a store on Amazon, one needs to enroll their brand in the Amazon Brand Registry program. This requires an active seller account with a professional selling plan and a registered trademark on their products or packaging.
What is an Amazon store?
An Amazon Store is a custom, multipage shopping destination for individual brands to showcase their brand story and product offerings. It provides an enhanced brand-centric shopping experience on desktop and mobile platforms, with no additional cost for creating a unique Amazon URL.
What is the monthly fee for a professional Amazon Seller account?
The professional Amazon Seller account has a monthly fee of $39.99.
Do you need additional assistance creating your Amazon store and driving traffic that converts into customers? Hit us up, and we'll be happy to take a look, make suggestions based on proven strategies, and help you implement those!