Are you looking to boost sales, increase brand visibility, and enhance customer engagement on your Amazon Storefront? In this blog post, we'll guide you through the ultimate strategies on how to optimize your Amazon Storefront. Transform your Amazon Storefront into a sales powerhouse, and get ready to elevate your Amazon business to the next level!
Key takeaways
Understand Amazon Storefronts to optimize visibility and drive sales
Customize store design, organize products effectively, utilize SEO strategies, and leverage Amazon Advertising/Promotions for best results
Monitor performance regularly and audit updates to align with current trends for continuous optimization.
Also read: How to Create Amazon Store: A Step-by-Step Guide
Understanding Amazon Storefronts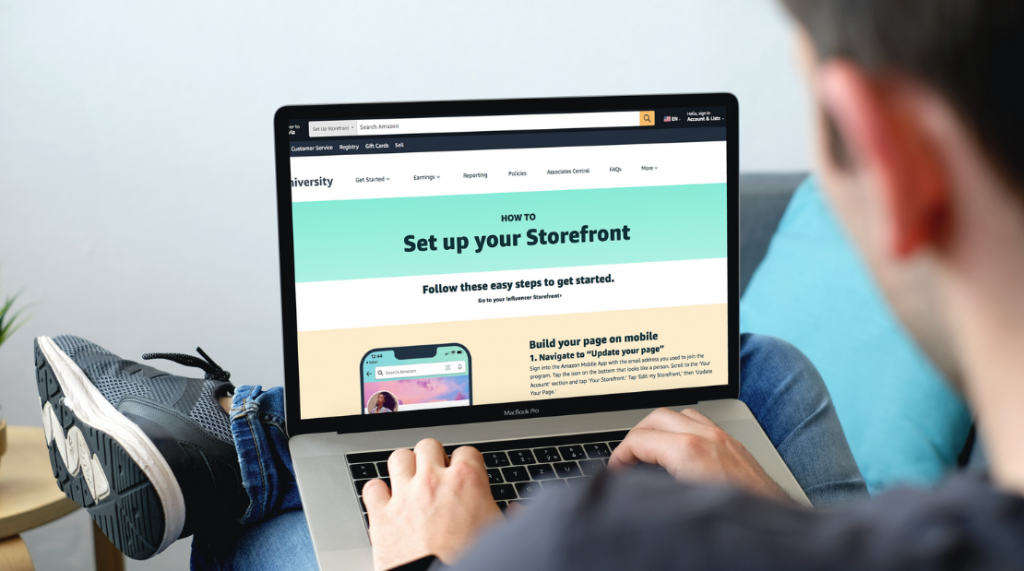 Amazon Storefronts are personalized product detail pages that enable Amazon sellers to:
Highlight their products on the product detail page
Enhance brand visibility
Increase customer interaction
Drive sales growth
Optimizing your Amazon Storefront as a seller is a crucial step toward reaching your target audience and generating sales.
But why is optimization so important? The consumer decision journey involves online shoppers identifying and evaluating their needs before selecting a product. Amazon search engine optimization (SEO) plays a vital role in making your products more visible during this journey. By focusing on product listing optimization, you increase brand awareness, foster customer interaction, and drive sales expansion through your Seller Central account.
To create a new Amazon product listing, log in to your Seller Central account, click on "Inventory," and select "Add a Product." After choosing an existing item or creating your own, select the appropriate product category and fill in the product listing's information. The focus of Amazon product listing optimization is to enhance the visibility of your Amazon listings. This increases traffic and ultimately leads to more conversions. An optimized Amazon product listing can provide numerous benefits, such as increased sales, reduced chances of receiving negative customer feedback, and the potential to take your business to the next level.
Setting up your Amazon Storefront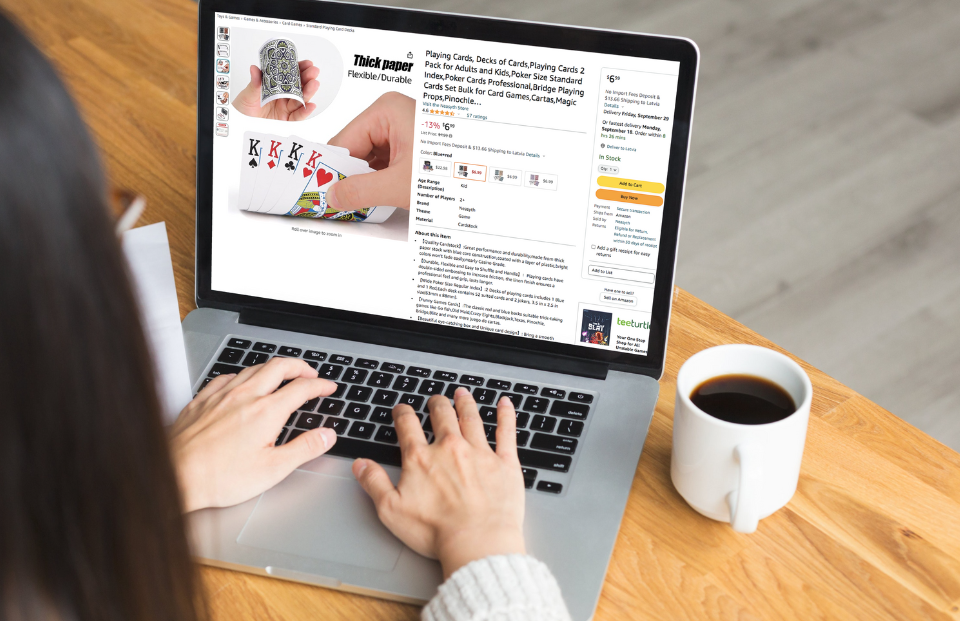 Effective product organization and design customization are vital to creating a seamless shopping experience when setting up an Amazon Storefront. This approach can attract more customers and facilitate their product discovery and purchase.
This section will guide you on effectively customizing your store design and organizing your products.
Customize your store design
Organizing your Amazon store should involve the construction of a logical product hierarchy, product categorization, and filters to assist customers in their search for desired items. Employ visually captivating layouts, banners, and brand elements to curate an exceptional shopping experience and create a distinctive and compelling storefront. This will enhance the shopping experience and make your Amazon Storefront resemble your website, giving customers a sense of familiarity and trust.
Display your most popular products by featuring them on the homepage, forming product collections, and utilizing product recommendations. This will draw customers' attention to your best-selling items and increase the likelihood of making a purchase.
A unique and engaging shopping experience stems from effective communication of your brand narrative. To achieve this, follow these steps:
Develop a distinct brand identity
Incorporate storytelling components into your brand messaging
Produce content that appeals to your target demographic.
By doing so, you'll create a strong connection between your brand and customers, leading to increased loyalty and repeat purchases.
Organize your products effectively
Amazon's parent-child product functionality is a powerful tool that displays variations of the same products on a single page. Offering multiple options increases the ranking potential on product searches and enhances the likelihood of customers making a purchase. To maximize the benefits of this feature, consider offering variations in color/name, size/count, and scent.
A seamless shopping experience relies on accurate product categorization. By doing so, customers can quickly locate product listings and make informed decisions. To optimize listings, ensure everything is in stock and obtain the Buy Box. Additionally, accurately categorize your products into relevant product categories to improve discoverability.
When crafting effective Amazon bullet points, consider including relevant keywords and providing compelling details about the product. This will help customers search for specific features and showcase the unique selling points of your products.
To include a product video on your listing, understand the types of videos available and the advantages each type offers. Registering your brand with Amazon's Brand Registry can help protect your intellectual property and unlock additional features for your Amazon Storefront.
Enhancing your storefront with A+ Content
A+ Content is a powerful tool that allows brands to illustrate product features by incorporating a distinctive brand narrative, improved visuals, and text placements. By providing more information about your products, A+ Content has been shown to increase overall sales by 3-10% on average due to increased customer satisfaction.
Multimedia content has a significant impact on impressions, increasing them by threefold. Combining text and additional images, A+ Content can quickly capture shoppers' attention and elicit an emotional response, positively affecting conversion rates.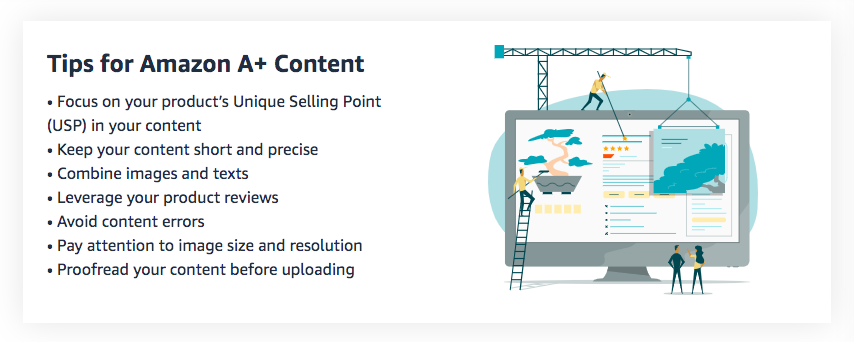 To create compelling A+ Content, showcase your brand story and incorporate key features into your presentation. High-quality product descriptions, engaging visuals, and well-structured text placements can help convey your brand message while highlighting the unique selling points of your products.
Incorporating A+ Content into your Amazon Storefront can boost customer satisfaction and set your products apart from competitors, thereby increasing visibility and sales.
Utilizing SEO strategies for your Amazon Storefront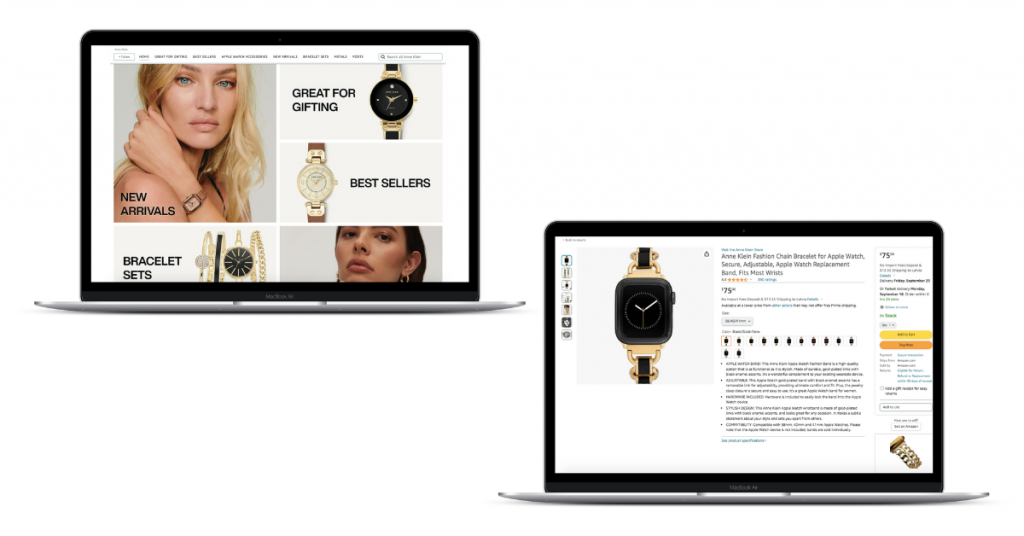 Employing SEO strategies like keyword research and optimization can significantly enhance your Amazon Storefront's visibility and search results ranking. Amazon SEO is a method of optimizing product listings to increase the amount and quality of organic search results, making it highly valued by sellers.
To optimize your product listings, start with keyword research. Tools like Ahrefs, Helium 10's Cerebro, and Keyword Scout can help you identify popular keywords and long-tail searches, making incorporating relevant keywords and phrases into your product listings easier. By combining these keywords into:
Product title
Bullet points
Description
Images
Backend keywords
A+ content
Reviews
You can effectively reach your intended audience and improve product visibility.
Optimizing the product title is particularly important. It is one of the key elements utilized by Amazon and search engines to determine the relevancy of a detail page in response to a customer search. To effectively reach your target audience, consider the words or phrases customers will likely use in the Amazon search bar.
Employing SEO strategies for your Amazon Storefront can elevate your product rankings, draw in potential customers, and boost sales.
Optimizing product images and videos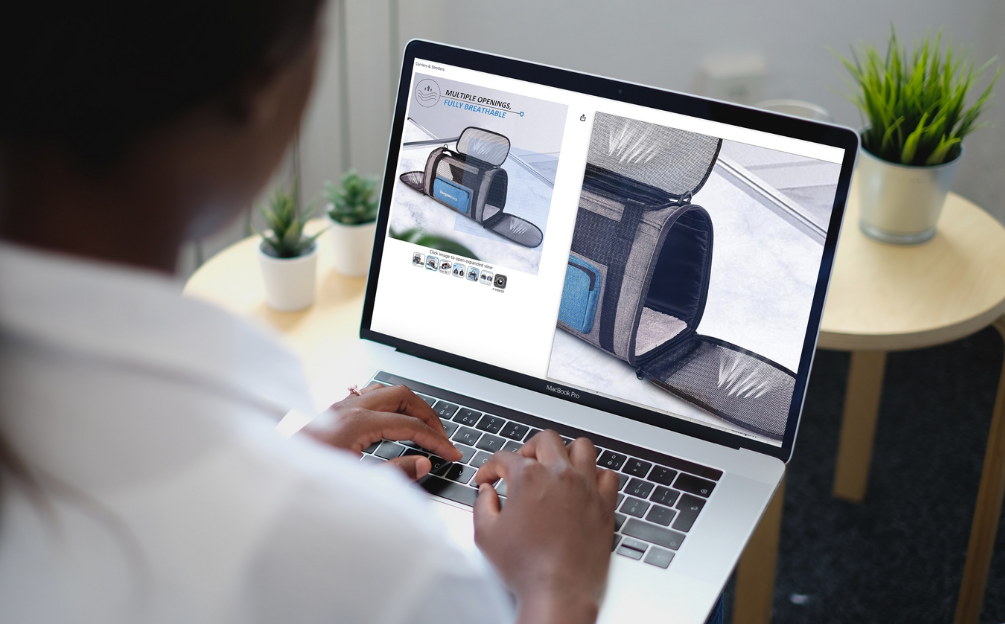 High-quality visuals are instrumental in drawing in potential customers and exhibiting your products. Optimizing product images and videos can improve conversion rates and positively affect rankings on Amazon's A9 algorithm search results pages.
To optimize your product images, follow Amazon's technical requirements, which recommend having a minimum of 1280 pixels on the longest side, with dimensions of 1,000 x 1,000 pixels. For optimal zoom experience, use images with 1600px or larger on the longest side.
When taking professional-quality product images, give buyers a sense of the product, its features, and advantages. Utilize a neutral background, display the product from multiple angles, and ensure the image occupies 85% of the frame. This will help customers search for specific features and provide a positive customer experience similar to browsing in a physical store.
Optimizing your product images and videos creates a visually enticing Amazon Storefront, prompting online shoppers to explore your products and potentially make a purchase.
Encouraging customer reviews and ratings
Customer reviews and ratings can achieve trust-building, product ranking improvement, and increased conversion rates on your Amazon Storefront. Online shoppers rely on reviews to make informed purchasing decisions, and positive reviews can significantly contribute to customer loyalty and sales growth.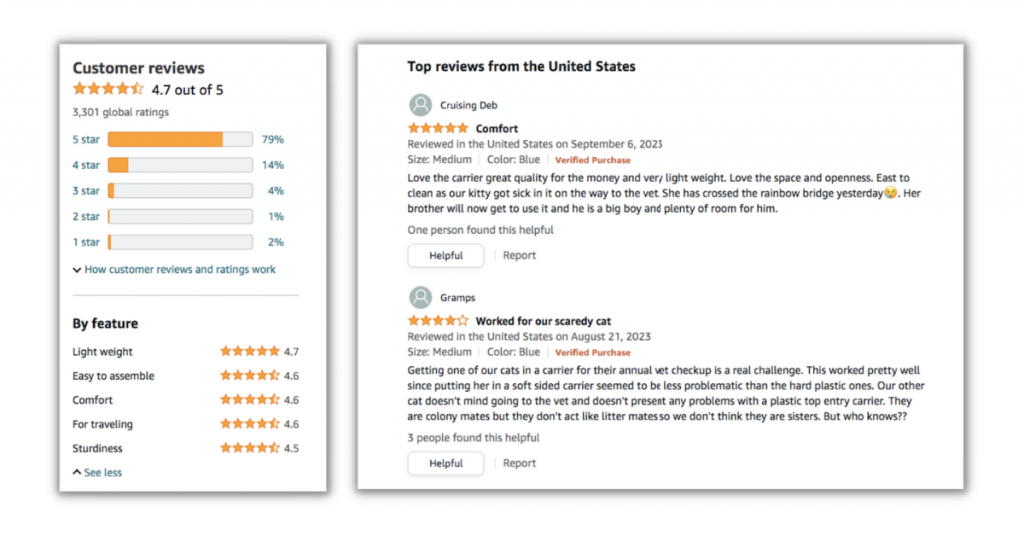 To monitor the ranking of your products and manage product reviews, utilize the Brand Dashboard. Encourage customers to leave reviews using Amazon's Request a Review button and their Vine Program. Well-crafted, timely feedback requests combined with automated feedback solicitation tools can effectively enhance the amount and quality of feedback.
Actively encouraging customer reviews and ratings allows you to address negative feedback, enhance overall customer satisfaction, and eventually increase sales on your Amazon Storefront.
Leveraging Amazon Ads and promotions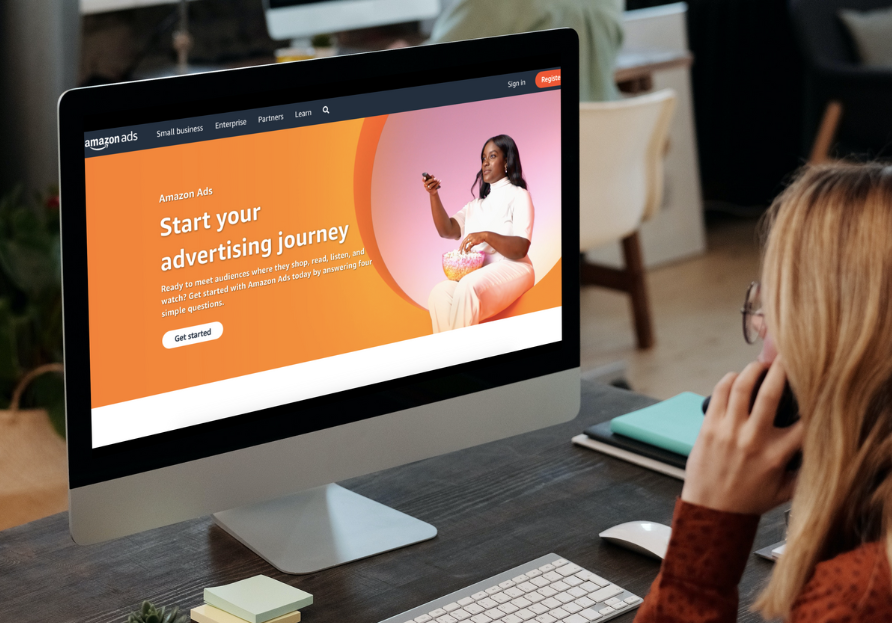 Leveraging Amazon Ads and promotions is an effective way to drive traffic, increase visibility, and boost sales for your Amazon Storefront. Amazon offers promotional opportunities to increase sales velocity and conversions. However, promotions alone are not a viable long-term strategy for increasing sales on Amazon.
Competitive prices on Amazon are essential. Here's why:
50% of shoppers look to the eCommerce platform for the most competitive prices
Securing these prices is vitally important
Keeping your prices competitive can attract more customers and generate more sales.
Advertising can be used to direct potential customers to your product listings, thereby increasing sales. Combining advertising with other optimization strategies discussed in this blog post can create a powerful sales-generating Amazon Storefront.
Monitoring and analyzing storefront performance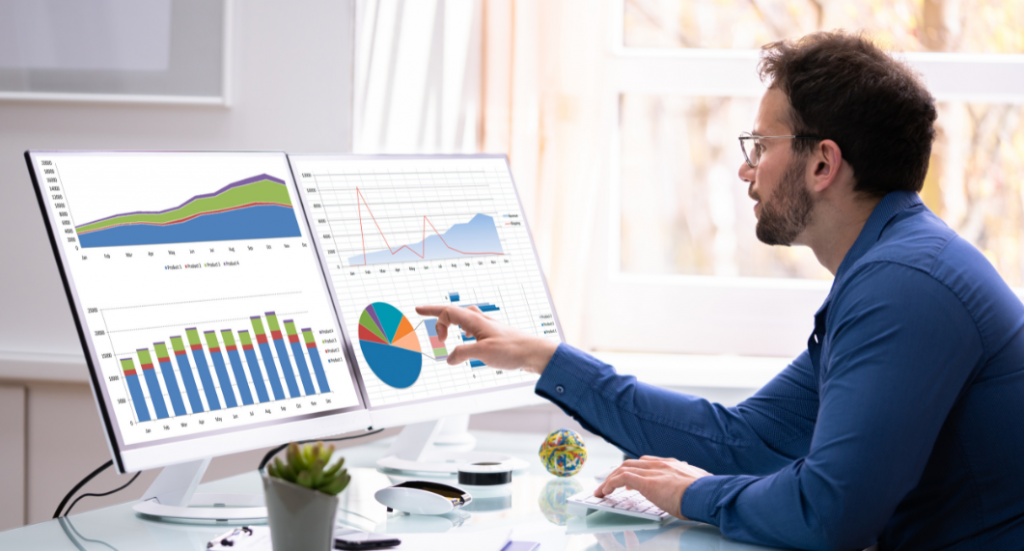 Regular monitoring and analysis of your Amazon Storefront's performance are critical in pinpointing areas for improvement and measuring your optimization efforts' success. Amazon offers a variety of analytics tools, such as Amazon Advertising Console, Amazon Seller Central, and Amazon Marketplace Web Service (MWS). To get the most out of these tools, it's essential to have an Amazon Seller Central account.
These tools can be utilized to monitor your storefront performance, recognize potential areas of enhancement, and evaluate the effectiveness of your optimization strategies. By tracking metrics such as page views, conversion rate, average order value, and customer reviews, you can determine areas of improvement and gauge the success of your optimization efforts.
Regular monitoring and analysis of your Amazon Storefront's performance enable data-driven decisions that can enhance your optimization strategies and boost sales growth.
Expert tips for continuous storefront optimization
Staying updated on Amazon's guidelines is key to ensuring continuous Amazon Storefront optimization—by remaining informed, you can guarantee that your store is by the most recent regulations established by Amazon, helping you avoid any possible sanctions or suspensions.
Regular audits of your Amazon store are important in identifying possible issues or areas that need improvement. By reviewing your store and making necessary adjustments, you can optimize it and ensure that it operates efficiently.
Staying relevant and current in your store requires adapting to emerging trends and customer preferences. Stay informed about new trends and adjust your strategies accordingly, and we guarantee you'll remain competitive and maximize your sales.
Summary
In conclusion, optimizing your Amazon Storefront involves a combination of strategies, including setting up your storefront, enhancing it with A+ Content, utilizing SEO strategies, optimizing product images and videos, encouraging customer reviews and ratings, leveraging Amazon Advertising and promotions, monitoring and analyzing performance, and adapting to emerging trends. By implementing these optimization techniques, you can boost your sales, increase brand visibility, and enhance customer engagement, ultimately taking your Amazon business to new heights.
Frequently Asked Questions
How do I make my Amazon Storefront stand out?
Make your Amazon Storefront stand out by running a competitor analysis, getting the pricing right, optimizing your product listings, encouraging reviews, running sponsored product ads, taking advantage of promotions, and promoting your store on social media. Additionally, create a catchy product title, include accurate and detailed descriptions, and add high-quality photos.
What is Amazon store optimization?
Amazon store optimization is the process of adjusting your store's inventory, layout, and design to increase customer interest and sales. You can find a setup that works best for your business by testing different strategies.
How long does Amazon Storefront take?
Amazon Storefront approval typically takes just a few hours, though it may take up to two days.
What are the key elements of an optimized Amazon Storefront?
Customized store design, well-organized products, A+ Content, SEO strategies, high-quality product images, and videos, customer reviews and ratings, as well as effective Amazon Advertising and promotions are key elements of an optimized Amazon Storefront.
These elements are essential for creating a successful Amazon Storefront to attract customers and increase sales. With the right combination of design, content, and advertising, you can create an Amazon Storefront that stands out from the competition and drives more sales.
How can I improve my product listings using SEO strategies?
Enhance your product listings with SEO strategies by researching and incorporating appropriate keywords into titles, bullet points, descriptions, images, backend tags, A+ content, and reviews.
By optimizing your product listings with SEO, you can increase visibility and drive more traffic to your website. This can lead to more sales and higher profits. Additionally, you can use SEO to target specific audiences and increase brand awareness.
Is your Amazon Storefront optimized and receiving relevant traffic? If you need assistance in further optimization, don't hesitate to reach out—our CRO and Traffic Acquisition Strategists are up for any challenge!