About Ledyer
Ledyer is a cutting-edge B2B software payment solutions platform founded in Stockholm in 2021 that enhances buyer and seller online purchasing experience. Specializing in the Scandinavian market, Ledyer streamlines transaction operations by offering diverse payment methods, complemented by a robust checkout security layer.
The Ledyer platform is designed with the buying experience at its core to exceed customer expectations for personal service and fast, hassle-free payments. By choosing Ledyer, businesses get a constantly optimized payment solution and can zero in on what truly matters: their customers, products, and achieving their objectives.
Why Ledyer?
Choosing Ledyer as your payment solutions partner guarantees higher customer engagement. Ledyer's platform is versatile, catering to various business entities—companies, associations, municipalities, or regions. The customer journey is tailored to suit the specific needs of the type of business making the purchase.
What sets Ledyer apart is its adaptability; the platform can be fine-tuned to serve both end customers and retailers, meeting the high standards of a seamless and secure buying experience that you and your customers demand.
And the best part? Ledyer ensures you get paid upfront while offering your customers the flexibility to pay later. It's a win-win, easy way to increase customer satisfaction, average order value, and sales.
How Ledyer works
It's a simple 3-step process:
As a merchant, you add Ledyer to your checkout options, offering invoices alongside other payment methods
Customers select Ledyer as their preferred payment method and choose from a variety of invoicing options that suit their needs—email invoice, e-invoice, or via Kivra with the specified recipient(s)
Once the customer selects their invoicing method, Ledyer generates and sends the invoice in the chosen format. The merchant receives the payment after the goods are delivered, while the customer settles their invoice with Ledyer at a later date.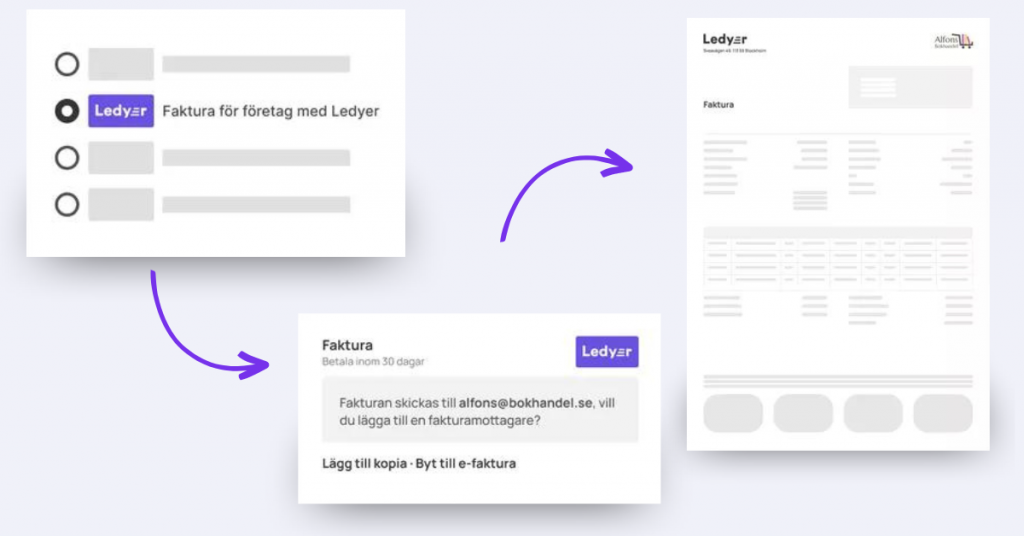 Payment methods with Ledyer
With Ledyer's advanced payment platform and security tools, you can customize the customer journey and checkout flow. Here are the different payment methods your customers can choose if you use Ledyer.
Invoice
Invoicing is among the most common payment methods across various business types. With Ledyer, you can offer invoicing options to all your customers, no matter their credit score. Whether to have a fully managed invoicing service or integrate financing options is up to you. Ledyer offers tailored solutions that free your resources and allow you to concentrate on customer engagement, product development, and other business goals.
Invoice distribution and variations
Ledyer offers multiple invoicing options and invoice distribution methods tailored to meet the needs of your business and customers.
Customers can receive invoices in multiple formats, depending on their business requirements and accounting systems. Whether it's a traditional email invoice or specialized e-invoice formats like Svefaktura 1.0 and PEPPOL BIS Billing 3.0, Ledyer's platform automates the process, eliminating the need for you to manage these details. Additionally, Ledyer integrates with Kivra's company mailbox, allowing customers to receive and store important documents.
Factoring—Ledyer purchases your customer invoices and handles all reminders and collections, providing immediate payment and assuming all credit risks to ensure you're not impacted by late or failed payments.
Billing service—Ledyer manages all the operational aspects of accounting payments, interest invoicing, and reminders.
Advance invoice—Ledyer generates an invoice immediately upon order placement, and goods are delivered once payment is received; this feature can be customized based on specific conditions you set.
Monthly invoice—Ledyer offers the convenience of a monthly invoice for repeat customers to consolidate all purchases made during the month into a single bill.
Partial payment
This flexible financing method accommodates unplanned purchases and allows for more even spending. As a merchant, you benefit from immediate payment, ensuring a steady cash flow, and happier customers.
Direct payment
Direct payment is an ideal solution for transactions involving high-order values. Your customers can initiate payments that exceed the typical amount limitation and pay from their bank accounts through major financial institutions such as Nordea, Swedbank, Handelsbanken, and SEB.
Card
With Ledyer, you can enable seamless transactions by accepting a wide range of debit and credit cards from customers worldwide.
Ledyer B2B payment module for Magento
scandiweb helped Ledyer build a B2B module to make transactions more comfortable and efficient in Magento (Adobe Commerce).
We developed a payment method for B2B solutions by integrating a payment gateway into the Ledyer extension, implementing the frontend interface, and adding an iframe at the checkout for a fully functional process. The module was also integrated with Magento (Adobe Commerce) to handle discounts, product updates, and session creation via the Ledyer API.
Ledyer checkout plugin
In addition to the B2B payment module, scandiweb developed a checkout plugin for Ledyer, enhancing the default Magento (Adobe Commerce) checkout by introducing a new payment method exclusive to the Ledyer payment module. It seamlessly integrates with existing store payment options, includes a dedicated checkout page solely for Ledyer payments, and is compatible with other extensions.
Read more about launching the Ledyer B2B checkout plugin and payment module for Magento here.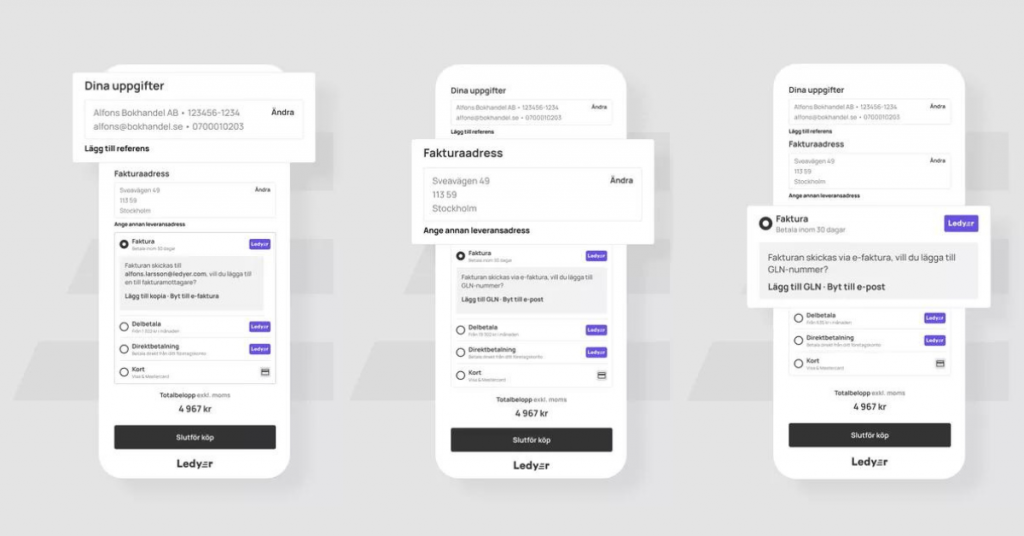 Learn more about how Ledyer helps merchants and try out their solution at https://ledyer.com/