Efficient business management and customer satisfaction heavily depend on product data organization on the website and through all distribution channels, which can be a daunting task without the right tools. Fortunately, there are PIM (product information management) systems—an excellent solution for product data storage, updating, and management.
No matter if your Magento (Adobe Commerce) store has an extensive catalog or you sell less than 100 stock-keeping units, introducing PIM will enhance your whole product data management. However, as great of a platform as Magento is, its built-in functionality is insufficient for this task, and a PIM integration is required.
In this article, we will discuss the Pimcore data management platform to explore how it can help businesses to streamline their product data management processes and take a closer look at the Pimcore Connector for Magento 2/Adobe Commerce developed by scandiweb.
What is PIM?
PIM system is the circulatory system of any eCommerce business. Connecting various sources of product data and channels of distribution (CRM, ERP, suppliers, stores, etc.), it acts as the information repository, ensuring the data across all sales and communication channels is consistent, up-to-date, standardized, and transparent.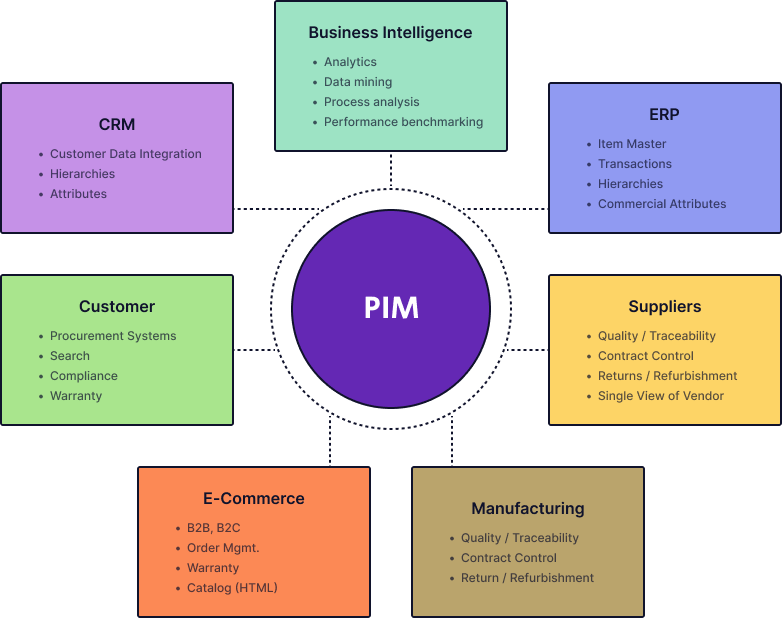 With PIM, you can collect and manage any product data type:
SKUs, prices, titles, descriptions, categories, attributes, etc.
Supplier data, like spreadsheets, catalogs, and certifications
Tech details such as sizes and materials
Sales data, reviews, and testimonials
Promotional materials, keywords, and other marketing data
And more!
A correctly implemented PIM system gives you a single source for assembling, managing, and refining your product information. It enables optimized cross-interactions, a shorter go-to-market cycle, better customer experience, and improved ROI.
What is Pimcore?
Pimcore is one of the best PIM solutions for Magento (Adobe Commerce). It is a cloud-based, enterprise-grade, open-source software trusted by 100K+ brands from different industries.
Pimcore provides a seamlessly consolidated solution of the following components, often seen as separate systems:
PIM (Product Information Management)
MDM (Master Data Management)
DAM (Digital Asset Management)
CDP (Customer Data Platform)
DXP/CMS (Digital Experience Platform)
Digital commerce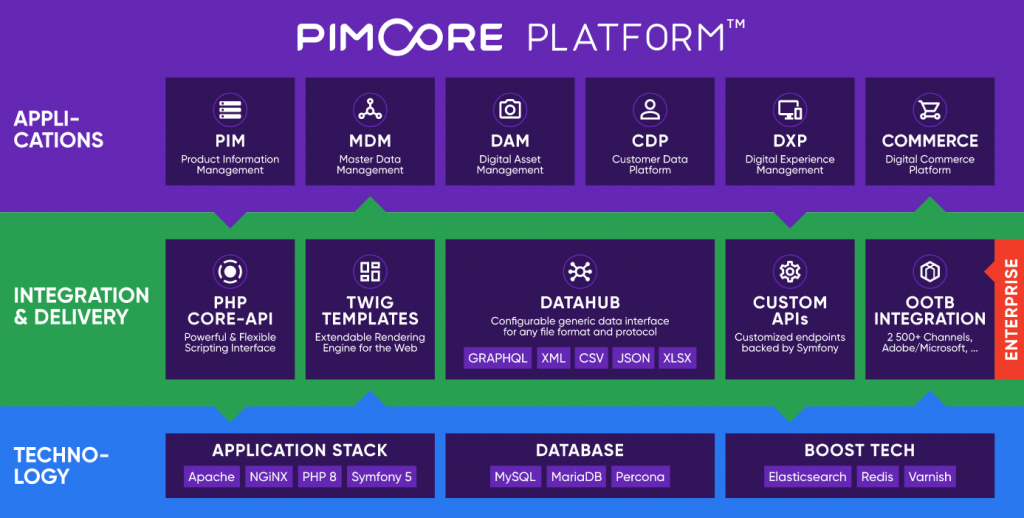 Pimcore Connector for Magento 2/Adobe Commerce
When it comes to performing PIM integration, a connector is required. The Pimcore Connector for Magento 2/Adobe Commerce, created by scandiweb, is an extension that enables the integration between the Pimcore platform and a Magento 2 store.
This integration allows for the centralized management of digital assets (DAM), product information (PIM), and other catalog data from the Pimcore instance within Magento 2.
Pimcore features enabled by the connector
Managing your Magento product information in Pimcore
Connecting multiple Magento 2 instances
Mapping of product attributes/properties
Pimcore offers the flexibility to create and utilize various attribute types to describe products effectively: text (input, text area, password, and input quantity value), number (quantity value, slider), select (boolean, multi-select, simple-select, and dropdown), other (color, images, videos, and checkboxes), and date (date and time).
Scheduled publishing versions for Products and Categories
scandiweb Pimcore-Magento 2/Adobe Commerce connector can update prices, inventory, and all other available product attributes, allowing for a streamlined and efficient process in case you are expecting upcoming sales or the arrival of new products.
Exporting attributes, attribute options, and complete attribute sets
Exporting simple and configurable products to Categories
Importing a one-time data migration script from Magento to Pimcore
To seamlessly transfer existing data from your current instance to Pimcore, we have developed a one-time migration script for your convenience.
Creating and exporting any other default Magento attribute types.
Our extension supports Pimcore 10.x version and Magento 2.4.x, 2.5.x versions and ensures future upgrades and version compatibility.
Why build Pimcore with scandiweb
Streamlined discovery and implementation process
To mitigate the risks and cover all requirements, we hold Pimcore PIM discovery workshops and set a roadmap that considers project goals, technical & business challenges, ecosystem, data structure model, data management challenges, relations, data migration, etc., prior to the implementation.
Experience with complex projects
From working and implementing multi-tenant, multi-platform API-first eCommerce projects to redesigning and re-platforming the whole business's online presence, scandiweb teams have solved challenges within projects of the highest complexity.
Official Pimcore Gold partner and Enterprise developer
As an official partner, scandiweb has access to extensive support and training directly from Pimcore to recommend the most efficient implementation option, suggest further improvements, and maximize Pimcore's potential.
Here are two real-life examples of complex and successful Pimcore PIM implementations:
Read more about Pimcore and other eCommerce PIM solutions, such as Akeneo and inRiver, in our Introduction to PIM for Magento 2.
In addition to being the most certified Magento (Adobe Commerce) agency in the world, scandiweb is an official Pimcore Gold partner, with a team of certified Pimcore professionals capable of deploying a PIM system for any project. If you are interested in starting your Magento-Pimcore integration journey, including Pimcore's other versions and customization, reach out to us today!