About the client
Nuclear Blast is the world's largest heavy metal genre record label and mail-order record distributor for 150+ of the most successful and influential metal bands in the industry, such as Motörhead, Behemoth, Alice Cooper, Slipknot, Paradise Lost, Immortal, and many others. They are also part of Believe—one of the foremost digital music companies in the world today.
Initial data
Nuclear Blast came to us in 2021 for help with SEO during their website migration from a legacy system (from the 2000s) to Magento 2. Since they were already working with third-party development agencies for data management and the migration itself, the scandiweb SEO team took on a role to ensure minimal impact on organic traffic during and after the migration.
Approach
In the scope of SEO during and after migration, the scandiweb team was in charge of the following:
Website structure and domain planning
Market & competitor analysis
Keyword research
Technical SEO audit and related fixes

URL restructuring
301 redirects implementation of more than 100k redirects during migration
XML sitemap review
Unused cronjobs and hidden elements removal
Image alt text preparation
Automatic hreflang tag setup
Google Search Console error resolution

Navigation menu restructuring
On-page and off-page SEO strategy.
Here's the timeline of our collaboration!

With the migration finalized in late October 2021 with little to no traffic lost, Nuclear Blast began further optimization. In the upcoming months, the scandiweb SEO team laid the groundwork for a full on-page SEO program to get Nuclear Blast's new website ranking in top positions.
Website quality audit
To fully understand the first SEO steps, the team performed a website quality audit. We wanted to identify best-performing band and news articles and other opportunities for PLPs, like spotting outdated content, content to merge, cannibalization issues, etc. The main steps of website quality audit:
Identify low-hanging fruits where content tweaks should have the most significant impact
Create an action plan for content cleanup and strategy
Build a list of target pages that allows us to segment websites and hyperfocus on improving key sections.
Keyword and competitor analysis
As part of keyword research, we identified Nuclear Blast's competitors and studied which keywords they were ranking for. It's important to consider what keywords competitors are targeting and getting noticed for when developing an SEO strategy because we want that traffic coming to our client's website instead.
After migration, we wanted to rank higher in SERPs and attract more traffic. Using insights we gathered while planning the new navigation menu and URL structure, we focused on the keywords with high search volume and relevance. Based on that, we made recommendations on product listing pages (PLPs) that Nuclear Blast should optimize first.
We did in-depth keyword research in English (EU, UK store views), German (DE store view), and later French (FR store view). The keyword research was repeated for each new category page chosen to be optimized.
Pages to work on as a priority were the ones already getting some organic traffic but not yet ranking in the first positions on search results, as well as considering the products that are converting very well already.
SEO content development
During competitor review, we found lost opportunities for subcategory pages under merchandise and music (and more)! Where most competitors ranked and received traffic for keywords such as band patches for jackets, band hoodies, etc., Nuclear Blast was missing out. Therefore, we prepared a plan to develop optimized content.
PDP meta attributes
The website quality audit revealed various issues regarding meta attributes, like duplicate content, album descriptions added as meta descriptions, HTML code in meta descriptions, and meta titles & descriptions that are longer than 60 characters.
As meta titles are a ranking factor, but meta descriptions help the click-through rate, we needed to review, rewrite, and re-upload them.
For the EN site, we created updated meta titles and descriptions for all the products following the logic:
BAND | GENERIC KW | NUCLEAR BLAST
This was gradually done for all categories and CMS pages with the EN version and DE and FR translations.
Content at the bottom of PLPs
We focused our main SEO and content writing efforts on category pages. Due to missing content, Nuclear Blast's category pages mostly ranked for brand-related keywords.
To optimize PLPs and rank for brand, band, transactional, and generic keywords, we suggested adding a 200-300 word content box at the bottom of each category page, starting with the ones with the most potential.
Example of keyword types for subcategory pages related to music and merchandise:
Generic keywords—band merch, band merchandise, music merch
More specific keywords—band patches for jackets, band hoodies
Band-specific keywords—metallica t-shirts
In July, we began active work on SEO content based on keyword research done for top category pages. After the ENG content was developed, the texts were translated to DE and FR and uploaded on all four store views.
Within this batch, we prepared optimized content for the following pages:
/music/vinyl
/music/cd-dvd-bluray
/merchandise
/merchandise/clothes/t-shirts
/music/box-sets
/pre-order
/exclusive
/merchandise/clothes/hoodies
/merchandise/accessories/patches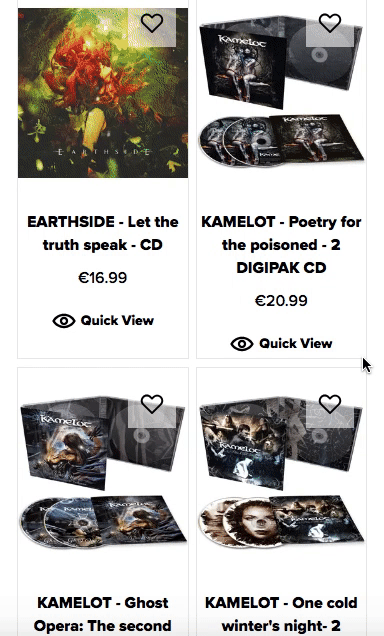 As soon as the new keyword-optimized texts were uploaded, these PLPs started to rank for more keywords and attract more organic traffic. Due to an unexpected algorithm update in September-October, the work refocused on regaining the traffic lost related to branded keywords deindexing, after which we resumed the previous pace.
At the start of 2023, we revisited some previously optimized PLPs and tweaked the content based on semantic research.
In addition, we prepared SEO content for more PLPs:
/merchandise/clothes
/music/cassette
/merchandise/accessories
/music
/merchandise/accessories/pins-buttons
/merchandise/accessories/mugs-glasses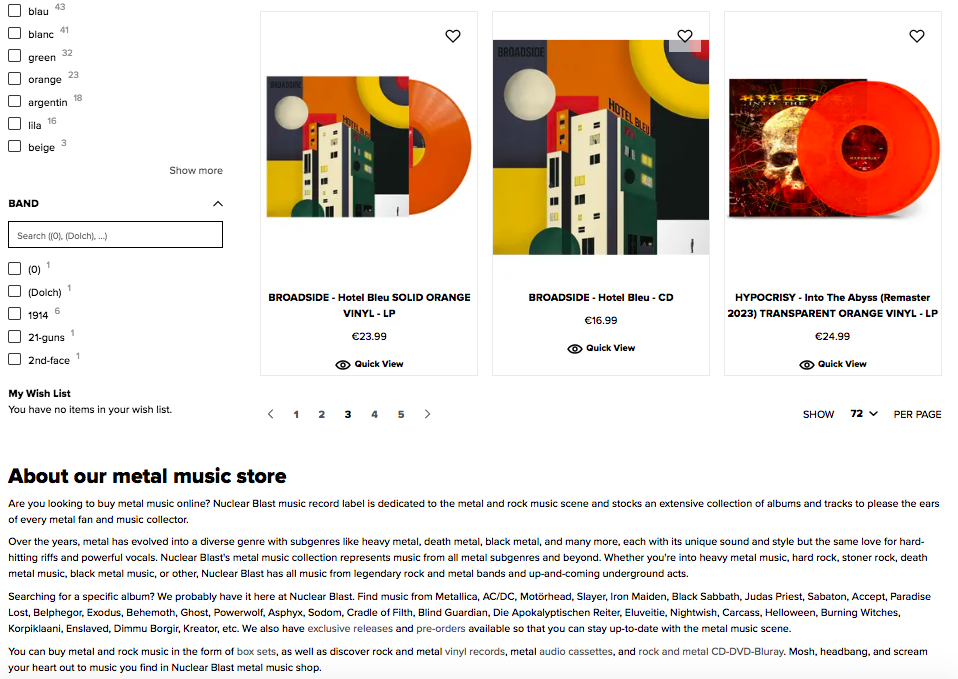 Homepage optimization
The scandiweb CRO & UX team worked on wireframes for Nuclear Blast's homepage, while the SEO team did keyword research to choose keywords to target for the homepage (generic ones, which are not targeted on other pages to avoid keyword cannibalization) and prepared guidelines for content writers.
Then, content writers prepared an optimized text aligned with the new wireframes. The main idea was to leverage the text box at the bottom of the page but replace the previous version's extensive list of band pages with actual valuable keywords.
Results
After successful SEO support in website migration from a legacy system to Adobe Commerce, we developed and implemented a strategic SEO program. Nuclear Blast saw organic traffic improvements across the new site.
Three months after uploading the first optimized content, we were able to review the first results. There was an overall positive trend, with the majority of PLPs receiving more clicks and impressions from the search results, starting to rank for relevant target keywords, or reaching higher positions.
Here are the avg. improvements for the first nine PLPs, comparing performance three months since the on-page optimization started vs. the previous period:
German

+42.62% clicks
+43.54% impressions

English (international)

+230.3% clicks
+195.43% impressions

English (UK)

+100% clicks for /exclusive
+74.68% impressions

French

+521.92% clicks
+3122% impressions
YOY data since we started the SEO program:
+225.4% nuclearblast.de /merchandise clicks
+311.4% nuclearblast.com /merchandise clicks
+56.4% nuclearblast.com /music impressions
It's worth noting that all SEO efforts combined—technical, off-page, and on-page SEO—attributed to these results. Nuclear Blast SEO program is ongoing, with a current focus on Core Web Vitals improvements.
Are you ready to kick off content optimization for your website? Learn more about our content strategies for eCommerce to get your store to the top positions in search results. Contact us for a free consultation!