More than 100k redirects. 5 store views. 2 domains. Over 10k products per store. Legacy to M2 migration. 3rd party agencies each with their own responsibilities.
Our only official responsibility was SEO. But this is more than just an SEO story.
It was not an easy project and far from perfect. The main question was: How to migrate without losing traffic? We did see a major increase in traffic for the client's new international store but also a significant decrease for the German store attributable to the relocation of the store views. Overall, however, we do not see this decrease as critical because we can expect growth as soon as search engines catch up with indexing the new website structure.
In this website migration case study, you'll learn about the important factors to consider for a successful website SEO migration.
Project Overview
Nuclear Blast came to us for help with SEO during migration. They were migrating their websites from a legacy system (from way back the 2000s) to Magento 2. Already working with a third party development agency for the migration itself and another one for data management, including CMS migration, they sought our expertise for planning the structure of their new websites, including how URLs would look like and how the domains were to be distributed, among other SEO tasks. Our role was to ensure that the impact of migration to traffic was as minimal as possible.
Founded in 1987, Nuclear Blast is a record label thriving in the extreme music genre. They have signed some of the most successful and influential thrash metal, power metal, black metal, and melodic death metal bands in the industry. Slayer, Exodus, Epica, and Immortal are but some of the big artists that the label has under its belt. And now, Nuclear Blast is also part of Believe Digital–one of the foremost digital music companies in the world today. Being a company this big, with countless artists' pages and thousands of products in five different store views in two domains, we expected the project to be complicated and demand a lot of technical SEO work, involving SEO migration for a custom CMS.
Scope of Work
Scandiweb is a full-service eCommerce agency that manages and implements website migration projects from beginning to end, no matter the complexity. For this project, however, our sole focus was SEO.
We were fully in charge of the following:
Website structure and domains planning
Market analysis
Competitors analysis
Keywords research
URL restructuring
301 redirects, canonicals
Menu restructuring, sitemap
Rework of the whole SEO setup
We came up with different options for the new website structure taking into consideration the current setup of the existing sites and how organic traffic would be impacted by the migration. We needed to carefully evaluate each possible solution and communicate their advantages and disadvantages to Nuclear Blast.
By conducting keyword research, market analysis, and competitors analysis, we helped the record label understand their market better. Our recommendations for the website and menu structure as well as for managing the domains were all informed by research and data.
Planning the website structure
During planning, the question of how to migrate without losing traffic remained an important one that we kept in mind.
There were five store views and two domains (.de and .com) to be migrated. And there were also questions as to which store views to keep or merge, which pages to redirect to where, and how to handle content migration.
Our general recommendations were the following:
Migrate all store views under one Magento installation. This can be done without issue even with two different domains. And this way, all the data could be kept in one place and configurations could be applied to all the websites more easily.
Do not split store views solely based on currency data.
And then we presented three possible solutions that could be combined as necessary. The website migration steps could be simpler or more complex depending on which solution was chosen. Part of the goal was, of course, to implement a successful website content migration.
Solution 1: Keep the existing structure
Leave the structure of the websites as is. The two domains would keep their existing store views.
Launch the websites separately without issues.
Redirect all pages across the same domains.
In the short run, this would result in the best possible migration as redirects would be held under the same domains. There wouldn't be any major changes in organic traffic after website migration as nothing too significant would change. Direct traffic would not be hurt either because the same domains would be kept.
However, the global website would be located under the .de domain, which is not optimal from an SEO perspective. It would give an unclear picture to search engines since .de could be seen as more of a local website rather than a global one. The ccTLD .de is a strong indicator to Google that the website is targeting Germany as a country.
Solution 2: Create separate domains for each version
Use .com for the global site, making different currencies available and redirecting all English pages to it.
Use separate domains for different markets (.de, .fr, .es, etc.)
Keep multiple domains under one backend. This way, the same configurations can be easily applied to all of them.
This was a good solution for keeping all English content in one place and preventing traffic cannibalization. This would also facilitate expansion to other languages in the future. Appropriately using ccTLDs will send clear signals to search engines and result in country-specific stores being localized better.
What are some disadvantages of going with this solution? First off, it would require the simultaneous launch of all the websites on Magento 2. Next, redirecting traffic from the old /en site to the new global site (cross-domain redirect) would significantly decrease overall traffic. Lastly, any new website would start with 0 domain history.
Solution 3: Relocate EU subdirectories under .com website
Keep the existing .de website to keep traffic and localized content.
Redirect all English content to the .com website.
The .com website is to hold all other languages and currencies: /en (USD, EUR, GBP) for the general market, /fr (EUR) for France, /es (EUR) for Spain, etc.
Set up a currency changer via Magento.
This solution offered a clear international website approach and required successful website content migration. Maintaining the .de website would help keep the site's great domain history. However, this solution would also require the simultaneous launch of all websites on Magento 2. And an overall decrease in traffic right after migration could be expected because of cross-domain redirects.
Then again, this is a better long-term solution for market expansion because adding more store views/languages would be very easy. At the same time, no domain will start with 0 history or backlinks as new stores are launched in the future.
The final solution
The reality was there wasn't a foolproof solution. The website migration process was expectedly complex and each one of the solutions had advantages and disadvantages that we were going to have to deal with whichever solution we went for. But which one did we recommend?
Solution 3.
Migrating the English-language store views of the .de website to .com (content migration) and adding both websites under the same Magento 2 backend was the most viable solution despite the expected drawbacks. It would better prepare Nuclear Blast for future expansion and keep any leverage it already has in its existing websites.
SEO migration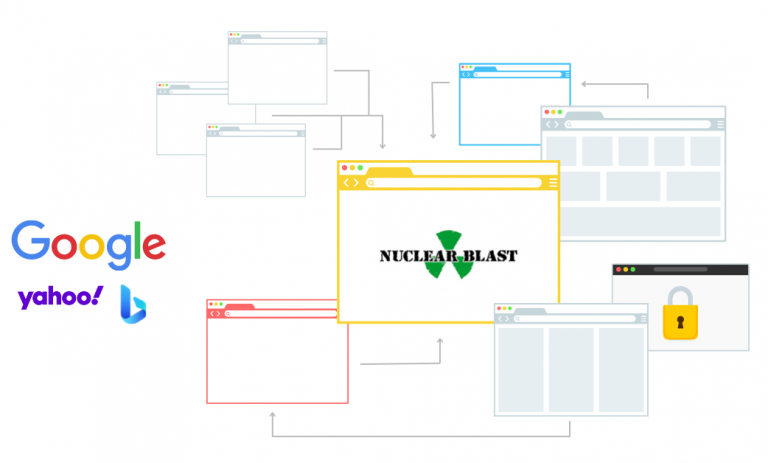 After successfully creating 100k+ redirects with the restructured URLs and relocating subdirectories where needed, we managed to achieve our SEO goals and even saw increased traffic for the .com site.
As mentioned before, there wasn't a foolproof solution to the migration. The main challenge was how to migrate without losing traffic. But there were several website migration steps involved and other areas were affected by changes in some other areas. We saw some decrease in traffic in the .de store as a result of moving pages in English and French to the new international store view. Nevertheless, we saw a 227% YOY organic traffic increase for the .com store view and a 100% increase in average organic traffic a month post-migration.
Market and competitor analysis
As part of keyword research, we identified the competitors of Nuclear Blast and studied which keywords they were ranking for. It matters to consider what keywords competitors are targeting and getting noticed for when developing an SEO strategy–because we want that traffic for our client's websites, instead.
We naturally wanted to rank higher in SERPs and attract more traffic for the websites after migration. Focusing our efforts on the keywords with high search volume that were relevant to what our client's business was about, we made recommendations on which ones Nuclear Blast should be optimizing for, using the intel we gathered in the planning of the new URL structures and menu navigation.
URL restructuring
Optimized URL structures make it easier for web crawlers to find and index a website and help improve its SERP ranking.
SEO friendly URLs are good for both users and search engines. It's best to keep them short and keyword-rich, helping both humans and robots more easily find what pages have to offer. And that's what we did for Nuclear Blast after extensive keyword research.
We investigated which keywords would bring more day-to-day value and focused on those, instead of aiming for keywords that tend to be more seasonal. We reviewed the product listing pages as well as the product detail pages and put our data to use.
We created more than 100,000 301 redirects in total, being very careful that each and every page was correctly identified and redirected to the right page.
And as several pages were merged, duplicate content was inevitable. We updated the existing and created new canonical tags to ensure that we are directing Google's bots to the pages we want them to be crawling. Leveraging the URLs that already had site equity was a critical part of this process.
Finally, we identified which pages we wanted search engines to crawl and index versus those that were better kept hidden so that the correct meta robot tags could be added.
Menu restructuring
We focused our research on the .de domain since it served as the main website for Nuclear Blast and was where most of the traffic was coming from. We looked at the organic clicks via Google Search Console and cross-checked the data in Google Analytics, which showed the same results.
After ensuring we have reliable data, we reviewed how much traffic each of the subdirectories was getting. And then, we identified which ones were attracting the most traffic and which ones could be merged with another related folder or perhaps removed altogether.
When we found that one particular product category was bringing 40% of all revenue, we knew immediately that it should go to the main menu. We kept the old menu items that were getting a good number of clicks and removed the ones that didn't and only added to the clutter.
Beyond SEO
In the beginning of this article, we did emphasize that our official involvement in the project was to create an SEO plan for site migration—planning the website structure, URL structure, and every single technical SEO detail to ensure that there would be no zero traffic during and after the migration.
But our role turned out to be more crucial than that.
Working with 3rd party agencies
Working with third-party agencies in this project for the implementation of our SEO migration plan proved to be very challenging.
Site structure was within Scandiweb's scope being in charge of SEO. But Magento's backend structure was no longer our responsibility.
It was up to the third-party development agency to implement the SEO plan we designed and make it work in Magento 2 during the website migration process. However, they needed help in navigating the whole implementation phase of the project. So Scandiweb stepped up and assumed an unofficial project management role so that everything would come together, guiding the external agency on how to implement the SEO migration plan we designed.
Magento expertise
Scandiweb has worked with hundreds of Magento projects in which we managed everything from planning and development to launch and post-live evaluation, definitely including SEO and Magento 2 migration. Our Magento expertise put us in the best position to give directions to the development team in this project, so we did.
In other words, Scandiweb was there to answer all kinds of questions, give advice on backend configurations, and help with decision making related to Magento 2. We contributed to and addressed a lot of non-SEO tasks and concerns to achieve our SEO goals.
Because that's simply how we work. We do not let setbacks hinder us from delivering what we promised and achieving our goals.
Project management
We highly value effective project management and client-oriented communication in every project we put our hands on, so observing the lack of it in this particular project naturally prompted us to take action.
It is worth mentioning that the author of this article was the sole representative of Scandiweb to the project, working directly with the client and the third-party agencies. This shows how the culture of Scandiweb as a whole is reflected in all the projects we handle.
Project outcome
Although we cannot speak of the site migration itself as we were not fully involved there, we consider this project a success as far as SEO is concerned.
And we consider it a bigger success that we were able to gain the confidence of Nuclear Blast through this collaboration. Proof of that confidence is having them sign up for our 24/7 Magento Service Cloud as well as SEO and CRO retainer services. There are also talks of Scandiweb covering their US store migration in the near future.
We hope you have found this website migration case study useful and have gained insights on how to achieve success with website content migration from an SEO perspective.
Migration is a very complex process that requires careful planning and meticulous organization. Scandiweb has a team of experts that could plan, execute, and manage your eCommerce store migration no matter what your source or target platform is. Book a free consultation today or learn more about our Magento services if you are unsure where to start.