In just one night, two of the most popular live-streamers in China netted $120 million each during a live stream for the 2020 "Singles Day" eCommerce event.
Is live streaming shopping the future of eCommerce?
It seems like online retail is moving in that direction.
It's a $300 billion market in China alone. The US is only at $11 billion but this figure is likely to double in just two years. These are the numbers we can expect to see for the live shopping ecommerce market in 2021, according to global research and advisory firm Coresight Research.
In this article, we'll look at how live streaming in eCommerce works and quickly review two leading platforms available on the market today, plus an example.
A multi-billion dollar market
According to Bambuser, one in every 5 online sales in China is already made through live livestream eCommerce / video shopping. The format is now a key component in the world's largest eCommerce economy. China is estimated to make $672 billion in eCommerce sales every year.
And the US, the second leading eCommerce market with estimated annual sales of $340 billion, is just beginning to jump on the livestream eCommerce / video shopping bandwagon. But the projection is that by 2023, the US livestreaming market is going to double and reach $25 billion.
It should be easy to see opportunities in these numbers.
Why live streaming / video shopping
Even as global eCommerce took a boost when the world largely depended on online shopping when the pandemic pushed everybody to stay at home, with countries across the globe implementing lockdowns, online competition only gets stiffer.
More and more brands are emerging to take a share of the market so every opportunity to capture the shoppers' attention and make online shopping a seamless experience should be thoughtfully considered.
80% of frequent shoppers only shop with brands that offer a personalized experience. And livestream eCommerce / video shopping is the closest brands can get to replicating the personalized experience customers get when they shop in-store. This new live streaming platform finally bridges the gap between virtual and personal.
How live streaming / video shopping works
Depending on the platform, there can be two options if you want to get started with live video shopping.
One is a video that is broadcast live to a general audience where they can chat with a shop representative, directly add an item to the cart from the platform while watching, and proceed to checkout.
The other option is a private video-to-video interaction where the shopper can directly interact with the live-streamer via video. The live-streamer can directly answer questions about the products and respond to the shopper's request, perhaps to show a product in a certain angle or showcase a feature. The shopper can also purchase a product directly from the platform.
A shopper can participate in a live stream by simply clicking on a link from any device.
Chat moderation
A brand representative can join the live stream and directly answer comments from the audience. Negative comments and profanities can be automatically blocked by the platform.
Product details
During the stream, products being featured will appear on the platform and the audience can click on them to see more information. For example, they can see the price and available colors and sizes.
Add-to-cart
The products shown on the platform can be directly added to the cart. There's no need to leave the stream or wait for it to be over before a shopper can fill their cart.
Checkout
When a shopper decides to proceed to checkout, they can complete the purchase without leaving the platform, either.
Replay
The streams can be recorded and later made available on the brand's website, newsletter, or social media.
Editing
Replays can be edited to remove portions of the video or divided into short segments and shared separately.
Live streaming / video shopping platforms + example
Bambuser
Bambuser began offering live video shopping in 2019 but has been developing high quality live streams since 2007. They boast of having worked with 160+ brands and claim that their One-to-Many (general broadcast) live shopping solution drives add-to-cart rates by up to 36%.
Setup is front-end only and takes two weeks, and full integration with Magento is possible. Live shopping analytics is also provided.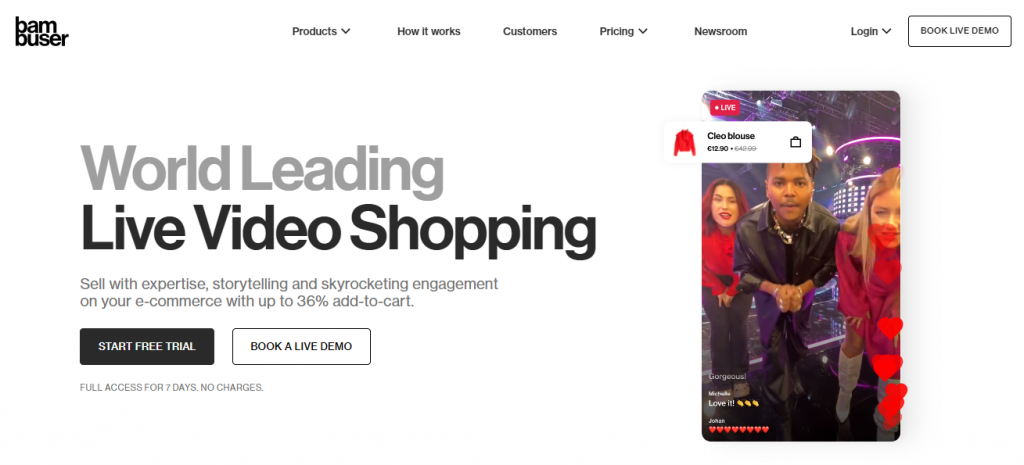 Buywith
Buywith promises up to 70% higher average order value and 8 times better sales conversion rate compared to the current industry standard. They boast of having big brands like MAC, Estée Lauder, and Bobbi Brown as clients.
Buywith offers seamless integration with any website and access to their community's top hosts.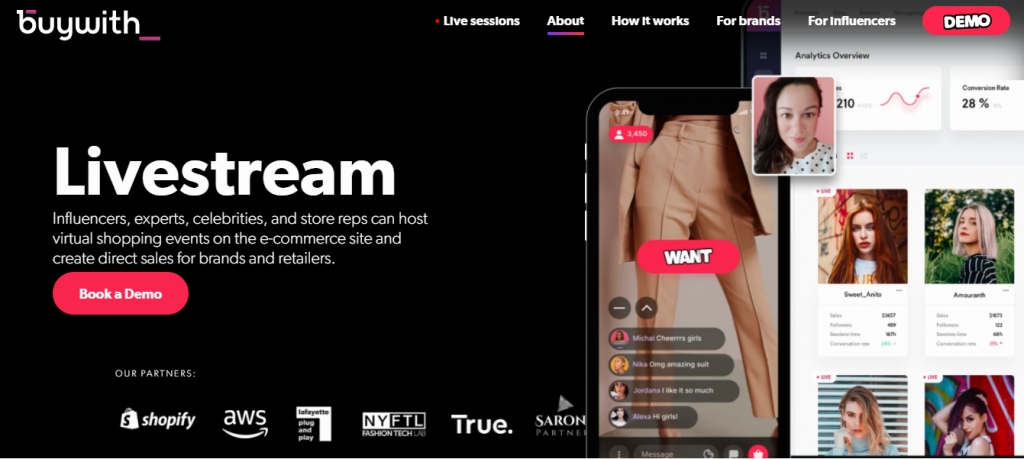 Cervera
Now it's time to see how live video shopping actually works!
Cervera is a leading kitchen, home, and gift products company in Sweden, with around 70 stores in the country. Our team at Scandiweb implemented live video shopping and video chat on their website this year and Cervera has seen great results so far.
Visit their live shopping page or video chat page to get the full experience of video shopping!
Want to know more about how live video shopping works? Is it the right platform for your business? We're excited to discuss the opportunities with you! Get it touch with our Growth Marketing team and we'll guide you in every step.